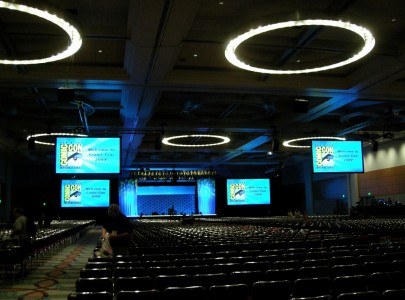 [UPDATE]
Good news Adult Swim fans – a few more panels have been announced!
Also in attendance will be fan favorites Robot Chicken, The Venture Bros., and China, IL.
From their official press release, here are the details:
Friday, July 19

The Venture Bros.

Show creators Jackson Publick and Doc Hammer will discuss the original series, now in its fifth season, and answer fan questions. They will be joined by the voice of Brock Samson, Patrick Warburton (Seinfeld, The Tick).

Robot Chicken

Co-creators/executive producers Seth Green and Matthew Senreich are joined by head writers/co-executive producers Douglas Goldstein and Tom Root, actor/writer Breckin Meyer, writer/director Zeb Wells, and DC Entertainment Chief Creative Officer Geoff Johns, to discuss the Emmy-winning series. Come watch a sneak peek and get your questions answered about the upcoming new season and the next Robot Chicken DC Comics Special. Keith Crofford, vice president of production for Adult Swim, will moderate the panel.

China, IL

Creator and executive producer Brad Neely and executive producer Daniel Weidenfeld discuss the second season of the animated series China, IL, which will air this fall. They will be joined by cast member Hannibal Buress (30 Rock, SNL). The panel will be moderated by Jonah Ray (The Meltdown, The Nerdist).

SATURDAY JULY 20

[adult swim] Presents

Dave Willis (Squidbillies, Aqua TV Show Show) and Ned Hastings (Squidbillies, Aqua TV Show Show) will discuss the return of long-running animated series Aqua TV Show Show and Squidbillies. Christy Karacas (Robotomy) will preview season 4 of Superjail! and JJ Villard (Monsters Vs. Aliens) and Tommy Blacha (Metalocalypse) will discuss the upcoming new series King Star King. Also fans will get an exclusive look at new Adult Swim series Mr. Pickles from creators Will Carsola and Dave Stewart (Funny Or Die Presents Nick Swardson's Pretend Time).
[PREVIOUS]
The Hollywood Reporter has listed some details on Cinemax and Adult Swim panels which had not yet been announced by the network. Some of the panels were previously announced but without times or locations, others without panel guests.
Here's the information which has not yet been announced.
THURSDAY JULY 18
The Heart, She Holler (Adult Swim): Patton Oswalt, Amy Sedaris, John Lee, Alyson Levy and Heather Lawless to participate. 6-7 p.m., Room 25ABC.
FRIDAY JULY 19
Banshee (Cinemax): Panelists include EP Greg Yaitanes, EP Jonathan Tropper and stars Antony STarr, Ivana Milicevic, Hoon Lee and Lili Simmons.
Childrens Hospital (Adult Swim): Creator/star Rob Corddry and EPs David Wain and Jonathan Stern join co-stars Lake Bell, Erinn Hayes, Ken Marino and Rob Huebel for a sneak peek at season five. 1-1:45 p.m., Indigo Ballroom
NTSF:SD:SVU (Adult Swim): Paul Scheer, Karen Gillan, Jon Stern, Curtis Gwinn, June Raphael, Martin Starr, Brandon Jackson to appear. 1:45-2:30 p.m., Indigo Ballroom.
The Eric Andre Show and Hot Package (Adult Swim): Eric Andre, Hannibal Buress, Derrick Beckles to participate. 2:30-3:15 p.m., Indigo Ballroom.
Brickleberry (Comedy Central): A full new episode of season two will debut with an intro from creators and EPs Waco O'Guin and Roger Black.
SATURDAY JULY 20
Strike Back (Cinemax): Cast members include Philip Winchester, Sullivan Stapleton, Dougray Scott, Milauna Jackson and writer Michael J. Bassett.
Rick and Morty (Adult Swim): Dan Harmon, Justin Roiland, Ryan Ridley, Spencer Grammer, Kari Wahlgren to preview the new animated comedy. 5-5:45 p.m., Room 25ABC.
Which panels are you excited for? Let us know in the comments.