We've started a new, quasi-regular column on the Blog titled "Under The Tents". The title is symbolic, as it's representative of the times we all line up under the tents waiting for those big moments to happen inside Hall H or Ballroom 20.
Here's the rest of the stuff you might have missed for today:
The Hero Initiative and Paradise Comics have organized a CGC Signature Series signing event at Comic-Con International, with proceeds going to charity. Get your comics signed by creators Brian Michael Bendis, Gerry Conway, Paul Cornell, Kevin Eastman, Dan Jurgens, Sam Kieth, David Lloyd, Bill Morrison, Jerry Ordway, George Pérez, Darick Robertson, Chris Samnee, Tim Seeley, Louise Simonson, Walt Simonson, Nick Spencer, and Roy Thomas.
Check out the details at the Scoop Newsletter for prices and submission requests.
http://scoop.diamondgalleries.com/Home/4/1/73/1014?ArticleID=136185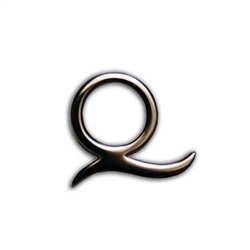 Limited to 300 pieces, the pin is solid .925 Sterling Silver and an exact 1:1 replica of the original prop pin. It is $79.99 and available at the show or via pre-order from the Factory website.
DKE Toys has announced its next SDCC exclusive, the San Diego Ji Ja 2013 by mr clement.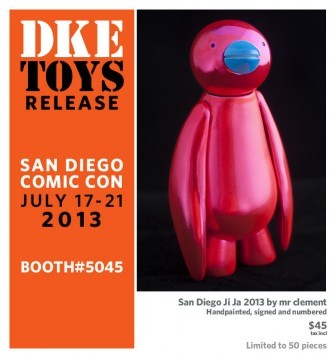 This edition is limited to 50 pieces and are hand painted, signed and numbered by the artist. It will sell for $45 at DKE's booth, #5045.
While we already announced Riddick and its costar Katee Sackhoff would be in attendance at SDCC, star Vin Diesel has also confirmed via Facebook that he'll be joining her and that the panel will be on Friday, July 19: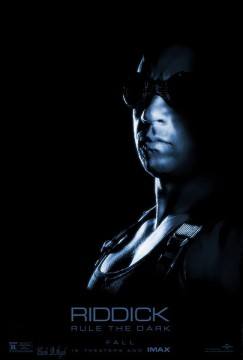 P.s. San Diego Comic-Con International 2013, July 19… see you there.
deviantART, an online community of user-created art, will be returning to Comic Con in a big way this year. They've announced through their site that they are proud to be a returning sponsor for Artists' Alley:
Once again, deviantART has answered the call to be a major sponsor in transforming Artists' Alley at Comic-Con International San Diego into a challis for the arts—bigger, but better, smarter, more informative, more connective and more dedicated than ever to the needs and desires of the artists who daily re-imagine and reshape our reality and dreams for the better.
They also announced three panels:
Thursday, July 18

How To: Motion Books (12:15 – 1:15): Covering the essential steps for creating dynamic Motion Books, soon to be a new tool on deviantART. Featuring Ben Wolstenholme, =LiamSharp and *davegibbons from Motion Books, +spyed and $techgnotic from deviantART, with special guests.

Friday, July 19

How To: The Business of Fan Art (12:00 – 1:00): The Business of Fan Art with $makepictures, $damphyr from deviantART and *BrianKesinger.

Saturday, July 20

How To: Creators + Audience (12:15 – 1:15): The next chapter in Storytelling with $techgnotic, `yuumei, *BrianKesinger, =DeevElliott and *HalHefnerART.
Starz is giving away passes for a special sneak screening of it's upcoming pirate series Black Sails, executive-produced by Michael Bay. The screening will be held at the Reading Cinemas on Thursday July 18 at 8:30PM.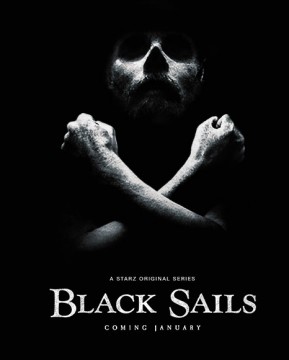 The first 200 people to attend the screening will receive a wristband for an exclusive Black Sails Party.
The Gamespot Base Station is once again returning to Lou & Mickey's this year. From Thursday July 18 through Saturday July 20 they will be offering attendees prizes, free food and (important!) charging stations. RSVP today for the event.
The Official Blog of Comic-Con International's fifth update in its month-long "Toucan Tip of the Day" is great advice: Snap That Photo… Quick! Here's a snip:
When you're taking pictures at Comic-Con—be it a celebrity in a booth or one of the fantastic costumed attendees—do so as quickly as possible. Trying to get the perfect picture is only going to result in a traffic jam in the aisle, with other attendees photo-bombing your picture or a Floor Manager asking you to move along.
Anything we missed? Let us know in the comments, drop us a line or tweet us at @SD_Comic_Con.