We've started a new, quasi-regular column on the Blog titled "Under The Tents". The title is symbolic, as it's representative of the times we all line up under the tents waiting for those big moments to happen inside Hall H or Ballroom 20.
You can read yesterday's Edition here.
Here's the rest of the stuff you might have missed for today:
Comic Con International has updated MySched with some new signings, including a Doctor Who signing on Sunday and another Ender's Game signing, on Thursday, with Bob Orci, Gavin Hood, Asa Butterfield, Hailee Steinfeld and Abigail Breslin.
Applehead Factory (Booth #4923) has unveiled one of their SDCC exclusives, a special edition 8″ Annabelle Wraitha bride doll, that as an added bonus also comes with an Agorables T-shirt, and a numbered 1″ Teddy Scares pin with each bear. Each package will retail for $20, and can be picked up at Applehead's booth.
Actress Amber Benson and filmmaker Michael Reaves, as well as "surprise guests" will be doing a signing on Friday from 4PM-5PM at the Geekscape Booth (#3919), to promote their upcoming Blood Kiss vampire noir film.
DKE Toys has announced the first public release of the first 10 figures in the S.U.C.K.L.E. Series 1 Mini Figure Line.  These Simply Unimportant Collectable Kitschy Little Eyesores are based on designs from the Suckadelic universe and sculpted by George Gaspar/October Toys.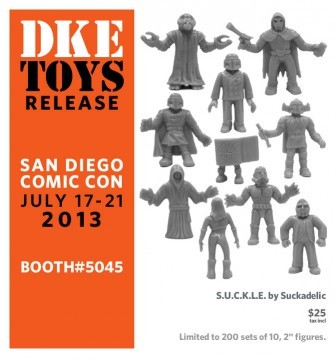 Sucklord 66, Sucklord 43, Sucklord 16, Ass Wipe, Necromancer, Galactic Jerkbag, Ira Tyranusberg, Another Bitch, Vectar, and Gay Empire- all 10 figures in "prototype" gray for $25. Limited to 200 sets. Comes shrinkwrapped in special packaging.
Also, The Super Sucklord  will be signing at the DKE Toys booth Thursday, July 18 at 10AM and Saturday, July 20 at 5PM.
The cast and crew of Once Upon A Time and Once Upon A Time In Wonderland will be signing at ABC's booth, #4129, on Saturday. There will also be a replica of the Jolly Roger at ABC's booth where fans "will be able to come aboard the infamous ship and receive exclusive branded pins." The details of the OUAT signings are as follows:
Saturday July 20

"Once Upon a Time in Wonderland" Autograph Signing 12:30-1:15 p.m.

Location: Booth 4129 on the Convention Floor

"Once Upon a Time" Autograph Signing 1:45-2:30 p.m.

Location: Booth 4129 on the Convention Floor
 The 20th Century Fox booth will be selling exclusive SDCC Blu-Rays with special edition covers of some of their most beloved, cult classic films. The films are grouped into categories, and IGN has the first look at both the Sci-Fi and Cult lineups. For Sci-Fi, Fox will be releasing special edition covers for The Fly, Planet of the Apes, and The Day the Earth Stood Still. For Cult Classics, the lineup includes Boondock Saints, Donnie Darko and Fight Club. If you can't snag a copy of this limited run on the convention floor, you can also order one through FoxConnect.com during Comic Con. Tomorrow, IGN will unveil the Horror lineup.
The folks at CCI have a really great Toucan Tip of the Day for today, in which they announce the PDF version of their Comic-Con International Quick Guide as well as a video overview of the MySchedule application which every attendee should be using to organize their programming schedule picks. We do, and if you follow us on Twitter and/or Facebook you can see your picks as well. Check out the tip for today's great info.
If you didn't pre-order your official Comic-Con t-shirts, you'll have to stand in line if you still want one. Pre-orders for the shirts are now closed.
Anything we missed? Let us know in the comments, drop us a line or tweet us at @SD_Comic_Con.