We've started a new, quasi-regular column on the Blog titled "Under The Tents". The title is symbolic, as it's representative of the times we all line up under the tents waiting for those big moments to happen inside Hall H or Ballroom 20.
You can read yesterday's Late Edition here.
Here's the rest of the stuff you might have missed for today: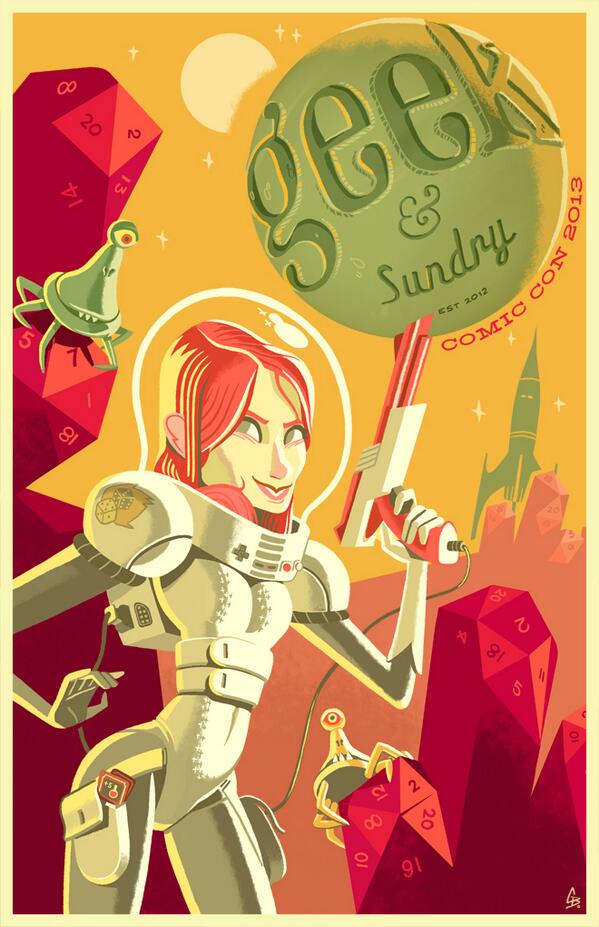 The Marvel One-Shot Agent Carter will be debuting on Friday July 19 at Comic-Con, according to a post on EW.com. Since the actual Marvel Studios panel is on Saturday, this sounds like it will go the route of last year's Item 47 and show offsite. Also expect to receive one of these posters if you're able to attend: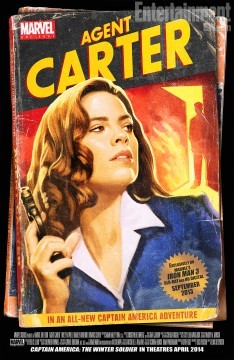 DKE Toys has announced the Akashi 5yl Luna Edition by Dave Bondi, the first vinyl from Akashi in five years.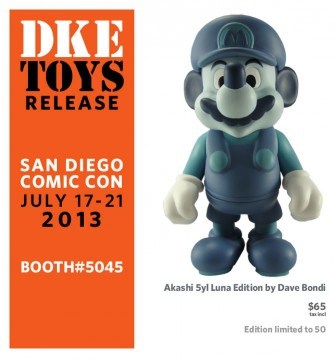 This special edition and all new sculpt is limited to 50 pieces and will retail for $65 at the DKE booth, #5045. Also announced is a signing with Dave Bondi on Saturday July 20 at 2PM, also at the DKE booth.
DKE also announced the Deathead S'murk print by David Flores, a companion piece to its Deathead S'murk Crimson previously announced.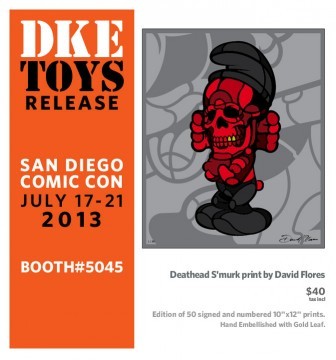 The 10″x12″ print is limited to 50. Each is signed, numbered, and hand embellished with gold leaf. Available starting on Wednesday night at for $40 at DKE Toys' booth, #5045.
Supernatural actor Misha Collins will be part of Saturday's Thrilling Adventure Hour panel. Tickets are still available here.
Okay, 1 more thing, then we'll stop clogging your feed. @mishacollins is guest starring in our 7pm show on 7/20: http://t.co/8cOp1fNOTP

— Thrilling Adventure Hour (@ThrillingAdv) July 11, 2013
Nerdist is giving away 50 free passes to see the new Christian Slater sci-fi horror film, Stranded, at Comic-Con, along with a nifty prize pack of Blu-rays and DVDs. The screening will be on Thursday July 18 at 7PM.
If you're going to San Diego Comic-Con and would like to see a special screening ofStranded on Thursday, July 18th, at 7:00pm, you should definitely enter this contest from Nerdist News. Fifty lucky winners will be chosen at random to attend the screening, and will receive a prize bag with Blu-ray/DVDs while supplies last. You MUST be a Comic-Con badge-holder to win. We can get you into the screening, but not the con.
Entertainment Weekly has a couple of Agents of S.H.I.E.L.D. teases for Comic-Con attendees hoping to get into the panel on Friday July 19, in its article, "'Agents of SHIELD' scoop: 5 things we've learned". Folks might not get all of the answers they want about the upcoming series, but they might get to see the pilot episode (and judging from the panel duration, we think so too):
3. Here's a question from the Internets that will be addressed in the pilot: Does J. August Richards play Rage? Expect that and other revelations at the Comic-Con panel, just not a ton of them. "We'll finally be able to answer some questions," says co-creator Maurissa Tancharoen. "Though I'm sure we'll have to stay on the vague end of the spectrum."

4. Which leads us to wonder: The panel is from 1:45 to 3 p.m. on Friday. Hard to imagine the Q&A going on that long — how many ways can Whedon say, "I can't tell you that. Stop asking!" So expect some video to fill the time. Perhaps even … the pilot itself? Announced guests currently include Joss Whedon, Marvel's head of TV Jeph Loeb and "more guests" (presumably writers and a few cast members).
Anything we missed? Let us know in the comments, drop us a line or tweet us at @SD_Comic_Con.