We've started a new, quasi-regular column on the Blog titled "Under The Tents". The title is symbolic, as it's representative of the times we all line up under the tents waiting for those big moments to happen inside Hall H or Ballroom 20.
You can read today's Early Edition here.
Here's the rest of the stuff you might have missed for today:
ComiXology announced it is sponsoring "The Pen and Drink" social at TR!CKST3R, where "artists are welcome to enjoy a drink while picking up the pen to draw an array of live models while listening to great tunes".
Break Media is hosting the "Break Invaders" offsite event at Dick's Last Resort on Thursday July 18 and Friday July 19, where attendees can play alongside legends in the Barcade during world record attempts at classic arcade games. Gaming legends and attempts include: George Leutz on Fix it Felix Jr. and Super Pac-Man, star of King of Kong Richie Knuckles on Space Invaders, and Billy Mitchell competing for a new kill screens world record on Donkey Kong.
Adventure Time fans: Prepare for battle. Cartoon Network will be featuring an Adventure Time ConQuest this year, where fans will visit 14 partnership booths or the Cartoon Network booth to begin their journey. They will have to participate in tasks and a scavenger hunt to collect the ultimate prize: a limited-edition keepsake. Along the way, fans will also receive incentives, premiums and rebates for some of their favorite Adventure Time products.
Remember the Insidious Chapter 2 offsite we reported on last month? Well, it's finally confirmed in a press release sent earlier today. The invitation-only event, located in a haunted loft, will take place on Thursday July 18 and will have three special sessions between 9PM and 1AM. Meet producer Jason Blum, Writer/Actor Leigh Whannel and Angus Sampson, while you "uncover some of the more insidious manifestations that continue to inhabit this space, all while enjoying delicious food, cocktails and music". Check out the Insidious Facebook page for a chance to win an invite to the event.
DKE Toys announced two more SDCC exclusives today. First up, the Scott Wilkowski x Suckadelic. Scott INFECTED a classic Gay Empire figure for this carded Suckadelic collab.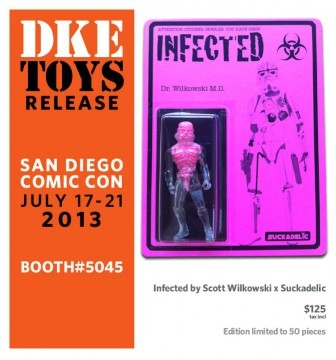 The figure is 3-3/4″ tall and comes on screen printed blister card. It is limited to 50 pieces and will go on sale Friday, July 19th at 2PM at the DKE booth, #5045. It will sell for $125. In addition, Scott will be signing at the DKE Toys booth #5045 on Friday at 5pm and Saturday at 12pm.
Next up is the INCREDIBLE ACTION AUTOPSY ADVENTURE by Jason Freeny x Suckadelic!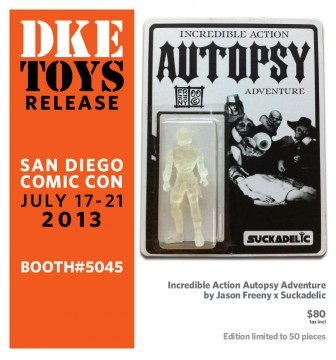 This 3-3/4″ figure lives in a bubble on a screen printed card. It is limited to 50 pieces and will sell at DKE's booth for $80.
Are you an artist going to San Diego with the hopes of getting your work noticed by folks in the industry? The Comic-Con Portfolio review sessions put your work in front of folks from major companies, including comic publishers, movie and TV studios, video game companies, and more. CCI has released information about these sessions on the official site, so check it out for the sign-up procedure and more valuable information.
Planning on attending HISTORY's Vikings panel on Friday July 19, or maybe to swing by the "All Hail Vikings: An Interactive Experience" across from the Marriott? If you attend the panel, you'll get a sneak peek into season two. If you attend the Vikings offsite on Saturday July 20 at 6PM, you'll be treated to a live concert by the band Silent Comedy. No matter which one you attend, you'll get a free Vikings comic book written by series creator/writer Michael Hirst.
Entertainment Weekly has revealed the magazine covers for their annual Comic Con-centric issue. The four covers feature The Amazing Spider-Man 2, Ender's Game, Carrie, and BBC series Orphan Black. You can pick them up on a newsstands this Friday.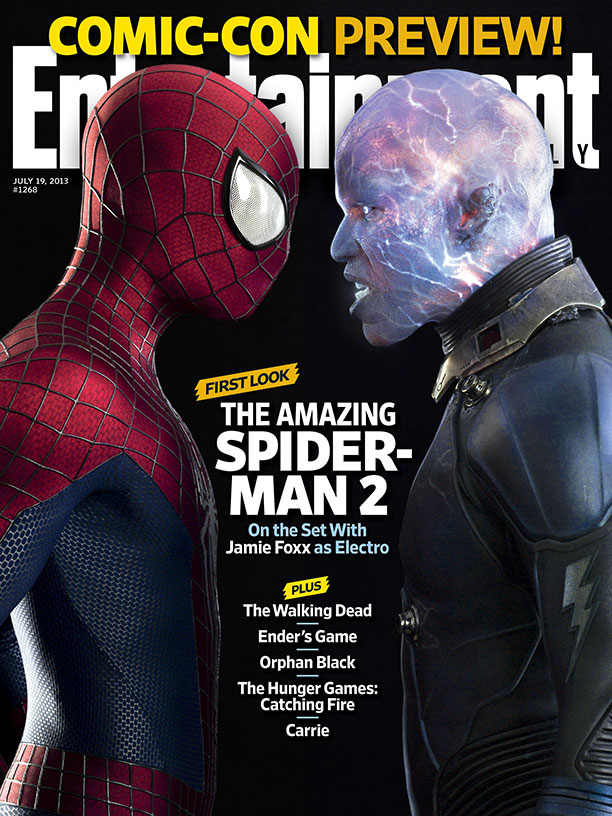 Actress Autumn Reeser is confirmed for attending ALL Thrilling Adventure Hour events throughout Comic Con – which includes four offsite events, a signing, a panel at the convention center, and a "conversation for a cause" at Nerd HQ.
@jordanbartowski @NerdyCruz Yes. @autumnreeser will be a part of ALL of our SDCC events!

— Thrilling Adventure Hour (@ThrillingAdv) July 10, 2013
The first Comic-Con for Hello Kitty is looking to be a popular one among our readers. To celebrate her arrival, Sanrio has kicked off a Fan Fiction contest where fans can download a teaser of the Hello Kitty Fashion Music Wonderland graphic novel and write their own ending. The winners will receive receive a signed copy of the graphic novel, along with Comic-Con exclusive Japanimation products. Hello Kitty Fashion Music Wonderland from VIZ Media is the first-ever Hello Kitty graphic novel and will making its debut at the Hello Kitty retail Pop-Up Shop in the Petco Interactive Zone.
It looks like the IDW X-Files panel is shaping up to be one can't-miss event. Chris Ryall, IDW's Editor-in-chief took to Twitter to announce Scully herself, Gillian Anderson will be joining fellow alum  and co-moderator Dean Haglund.
Alright, our X-Files panel just became an event. Chris Carter, co-mod Dean Haglund, and now very happy to say @GillianA is on board, too.

— Chris Ryall (@chris_ryall) July 10, 2013
Worried you won't make it into Ballroom 20 for TV Guide's reunion panel? The IDW panel might be a better choice, if you can get in. Smaller and more quaint, the panel takes place on Friday at 1:45PM in 5AB.
Anything we missed? Let us know in the comments, drop us a line or tweet us at @SD_Comic_Con.