We've started a new, quasi-regular column on the Blog titled "Under The Tents". The title is symbolic, as it's representative of the times we all line up under the tents waiting for those big moments to happen inside Hall H or Ballroom 20.
You can read this morning's Early Edition here.
Here's the rest of the stuff you might have missed for today:
Fans of Archie Comics should scope out the official signing times for their artists, posted to their blog. The list includes artists from properties like Mega Man, Sonic the Hedgehog, New Crusaders, and of course, Archie.
There will definitely be more than one X-Files reunion during SDCC! If you can't make the Thursday Ballroom 20 panel, actor Dean Haglund announced on Facebook that he will be moderating the Friday IDW X-Files comics panel (titled "The X-Files with Creator Chris Carter").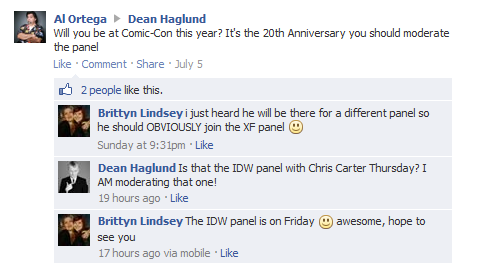 Haglund may not be the only X-Files alum to attend, either. Gillian Anderson's official website already confirmed with Anderson that she will be in attendance at the panel, and IDW Editor-In-Chief promised on Twitter that the panel would be an "event".
This X-FIles panel at #SDCC, oh, it's shaping up to be an event. I should tell @joeharris who's joining he and Chris Carter up there now.

— Chris Ryall (@chris_ryall) July 9, 2013
3AVOX announced their exclusives and signing schedule for SDCC – and the toy company will be sharing a Booth #2643 with IDW Publishing. This year's list of merchandise includes "great exclusive toys, books, t-shirts and lots more".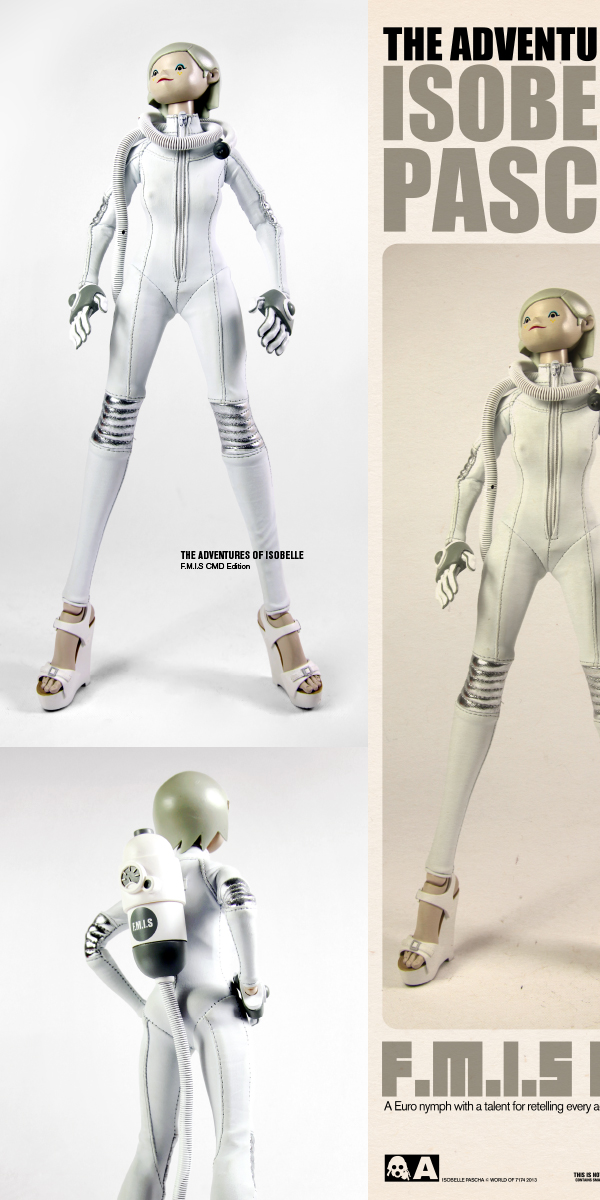 In the ever-evolving saga of whether or not The Maze Runner will be part of this year's 20th Century Fox lineup at Comic Con, producer Wyck Godfrey announced via Twitter that fans should "stay tuned!" to find out if the film will be making an appearance. So don't lose heart yet, Gladers.
https://twitter.com/wyckgodfrey/status/354268084409876480
For the 26th year, Tor Books will be coming to San Diego Comic Con, with a series of signings at their booth (#2707). You can check out their full schedule, including author panels, on their site.
Giant Robot has teamed up with Enkyskulls to produce their latest exclusive, The Serpent. These plushes will be "limited since they're all made with love by hand" and available at Booth 1729, though no price was announced.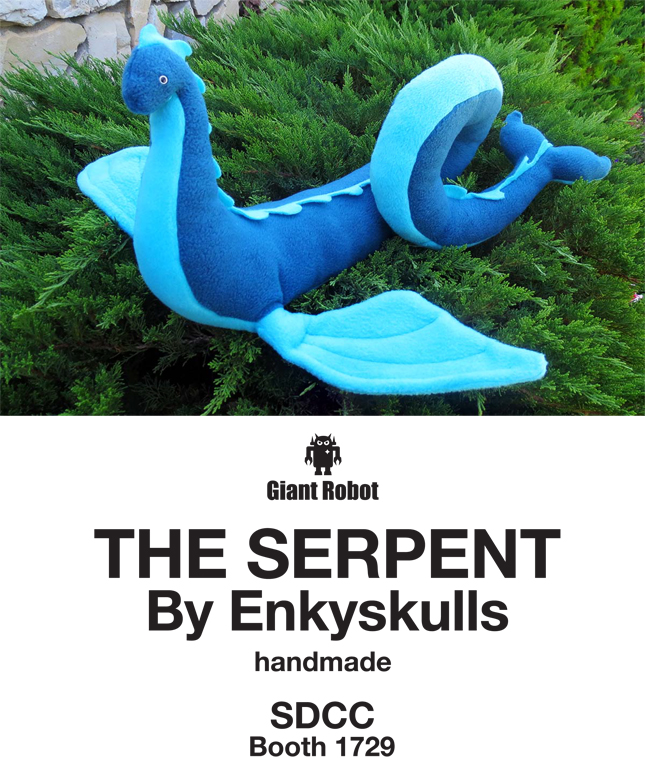 Giant Robot will also be holding a signing at their booth for the creator of Uglydoll, David Horvath, on Saturday at 11AM.
HBO and Cinemax announced their autograph schedule for their series at this year's Comic Con. No booth was announced, but we suspect that like in years past, these will take place at the Warner Bros. booth:
Game of Thrones: Friday 4:45 PM autograph signing
True Blood: Saturday 1:45PM autograph signing
Strike Back: Friday 12:30PM autograph signing
Banshee: Friday 5:45PM autograph signing
Some of the guests for the Thrilling Adventure Hour Friday and Saturday shows have been announced, though as always, they promise "surprise" guests. Friday's shows will feature special guests Keegan-Michael Key (Key & Peele) and Jason Ritter (Parenthood), while Saturday's guests include Molly Quinn (Castle), Jenny Wade (Reaper), the gentlemen of Superego Podcast, and duo Paul & Storm. Tickets for the four shows are still available online.
We have confirmation from Entertainment Weekly that NBC will be holding their headquarters at the Tinfish again this year! EW reports that all of their series will be represented at the Gaslamp eatery, but Dracula is getting some extra special treatment: they'll be featured on chairs! You can spy the swag, which will be given away for free while supplies last, below: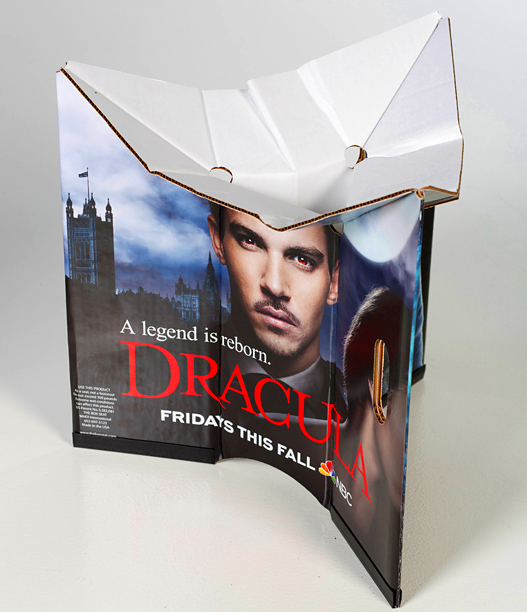 Futurama will be making its final trek to Comic-Con this year, but you can commemorate the show's legacy by picking up a calendar at the Fox Home Entertainment Booth. MTV Geek offers the first look at this exclusive calendar, which you can preview below: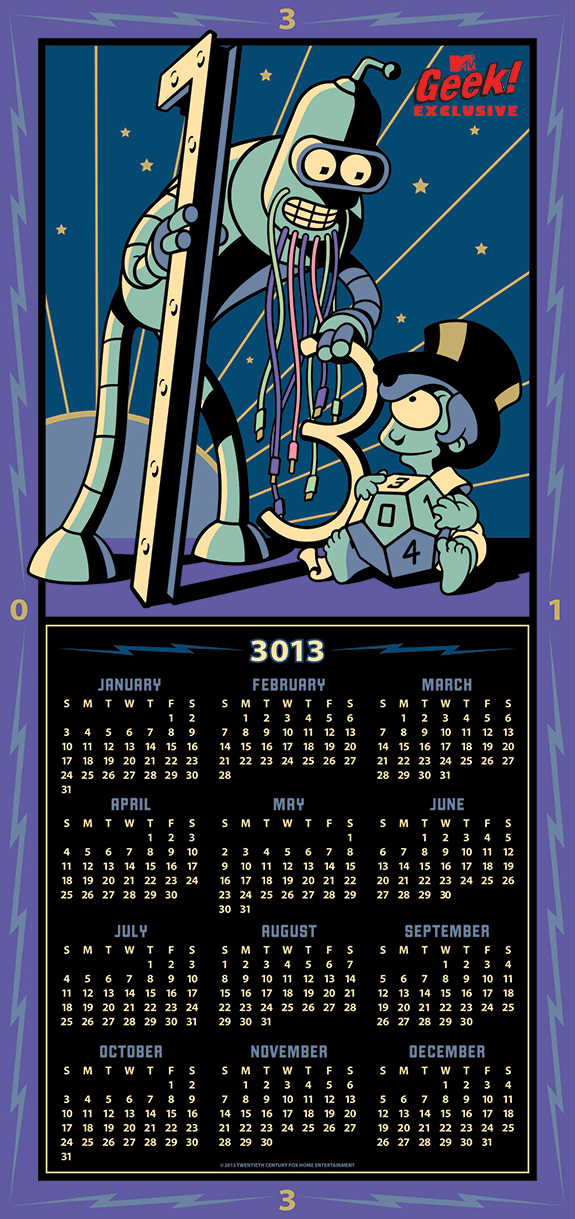 Toymaker Circus Posterus will be taking over the Cardboard Spaceship Toys booth (#5346) on Saturday of SDCC. They'll be bringing exclusives, and artists Chris Ryniak, Amanda Louise Spayd and Brandt Peters will be doing signings and sketch sessions. You can check out their full schedule on their site.
The cast of Workaholics will be having an autograph signing in Sails Pavilion Table AA04 on Thursday, July 18 from 3:30-4:30PM. Additionally, Comedy Central is hosting a free, first come, first served event at Float at the Hard Rock Hotel from 1PM-4PM on Friday. The event is 21+, and fans will have the opporunity to chill and interact with Blake, Adam, Ders and Kyle from Workaholics, Keegan-Michael Key and Jordan Peele from Key & Peele, David Herman, Tom Kenny, Natasha Leggero and Jerry Minor from Brickleberry, comedian (and moderator extraordinaire) Chris Hardwick, among others.
The Veronica Mars cast signing (which includes cast members Rob Thomas, Enrico Colantoni, Ryan Hansen, Jason Dohring, Tina Majorino, Krysten Ritter, Chris Lowell, Percy Daggs III and Francis Capra will take place on Friday at 4PM at the Warner Bros. booth. In order to attend, you'll need to try for ticket drawing wristband distribution in the Sails Pavilion on Friday morning, which will begin just after 8AM. Wristbands are limited to only around 120.
The offsite event that evening will take place at the Horton Plaza Regal Cinema at 7:30PM. Kristin Dos Santos will moderate all the cast members who attended the earlier Hall H panel (including Kristen Bell), where they will also show "some more first-look footage that wasn't screened at the morning panel". They promise more surprises and giveaways.
Artist Rick Remender announced that he will be selling a Comic Con exclusive at the Image booth this year: a Deadly Class poster.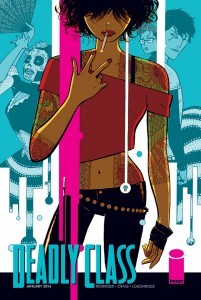 Scott Kinney, creative executive of Prime Universe, will be signing his Kozmik graphic novels on Friday from 5:30PM-7PM and Sunday from 12:30PM-1:30PM at the Arcana Studio booth (#2415).
OutsideComicCon has the scoop on several activations outside of the Convention Center, as well as the Interactive Zone at Petco Park. This includes the Disney Infinity offsite set up in a salon. Mini golf? A pizza truck? Yes, and a lot more. Check out the post for all the details.
Anything we missed? Let us know in the comments, drop us a line or tweet us at @SD_Comic_Con.