We've started a new, quasi-regular column on the Blog titled "Under The Tents". The title is symbolic, as it's representative of the times we all line up under the tents waiting for those big moments to happen inside Hall H or Ballroom 20.
You can read yesterday's Late Edition here.
Here's the rest of the stuff you might have missed for today:
Did you know we're giving away three passes for Comic-Con 2013, including a 4-Day with Preview Night? Enter today, contest ends July 11 noon ET.
The #Haven 2013 button assortment. Drop by Booth #4021 and collect them all… 10 days and counting to #SDCC! pic.twitter.com/xRS7ioyqq6

— Entertainment One (@eOneHomeVideo) July 9, 2013
DKE Toys has announced it will be displaying art from Mike Egan's book "Death Goes Pop" at its booth, #5045. as well as a signing with Egan on Thursday July 18 and Saturday July 20 at 4PM.
Our Comic-Con reader party is the place to be on Wednesday night! Well, aside from Preview Night, anyway. We even have a new flyer! Check out the party's new sponsors and giveaway providers on our event page.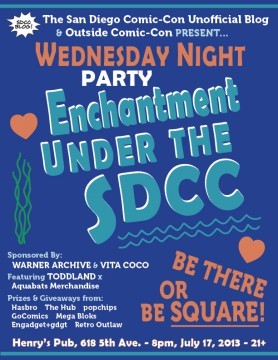 Her Universe, the women's apparel company started by Star Wars: The Clone Wars, has announced The Walking Dead collection in a licensing deal with AMC. The apparel will be available online at HerUniverse.com and during San Diego Comic-Con.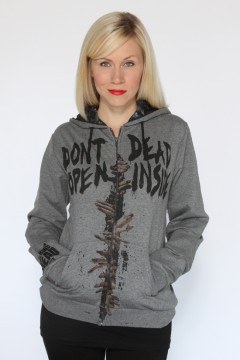 Nearly four hours of our exhaustive analysis on the 2013 SDCC programming schedule is now available on the site. You can check out the video feeds here:
Breaking Down The Schedule (Thursday/Friday): Live Broadcast Recording
Breaking Down The Schedule (Saturday/Sunday): Live Broadcast Recording
And the audio on our podcast feeds, here:
SDConCast – Breaking Down The Schedule 2013 – Thursday and Friday
SDConCast – Breaking Down The Schedule 2013 – Saturday and Sunday
This year's schedule starts on Wednesday, July 17 at 3:00 PM and runs on that day until 10:00 PM. Beginning Thursday, July 18 at 5:00 AM, the shuttles run continuously (but with varying frequency) until Sunday, July 21 at 7:00 PM! These buses are your friends, taking you to your hotel or near where you parked.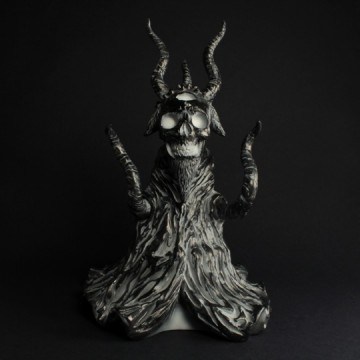 "8 inches of evil with 5 points of articulation, including a ball-jointed head!" Sculpted by Chris Ryniak and features paint by Joe Somers and Kirby Kerr, it will be available for $65 at Rotofugi's booth, #5248.
Smart Pop Books, booth, #4300, has announced its schedule of events for SDCC. will be giving out copies of its 144-page 2013 Smart Pop Preview sampler volume, which includes some exclusive pieces of content from Michael Whelan, Orson Scott Card and others. Also available are buttons from Shadowhunter, Downworlder, The Panem Companion and Ender's World, and attendees can spin the prize wheel for a chance at some great prizes.

The licensed-tee company WeLoveFine has announced its schedule of events "inside" and "outside" Comic-Con. At booth #5647, attendees can pose for photos with the Power Rangers Megaforce team on Thursday July 18 at 6PM and Sunday July 21 at 3PM. Its schedule of guests at the WeLoveFine Pop-Up Shop at the Hilton Gaslamp include Clare Grant, Rileah Vanderbilt and Milynn Sarley from Team Unicorn, Adventure Time's Jessica DiCicco (Flame Princess) and Justin Rolland (Earl of Lemongrab), and steampunk illustrator/author Brian Kesinger.
Jordan Mechner, creator of the Prince of Persia video game franchise, will be debuting his new graphic novel Templar at the First Second Books booth, #1323, and will be signing in the Autograph Area AA09 on Friday July 19 at 11:30AM.
Give Me My Remote has confirmed two additions to the Thursday Bones panel: Emily Deschanel and Ian Tonyton.
#Bones fans, Emily Deschanel&Ian Toynton have officially been added to next Friday's SDCC panel (Original panel dets http://t.co/oREmbmpRdV)

— Marisa Roffman (@marisaroffman) July 8, 2013
Anything we missed? Let us know in the comments, drop us a line or tweet us at @SD_Comic_Con.