We've started a new, quasi-regular column on the Blog titled "Under The Tents". The title is symbolic, as it's representative of the times we all line up under the tents waiting for those big moments to happen inside Hall H or Ballroom 20.
Here's the stuff you might have missed for today:
DKE Toys has announced its newest exclusive, the the Phantom Starkiller: The Cosmic Ghoul Warrior by Killer Bootlegs.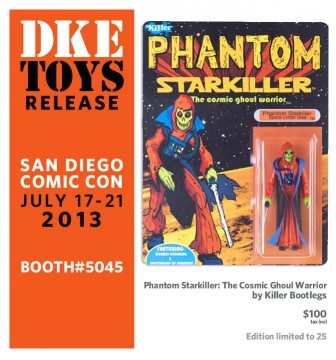 With a real telescoping laser sword, this 3-3/4″ figure on card back is limited to 25 pieces and is $100 each. It will be available at the DKE booth, #5045.
While writer Mark Miller tipped us off that Kick Ass 2 would have a large presence at Comic Con this year, we now have our first insight into what that will entail. WeAreJusticeForever.com, Kick Ass 2's viral website where fans can accept interactive 'challenges' to gain points for swag, also includes one very special grand prize: a 2-night trip to Comic Con for two including air, hotel, and party passes.
The site's legal conditions list the party as a joint "Kick Ass 2/Playboy party tentatively scheduled for evening of July 19, 2013". This also suggests that the panel might be taking place on either Friday or Saturday. [thanks @ShadowFedora]
Lightspeed Fine Art announced on Facebook that they will once again have an autograph booth. All dates and prices are still TBA, but so far the schedule includes Star Trek: The Next Generation's Brent Spiner, Gates McFadden, and Marina Sirtis, Warehouse 13's Eddie McClintock, voice-actors Vic Mignogna and Steve Blum, as well as X-Files' Gillian Anderson.
Check out the latest Toucan Tip of the Day for a quick route between the Convention Center levels: Visit the Mezzanine for a Whole Different View of the Show!
Those long escalators to the upper level program rooms in the Convention Center lobby are not the only way to get upstairs! If you walk out the back of the Exhibit Hall in Hall B2 (see map below), you'll find escalators, stairs, and an elevator that takes you up to the Mezzanine level of the center
Just received flight confirmations – @TentacleChris and I are going to #SDCC promoting Total War Rome II for #SEGA!

— Pepper Mint (@PepperMintPinUp) June 26, 2013
A LEGO Back To The Future "one-off exclusive" set is coming July 18, according to site Brick News. Interesting to note that the date and the indication of an exclusive set times nicely with Comic-Con. Will this be an SDCC exclusive? [via Movies.com]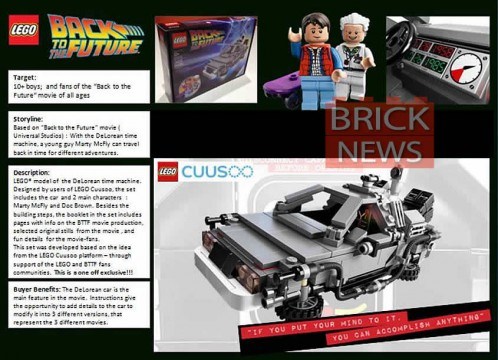 Her Universe, the apparel company started by Star Wars: The Clone Wars actress Ashley Eckstein, will be selling both men's and women's shirts and hoodies at the conival stops along the Course of the Force relay event as well as at the company's booth during SDCC. A portion of each sale will go to the Make-A-Wish Foundation.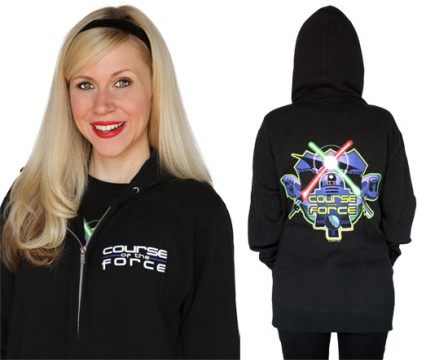 The Beat reports ComiXology will be debuting a new summer event called "Meet Your Maker," spotlighting comics creators in the weeks leading up to Comic-Con.
…the company is getting more involved with tangible things of late, including a summer program they're calling "Meet Your Makers", which is meant, we're told, to spotlight the creators behind your favorite comics. The program will roll out with various aspects each week leading up to Comic-Con, where comiXology will be a minor sponsor for both the Eisner Awards Ceremony on Friday and the Comic Book Legal Defense Fund Welcome Party on Thursday. Both are among the premiere comics-focused events at the con.
DKE Toys is back with another SDCC exclusive announcement. Today's is the Deathead S'murk Crimson by David Flores and BlackBook Toy.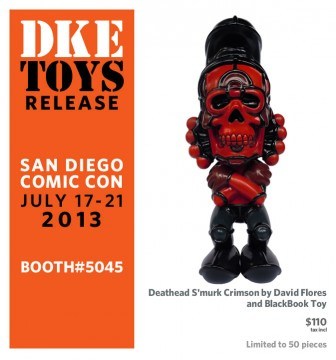 The Deathead S'murk Crimson will be limited to 50 pieces and will sell for $110 at DKE's booth, #5045.
The New Star Trek Enterprise Bridge Restoration project and nonprofit has just announced via Twitter that their booth presence this year will also include some signings. The first announced guest is John DiMaggio, who voiced Bender in Futurama.
While we already announced this morning that Lionsgate's I, Frankenstein would be making the trek to SDCC, we now know at least one cast member who will be in attendance. Chuck's Yvonne Strahovski confirmed she'll be there via Twitter:
Tra la la folks. See you there http://t.co/r1oUMSQcGM

— Yvonne Strahovski (@Y_Strahovski) June 26, 2013
Bandai America has revealed their Power Rangers exclusive – seven cards exclusive to SDCC from the Power Rangers Action Card Game. Photos will be released starting tomorrow, and you can vote for which ones you'd like previews of first on their Facebook page.
Anything we missed? Let us know in the comments, drop us a line or tweet us at @SD_Comic_Con.