We've started a new, quasi-regular column on the Blog titled "Under The Tents". The title is symbolic, as it's representative of the times we all line up under the tents waiting for those big moments to happen inside Hall H or Ballroom 20.
You can read yesterday's Late Edition here.
Here's the rest of the stuff you might have missed for today:
EnderWiggin.net was given a sneak peek at several of the promotional items for Ender's Game to be given away at the Summit Entertainment booth as well as the offsite Ender's Game Fan Experience. You can preview the full collection on their site, but here's a sample of some of Summit's offerings, including a set of pins and a tote bag:
Fan site I Am Divergent has also revealed the Divergent promotional items to be handed out at Summit Entertainment's booth, which includes temporary tattoos, a poster bag, iron patches, and more. You can check out the full range of items at their site. Here's a look at the iron on patches and poster bag:
DKE Toys is back with another exclusive for today, Bernice Beggadear and Beatnik Owl Dude by Robin VanValkenburgh.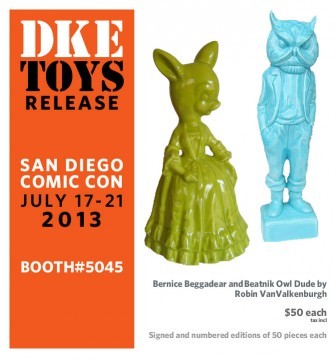 These have been produced by Robin in signed and numbered 50 piece editions. They will retail for $50 each at DKE's booth, #5045.
No surprise, since they've already been listed on the Exhibitor map with a sizable booth on the Exhibit floor (booth #100 to be exact), but Xbox will be back at Comic-Con, according to a tweet from Larry Hryb's Major Nelson:
Yes, Xbox will be at San Diego Comic Con later this month – who else is going ?

— Larry Hryb 💫✨ (@majornelson) July 2, 2013
Looking at the replies to that tweet, it appears Harmonix will be partnering with Microsoft during SDCC to show off its upcoming Fantasia: Music Evolved Kinect game.
Trading card company PSA will hand out free The Walking Dead and Game of Thrones trading cards and copies of the August 2013 issue of SMR magazine at its booth, #5617. In addition, you can enter to win  the original acrylic-on-canvas artwork for the magazine's cover, seen below, created by renowned artist, Arthur K. Miller.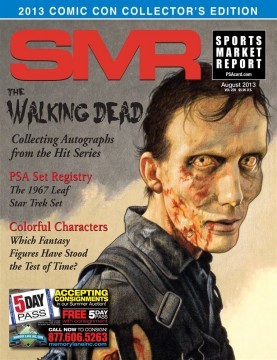 The Westfield Horton Plaza will be offering exclusive discounts for Comic-Con badge holders. Check out the Facebook page for updates and participating retailers.
Gamer company Ubisoft has announced that will be at SDCC this year with a packed programming lineup, including four panels (Assassin's Creed IV Black Flag, Watch Dogs, and more, which you can see here). The highlight of their presence, though, is an actual pirate ship – which will be docked at 5th Avenue Landing behind the convention center. Here's some information about what you can expect when you board for the high seas, including a real pirate ship, weapon demonstrations, signings and more.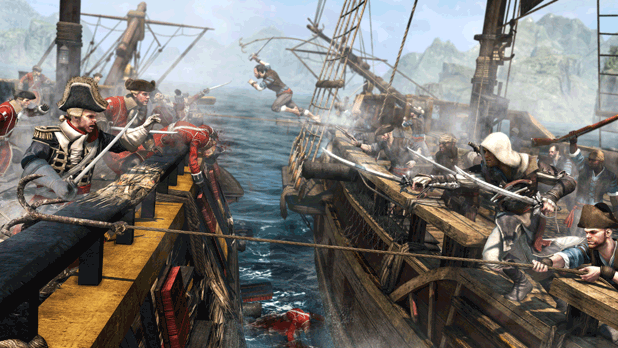 "The Maze Runner" author James Dashner had previously hinted that the upcoming film of the same name, starring Teen Wolf's Dylan O'Brien, would be in attendance, but according to an announcement via Twitter, now he doesn't seem so sure:
I'm not sure about Comic Con, guys. I'll be there for sure, doing things on Friday and Sunday. But the cast? Don't know. #dashnerchat

— James Dashner (@jamesdashner) June 28, 2013
With Teen Wolf slated to resume filming sometime this month and O'Brien already confirmed for Comic Con, it seems likely the film will have stopped production before San Diego Comic Con. But perhaps 20th Century Fox doesn't feel the footage is ready. We'll know more soon!
 The Knopt Doubleday group will return to San Diego Comic Con this year at the Random House Booth #1515. They'll be holding a series of signings for bestselling authors, including Chuck Palahniuk and Anne Rice, and from their press release, here's the schedule:
Roger Hobbs is the 23 year-old author of the national bestseller GHOSTMAN, one of the most celebrated crime debuts in recent years. Written when he was still in college, GHOSTMAN brilliantly reinvents the casino heist and has been sold in fifteen countries. Hobbs will appear on the Keep 'Em at the Edge of Their Seats panel on Thursday at 4 pm, and he will sign copies of GHOSTMAN at the Random House booth (#1515) on Friday, 4-5pm. www.rogerhobbs.com.

Chuck Palahniuk is the New York Times bestselling author of Fight Club, Choke, Survivor, and 10 other novels which have sold more than 5 million copies in the United States. His new novel, DOOMED, will be published in October 2013. Palahniuk will be on the Ode to Nerds panel on Thursday at 1:45 pm, and he will sign books at the Random House booth (#1515) on Friday, 10-11 am.

Anne Rice is thrilled to be back at SDCC this year to meet fans and promote her werewolf series, The Wolf Gift Chronicles. The next installment, THE WOLVES OF MIDWINTER, pubs on October 15. Her signing will take place on Saturday, 3-5 pm in Autograph Area AA03. And watch for a fun giveaway at the Knopf Pantheon booth while supplies last.

Andrew Vachss is a celebrated master of noir fiction, including the legendary Burke series. His new novel AFTERSHOCK is about an ex-mercenary and begins a new series. Vachss is also a full-time lawyer and the nation's most successful legal advocate for abused children. Vachss will sign copies of AFTERSHOCK at the Random House booth (#1515) on Saturday, 10-11 am.
Anything we missed? Let us know in the comments, drop us a line or tweet us at @SD_Comic_Con.