We've started a new, quasi-regular column on the Blog titled "Under The Tents". The title is symbolic, as it's representative of the times we all line up under the tents waiting for those big moments to happen inside Hall H or Ballroom 20.
You can read yesterday's Early Edition here.
Here's the rest of the stuff you might have missed for today:
We received a juicy anonymous tip yesterday that Warner Bros. has again rented out the park outside the Hilton Bayfront this year. Last year it was for the "Extra at Comic-Con" with the display of Batmobiles and the stage of music performances and talent appearances. Sounds like we'll see what they have in store for this year soon.
Also, we received a tip that the new Hilton Bayfront Pool Club will play host to a Big Bang Theory Pool Party on Saturday July 20. No word on whether this is an industry party or open to attendees, but again we'll know more soon.
Documentary Drew: The Man Behind the Poster, based Drew Struzan, the famed illustrator behind iconic one-sheets for movies like Star Wars, Indiana Jones and Back to the Future, will premiere at Comic Con. The documentary, which opens theatrically later this year, will screen at the Gaslamp 15, though specific dates and times during SDCC have not been announced. You can keep an eye out on their site.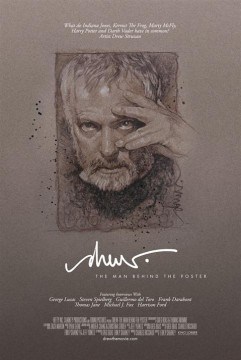 Harper Voyage, the sci-fi and fantasy imprint of HarperCollins, announced that they will be attending San Diego Comic Con this year with lots of specials events. Their programming schedule includes author signings at Booth #1029 (including for David Wellington, Richard Kadrey, James Rollins and others), giveaways at their booth, and more. Additionally, many of their writers will be appearing on panels. You can view their full schedule at their site.
Mattel has announced its panel and booth event schedule for this year. Six panels, including the annual Mattypalooza on Friday, Monster High on Saturday and the world premiere of Max Steel: Rise of Elementor with a free toy giveaway. The booth events include a signing from Battlestar Galactica's Dirk Benedict (Starbuck/Faceman), Monster High talent signings and more. Check out the entire schedule on the MattyCollector website.
We've got news that actress, writer and producer Stephanie Thorpe will on two panels this year: Web Creators Assemble! (Thursday at 7:30PM in Room 24ABC) and the ElfQuest 35th Anniversary (Friday at 6:30PM in Room 8). The Web Creators panel will include Jane Espenson (Once Upon a Time, Buffy), Brad Bell (Husbands), Tara Platt (Shelf Life), Katrina Hill (Gamers Anon), Alex Langely (Super Knocked-Up), Sandeep Parikh (The Guild, The Legend of Neil) and Jourdan Gibson (The Cell).
And, to celebrate the 35th Anniversary of legendary comic series ElfQuest, Thorpe will join creators Wendy and Richard Pini, producing partner Paula Rhodes, Managing Editor of Boing Boing Rob Beschizza as they celebrate three and a half decades of the longest-running fantasy graphic novel series and surprise fans by what's planned as the story builds to its most ambitious chapter yet, "Final Quest"; which will be published by Dark Horse in the fall.

Want to play Settlers of Catan with Wil Wheaton? Now might be your chance! On Friday at 10AM, Geek & Sundry, along with Mayfair Games, will be hosting a Star Trek Catan official tournament. To enter for a chance to square off against Wheaton, just visit their site, post a photo of yourself playing Catan with your friends, and write a paragraph about your best win.
Anything we missed? Let us know in the comments, drop us a line or tweet us at @SD_Comic_Con.