We've started a new, quasi-regular column on the Blog titled "Under The Tents". The title is symbolic, as it's representative of the times we all line up under the tents waiting for those big moments to happen inside Hall H or Ballroom 20.
You can read today's Early Edition here, and today's Late Edition Here.
Here's the rest of the stuff you might have missed for today:
We finally found out what that #HUNTthePREDATOR campaign was all about. The original Predator with Arnold Schwarzenegger is getting released by Twentieth Century Fox Home Entertainment on Blu-ray 3D later this year, and the Fox booth, #3528, is giving attendees an exclusive Comic-Con collectible in celebration of the upcoming release.
Fans can "have their photo taken with state of the art cameras courtesy of 3D Systems, and their image will then be used to make them the victim as a customized figurine is created using 3D Systems 3D printing technology that features the Predator alien holding the fans' severed head." This figurine is only available to those who pre-order the release at the Fox booth, which comes in a collectible limited edition Predator head version ($129.99) or a "headless" version ($49.99).
Attendees who hunt for the Predator can be entered to receive a front-of-the-line pass to the 3D printing booth. Just find the Predator, take a photo and upload it to social networks with the official hashtag "HUNTthePREDATOR" to be entered. And, you'll be able to get a first-look at the 3D transfer of the film ahead of its release later this year.
Want another shot at an advanced screening of Christian Slater's sci-fi horror film Stranded? Enter to win some now courtesy of Wizard World.
Mondo announced it will be selling special Comic-Con regular and variant prints of Godzilla. They will be available at the Mondo booth, #936, on Friday July 19, and will be announced on Twitter via @MondoNews.
Godzilla
by Phantom City Creative
24″ x 36″
Edition of 275
$45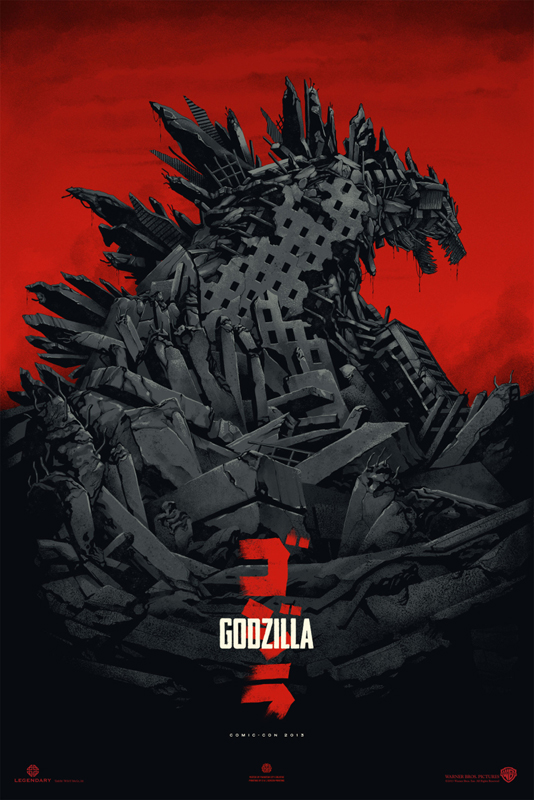 Godzilla (Variant)
by Phantom City Creative
24″ x 36″
Edition of 100
$70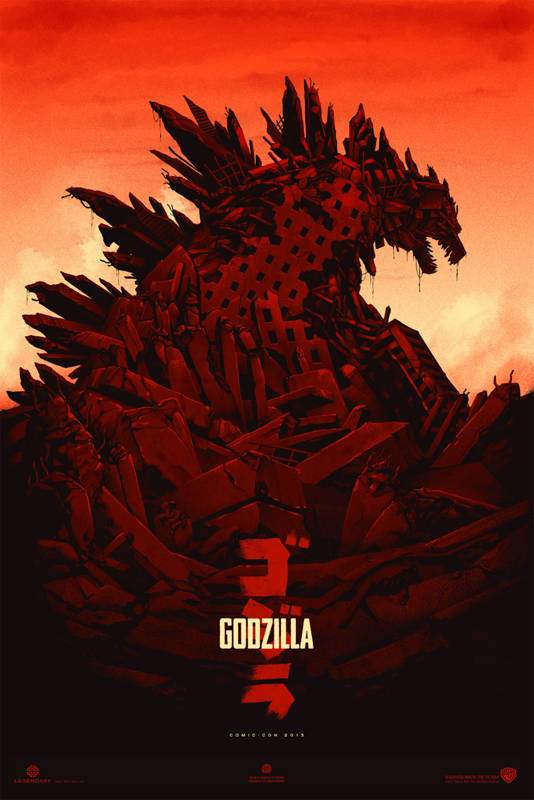 Joe Lynch, the director of the unreleased Knights of Badassdom starring Peter Dinklage and Summer Glau, tweeted that he has something big in store for those attending the Machinima panel Saturday July 20 in the Indigo Ballroom.
Hey Comic-Conners…you MIGHT want to go to the @Machinima_com panel on Saturday at 11am at the Indigo Ballroom. Trust me. #WinkWink

— Joe Lynch (@TheJoeLynch) July 15, 2013
Could it be announcement of the film's release, perhaps online? We'll see…
Thought you'd seen the last of the #WeCanBeHeroes? Think again. Be ready for some BIG news July 17. http://t.co/gCNWRx9Wmm

— DC (@DCOfficial) July 15, 2013
July 17 is the date the custom Justice League-inspired Kia car designed by legendary comic book artist Jim Lee will be revealed. The unveiling will mark the kickoff of a 10-day online auction in support of DCE's "We Can Be Heroes" philanthropy campaign in which the car and beautiful artwork from last year's "Darkness and Light" exhibit will be available for bid to the public.
Nerdist announced via Twitter it will host a Q&A with Guns N' Roses guitarist Slash on Thursday, July 18 at Petco Park.
Come to a NERDIST EXCLUSIVE Q&A w/ @Slash at #NerdHQ Petco Park, moderated by @CarrieKeagan. 1st Floor Mezzanine, Thursday 7/18 @ 6pm! #SDCC

— Nerdist (@nerdist) July 15, 2013
Reader Dustin Ma let us know that on Google Maps, if you zoom in on the San Diego Convention Center it has all the rooms listed. And reader Kelson Vibber replied, if you zoom even further, Google took the Street View cameras in the upper floor for an inside look. Gotta love Google!
To celebrate the upcoming DVD and Blu-ray release of Tom Cruise's Oblivion, the concept artist for the film, Andree Wallin, created a look at what the Convetion Center would have looked like in 2017 cinematic ruins: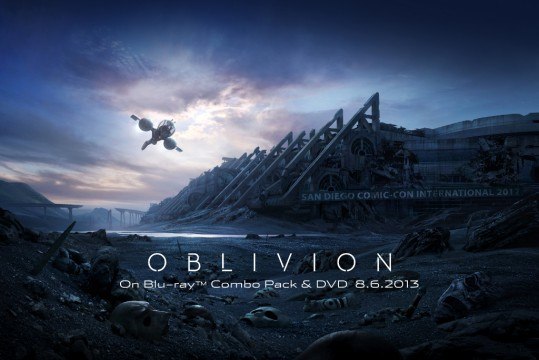 Geek Magazine will be giving out special edition totes emblazoned with this apocalyptic image throughout the weekend by tweeting out a special password, as well as providing the password to attendees at any of the Geek panels. We want!
Artist Tommy Lee Edwards tweeted out an image of his exclusive Comic-Con poster for Edgar Wright's The World's End. No word on if this will be available to attendees, but fingers crossed!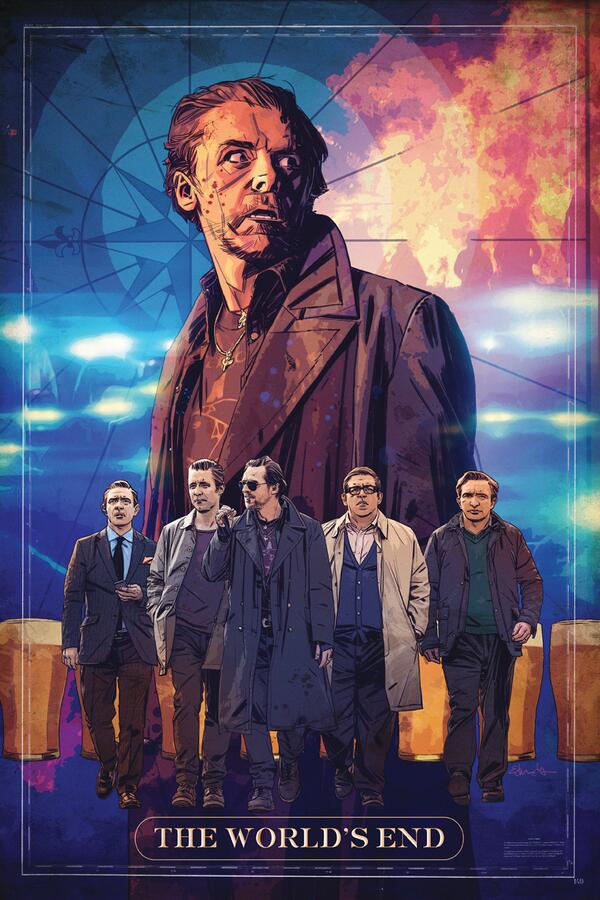 Anything we missed? Let us know in the comments, drop us a line or tweet us at @SD_Comic_Con.