We've started a new, quasi-regular column on the Blog titled "Under The Tents". The title is symbolic, as it's representative of the times we all line up under the tents waiting for those big moments to happen inside Hall H or Ballroom 20.
You can read this morning's Early Edition here.
Here's the rest of the stuff you might have missed for today:
Comic-Con is getting the attention of day traders. The Motley Fool says SDCC is a good bet for investors.
Time's running out before the Zombie Apocalypse takes over San Diego next week. And if you haven't yet signed up for the excellent offsite event The Walking Dead Escape, now's the time. Register now and save $10 off a Survivor ticket with code SURVIVOR10, and $5 off a Spectator ticket with code SPEC5. Hurry, some slots are already sold out!

 IGN has unveiled the next three 20th Century Fox films to get an exclusive SDCC cover makeover. The Horror collection will release special edition Blu-Rays during Comic Con at their booth of Carrie, The Silence of the Lambs, and Child's Play.

 ComingSoon.net has a sneak peek at one of the Hunger Games: Catching Fire exclusives available at the Lionsgate booth this year. Just like two years ago, they'll be giving away a limited number of Mockingjay pins. Here's a look at the updated design: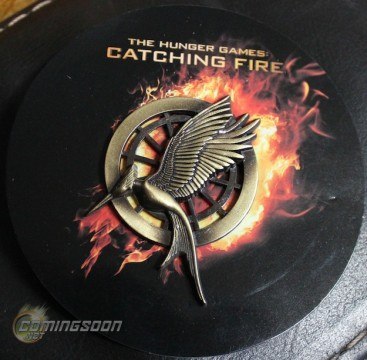 Drawn and Quarterly has announced their Comic Con schedule, which includes signings for New York Times cartoonist Tom Gauld, as well as other artists Lisa Hanawalt, Gilbert Hernandez, and Matthew Forsythe. You can check out their full schedule on their blog.
Game of Thrones fans should swing by the Insight Editions booth (#1134) to grab "Game of Thrones: A Pop-up Guide to Westeros". The book, which was illustrated by Michael Komarck, will sell for $59.95 and feature "numerous mini-pops that bring to life iconic elements of the such, such as direwolves, White Walkers, giants, and dragons".
Toy Tokyo has posted their full SDCC schedule, which includes a look at all of their exclusives, and a list of signings at their booth (#5337). You can preview the schedule on their site, or below:
While we announced that the Escape Plan screening on Thursday would have a few different ways to win tickets to, we now know of at one way into the special event with its stars. The Escape Plan Movie site offers fans a chance to tweet for tickets. You can check it out on their site.


Reports from Bleeding Cool and comic creator Rob Liefeld himself indicate that an X-Force movie is in the works (though at what stage the movie plans are in remains to be seen). Might we be getting an announcement at Fox's Saturday Hall H panel? Bleeding Cool seems to think it's possible.
Yup. Was informed in March RT @Graysonmm: @robertliefeld http://t.co/il1lbRtDud an X-Force movie?

— robliefeld (@robertliefeld) July 12, 2013
TV Guide Magazine has the exclusive on which cast members from Revolution will be in attendance for their Saturday Comic-Con panel in Room 6BCF: Billy Burke, Tracy Spiridakos, Giancarlo Esposito, David Lyons and JD Pardo.
The final DKE Toys exclusive has been revealed – the Infected Android by Scott Wilkowski x Andrew Bell. There are four editions of 100 pieces each, which will retail for $40 each. Each color will be released on a different day during the convention: the clear edition on Thursday, the red edition on Friday, the orange edition on Saturday, and the blue edition on Sunday. DKE also stated that if a day's run didn't sell out, they would still be available the next day.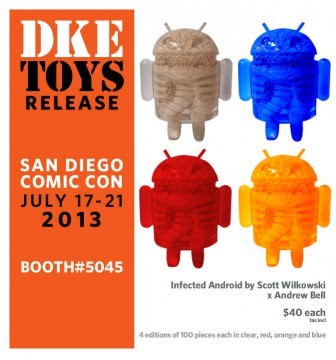 You can also view a "Cheat Sheet" for all of DKE Toys exclusives and signings on their site.
Full Moon Features is offering a limited edition collector's cereal box packed with surprises. Their upcoming film, Unlocky Charms, will make its worldwide debut as part of a limited edition cereal box available only at SDCC. Stop by booth #40 to grab one for $20.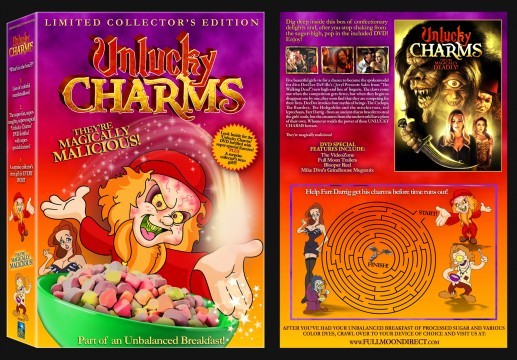 Kick-Ass 2 writer Mark Millar has confirmed via Twitter that he will be on the Kick Ass 2 panel.
Lot of people asking & yes – I am indeed coming to San Diego Con next week for 18 hours. Will be at Kick-Ass 2 panel & Playboy party.

— Millarworld (@mrmarkmillar) July 12, 2013
We also have the cast listing for Once Upon a Time in Wonderland's Saturday panel, including which character each actor will be playing. Executive producers Edward Kitsis (LOST and Tron: Legacy), Adam Horowitz (LOST and Tron: Legacy) and Zack Estrin (The River and Fox's Prison Break) join actors Sophie Lowe as Alice, Michael Socha  as Knave of Hearts, Peter Gadiot  as Cyrus and Emma Rigby as the Red Queen.
ComingSoon.net has posted an official Seventh Son Comic Con poster from Warner Bros. – which we expect will be available throughout SDCC at their booth. Here's the version with actor Kit Harrington:
DC Entertainment has launched an app for both Apple and Android phones, where attendees can "find the most up-to-date details and information on every DC Entertainment-related panel, talent signing, in-booth event and off-site happenings". You can get more information here.
The official Comic-Con iPhone app is now available, if you haven't already downloaded it. From the Toucan Blog:
The app includes access on your iPhone to the complete Comic-Con International 2013 schedule including programs, anime, autographs, the film festival games, portfolio review and once more. Browse our special guest bios, exhibitors and exclusives, zoom in for a close look at out Exhibit Hall map, take a gander at the line situation for Hall H …you can even now access Toucan on the app! It's all there and it's free! Download it now.
R.I.P.D., the upcoming Jeff Bridges and Ryan Reynolds film based on comic series by Peter M. Kenkov, revealed through Twitter that they will have some presence at Comic Con. No word yet on whether that's through a screening, or just giveaways – which includes a hat worn by Bridges in the film.
The #RIPD is heading to #SDCC. For updates and exclusives giveaways, text RIPD to 834567. @TheJeffBridges hat from the film could be yours!

— RIPD (@RIPDFilm) July 13, 2013
Anything we missed? Let us know in the comments, drop us a line or tweet us at @SD_Comic_Con.