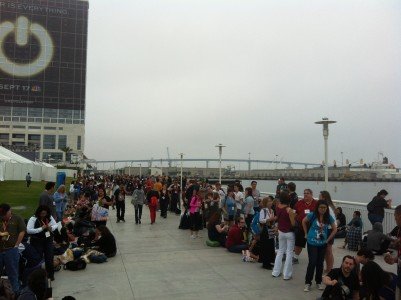 Camping might not be allowed until Tuesday July 22, 2014, but we're already holding your place in line with continued updates, even as Comic-Con says goodbye until next year.
Here's the news you might have missed:
Mark your calendars: San Diego Comic-Con 2014 is July 24-27.
TV Guide L.A. Bureau Chief Michael Schneider posted a fascinating piece on what happened behind-the-scenes to pull off the X-Files 20th Anniversary Reunion panel.
This is how well Marvel kept its Hall H plans hidden: Movies.com Managing Editor Erik Davis tweeted that his site, along with many other movie blogs, were ready to go with several different Marvel guides in anticipation for the panel reveals.
Heh, a bunch of us movie sites had all sorts of Marvel guides (most notably Dr. Strange) ready thinking they were going to announce at Con.

— Erik Davis (@ErikDavis) July 22, 2013
Lori Weisberg of U-T San Diego covered the annual Comic-Con Talkback panel, held each year to give attendees a chance to provide feedback directly to show organizers on what went well and what could improve for the following year. Bet you could never guess (*ahem*…lines) what was a hot topic at the panel?
Anything we missed? Let us know in the comments, drop us a line or tweet us at @SD_Comic_Con.