The second biggest comics and pop culture convention in the United States is nearly a month away, and already it's trying to "one-up" its West Coast rival.
Our friends at ConventionExclusive.com alerted us to an early NYCC-exclusive, and it's one that will undoubtedly get SDCC attendees jealous: The Stan "The Man" Lee POP! Vinyl from Funko.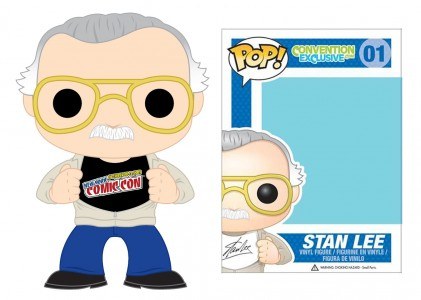 The POP we've all been waiting for: Stan "The Man" Lee! This exclusive is limited to 1000 pcs and is brought to you by ConventionExclusive.com Booth #1274. This is the 1st of a 5 figure series that will be exclusive to future cons. A must have for all Marvel & POP! Fans.
And ConventionExclusive.com will also have available a "small amount" of Deadpool "Days of Future Past" and Walking Dead "Blood Splatter Merle" figures for those attending NYCC who may have missed them at SDCC this year. And since this will be the first of five Stan Lee figures "exclusive to future cons", we're hopeful one of the others will make its way to San Diego in 2014.
Pick up the NYCC-exclusive Stan "The Man" Lee POP! Vinyl at the ConventionExclusive.com booth, #1274 during New York Comic-Con, October 10-13 at the Javits Center in New York City.
[UPDATE] We've been notified that the NYCC-exclusive Stan "The Man" Lee POP! Vinyl will also be available at the Crazy Cat Collectibles booth, #1555, and Stan Lee himself will signing at the booth on Saturday.
Going to NYCC? Let us know in the comments!