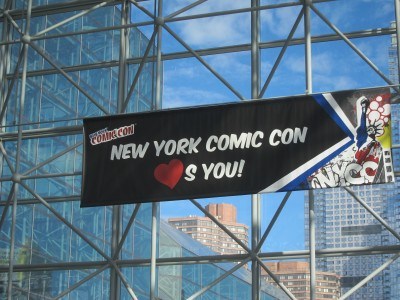 San Diego Comic-Con is still "king of the hill" when it comes to North American comic conventions. However, if there is one other which comes close, it's New York Comic-Con. Started in 2006 with an attendance count of about 33,000, the convention has seized the wave of "con-fever" that has taken hold of geeks everywhere, growing to 116,000 in 2012 and has become the second largest comic convention in North America.
Since many of our readers weren't able to make it to NYCC this year, we decided to check it out for ourselves and report back on how it stacks up against SDCC.
Tickets:
The ticket situation for NYCC is a bit different from SDCC, for several reasons. As far as prices go, Thursday tickets, due to the abridged schedule for that day, are the cheapest at $30. Friday and Sunday tickets will cost you $40; and Saturday, which generally houses the biggest panels (and crowds), go for $50.
In addition to single-day tickets, NYCC also offers four-day tickets ($85), which cover Thursday through Sunday, as well as three-day tickets ($65), which are valid Friday through Sunday.
Next, NYCC offers VIP packages which, at a premium, offer conveniences to attendees that would make our West Coast friends jealous. And judging by how fast these sold out — in a matter of hours for the most expensive package, and mere days for the lower tier — their offerings are much appreciated.
For $475, attendees get four-day access, separate entrances, first access to the show floor each day, VIP lounge access, private signings, and — what every SDCC attendee would die for — guaranteed premium reserved seating for all events in the main theater. To put that in layman's terms, that's like saying you'd never have to wait in line for a panel in Hall H. For $190, you'd still get VIP lounge access, separate entrances and first access to the floor, but gone are the private signings and the guaranteed seating in the main theater. There's some other swag included that SDCC attendees get for free, like an oversized shopping bag.
Lastly, NYCC releases its tickets in waves, to avoid the mad online rush and ensuing server crashes. VIP packages and three and four-day tickets were released first, in early April, while single-day tickets were available starting in mid-June.
Tickets for NYCC sell out in a matter of weeks, not minutes as with SDCC. In 2013, the VIP tickets were gone quickly as mentioned earlier, while the three and four-day tickets were gone within a month. For single-day tickets, which were available starting in mid-June, Saturday tickets were gone in about six weeks, and Friday and Sunday were sold out a few weeks later. Thursday tickets remained available up until the day of the show, which harkens back the "good ole days" that SDCC veterans talk about when they were able to walk right up to the Convention Center and purchase their badges at the door.
Length of Con:
NYCC 2013 was Thursday October 10 through Sunday October 13. Generally it is held mid-October every year. Previously, Thursday at NYCC was generally the same as SDCC's Preview Night Wednesday — having been only open in the evening — although it has been expanded a bit in recent years to a full day, albeit still slightly abridged.
Exhibitors:
For every major exhibitor who set up shop at NYCC, there seemed to be one that was conspicuously missing. For example, Marvel, AMC's The Walking Dead, Capcom and Dark Horse all had their big booths from SDCC, but notable no-shows included DC, Hasbro, IDW, LEGO, and major film studios and television networks. Certain major exhibitors had scaled-down — yet still happening — booths, such as Bandai, MattyCollector and Nintendo; and Nickelodeon only had a small presence in the lobby with a Teenage Mutant Ninja Turtles merchandise exhibit.
Nintendo booth is hopping this year, AND they have a store! #NYCC https://t.co/2l5CLjTfBH

— SDCC Unofficial Blog (@SD_Comic_Con) October 12, 2013
The official New York Comic-Con website lists 1314 exhibitors, which also included Artist Alley and fan tables.
Autographs/Photo-Ops: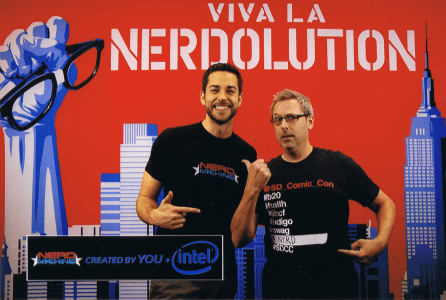 Many booths, such as at SDCC, hosted their own free signings. It was typical to see the big booths, such as Image, Dark Horse, WeLoveFine, MattyCollector and Marvel, all have concurrent signings with comic talent and television and film celebrities; and from what we saw, the lines weren't so bad, at least not what we have come to expect at SDCC.
And as with any con, there are always celebrities willing to take a buck or two — or several hundred — from attendees willing to get a picture or autograph with their favorite celebrity has-been. Hulk Hogan, William Shatner, Patrick Stewart, David Duchovny and Gillian Anderson were among the celebrities signing or posing for a fee. Just check out the list of autograph prices with talent booked by NYCC, posted by Gawker. In contrast, SDCC attendees are used to getting autographs for free, unless the talent is booked by a specific exhibitor.
Programming:
Of all the convention competitors to SDCC, New York Comic-Con is closest in terms of having a big Hollywood presence. Many popular television shows make appearances at NYCC, even though for many their fall television season has begun. And in terms of big studio films, NYCC has its fair share of those as well, with many premiering new footage at the convention.
One big difference is that NYCC streams panels online from its two sponsored stages, the Main Stage and the Empire Stage. These panels, which include some of the biggest television shows and major Hollywood films, were streamed live and are still available online.
For a look at what NYCC had to offer for 2013, check out our top programming picks for Thursday and Friday, and Saturday and Sunday.
Exclusives and Swag: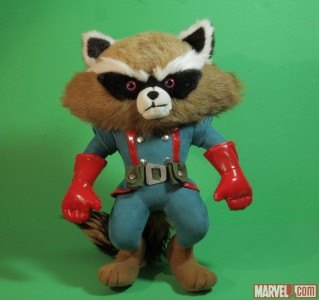 There was plenty of exclusive merchandise available from exhibitors at NYCC. Marvel was probably the most popular booth for its limited edition exclusives, with one of the most popular being a plush Rocket Racoon  with a limited edition Skottie Young lithograph. Attendees were posting on Twitter that the lines for the Marvel booth were hours long on Thursday, with many exclusives selling out on opening day for the rest of the weekend.
MattyCollector was also selling exclusives, including some Monster High Webarella dolls from SDCC (how did they even have any left?) which went as fast as the Marvel merch.
Nintendo wasn't selling exclusives per se, but rather had brought merchandise from its Nintendo World NYC store and was selling the popular Pokemon X and Y 3DS game a few days early for attendees. The store was a nice addition, and something we hope Nintendo brings to SDCC next year.
NYCC also had its own exclusive apparel, from companies like Marvel and Her Universe, which were available both on the exhibit floor and still available online.
As far as swag goes, SDCC is still king. Without the big swag providers such as Hasbro, FOX and Lionsgate, NYCC was clearly deficient of free posters and shirts. Still, there was swag to be had. For example, Marvel had its typical table of free preview issues and buttons, Viz was handing out Hello Kitty posters, Nintendo was handing out Super Mario 3D World furry cat ears, and Bandai was handing out Power Rangers cards. And you could always get a free picture with the latest Capcom game franchise and Hello Kitty.
Lines and Attendance: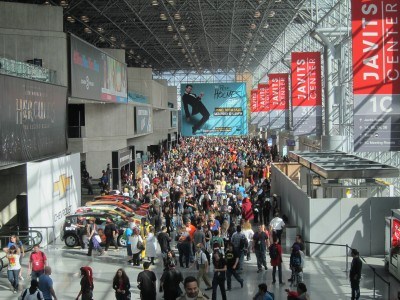 Surprise, NYCC might actually end up being the biggest comics convention in North America after attendance figures are finalized for 2013. The convention was expected to pull in over 130,000 people, which would put it squarely within SDCC-territory.  Yet despite the enormous number of people, crowd management was kept pretty much in control, even during the weekend. Part of the reason for this was due to NYCC's badge system, which employed an RFID chip (with some highly publicized controversy) and allowed attendees to "tap" in and out of the convention quickly and easily, and not having to check badges once inside the convention center.
Despite the number of attendees, lines for booth events on the exhibit floor, save for Marvel, didn't seem to cap as fast as with SDCC.
As far as lines go for panels, there was some line camping but not nearly to the extent we're used to at SDCC, due to the location of the Javits Center and the differences between NYC and San Diego. There's not much outside of the Javits, and it's probably not the wisest choice to be spending the night outside in Manhattan.
We noticed the Empire Room, one of the larger stages at NYCC, have nearly no line just after Saturday's opening, but that room primarily had the big comic panels of the weekend. The Main Stage had the big TV and film panels, and there were many who got a seat first thing in the morning only to stay throughout the day for The Walking Dead late that afternoon.
And compared to SDCC, there's just a fraction of the rooms available for panel programming at NYCC, which means there's not as many places for attendees to fill into.
Outside Attractions and Offsite Events:
When one goes to SDCC, they cannot notice how the city embraces the convention. SDCC also has the benefit of having the Gaslamp Quarter across the street, and as a result it seems every business in the area does something to partake in the celebration. NYCC, however, couldn't be more different. Although there were a few offsite events this year hosted by the Paley Center as part of their regular programming, and a couple of parties hosted by Legendary, it seemed like the rest of Manhattan wouldn't even know that a Comic-Con was going on.
This is due to a couple reasons. One, the location of the Javits Convention Center on the Hudson is pretty barren, with no bars or restaurants within a two or three avenues.  That's about a half mile of trudging past some industrial buildings and parking garages until you get to something that resembles a bustling major city. By that point, it's business as usual for Manhattanites.
And that brings us to our second point. New York City is one of the toughest cities in the world. Major events like this happen and the locals don't even flinch. Tens of thousands of cosplayers invading the city? Heck, they've got a cowboy in Times Square who sings in his underwear! It just didn't have the excitement that is the essence of San Diego Comic-Con, although Global Vice President of ReedPOP (organizer of NYCC) Lance Fensterman stated during this year's talkback session that he would like to spread more events throughout the city in the future.
Next year's New York Comic-Con is scheduled for October 9-12, 2014.
Did you go to New York Comic-Con? What did you think about this year's convention? Leave us a comment and let our readers know.