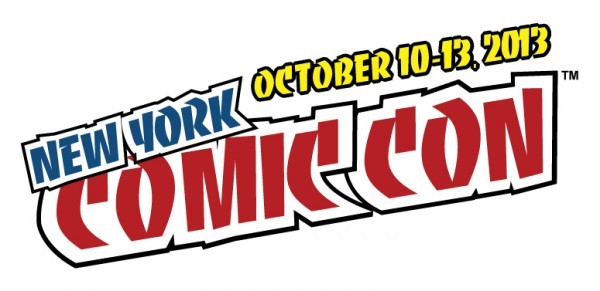 New York Comic-Con hits Manhattan this week, and as the second-largest comic convention in North America many of our readers from around the globe, as are we, are making the trip.
In combing through the programming schedule for our own planning, we wanted to share what we feel are the highlights with our readers who may be attending, as well as for those who weren't able to make the trip but wanted to get a feel for how the schedule compares with San Diego Comic-Con. You can search the entire schedule on the official New York Comic-Con website, and similar to SDCC's SCHED, you can save your favorites to your personal show planner.
A full comparison between SDCC and NYCC will be posted next week.
Now, onto the highlights for Saturday and Sunday:
Saturday, October 12
[adult swim] Presents: The Heart, She Holler (11-11:45AM, 1A06) Join The Heart, She Holler Show Creator and Executive Producer John Lee (Xavier: Renegade Angel, Wonder Showzen), with cast members David Cross, Heather Lawless, Judith Roberts, Leo Fitzpatrick, Kevin Breznahan, Jonathan Hadary, Jennifer Regan and Joseph Sikora as they discuss season two of Adult Swim's live-action soap opera and America's most majestic nightmare.
Archer: Discussion and Q&A (11AM-12PM, Main Stage 1-D, Watch Live) Archer is an animated comedy that revolves around the International Secret Intelligence Service (ISIS) and its employees who use every covert operation and global crisis as another excuse to undermine, sabotage and betray each other for personal gain. Join the voice cast of H. Jon Benjamin (Bob's Burgers), Judy Greer (Arrested Development), Amber Nash (Frisky Dingo), Chris Parnell (Suburgatory), Aisha Tyler (The Talk), Lucky Yates (Good Eats), Jessica Walter (Arrested Development) and series creator Adam Reed (Sealab 2021), as they discuss bringing this animated series to life.
The Legend of Korra (11AM-12PM, Empire Stage 1-E) Book 2: Spirits – Nickelodeon's The Legend of Korra. Join Executive Producer Bryan Konietzko and Co-Executive Producer Joaquim Dos Santos as they pull back the curtain to reveal sneak peeks of what's to come in Book 2: Spirits. Exclusive artwork, never-before-seen footage and a discussion with special guests from the incredible "The Legend of Korra voice cast" will be featured! Moderated by Bryan Konietzko.
Marvel Video Games (12:15-1:15PM, Empire Stage 1-E) We saved the best Marvel Games announcements of the year for New York Comic Con! Get ready for fun and surprises as we premiere never-before-seen content and games. Hear the latest on all upcoming Marvel video games including the highly anticipated LEGO MARVEL Super Heroes and upcoming mobile titles like X-Men: Battle of the Atom, Marvel's Thor: The Dark World – The Official Game, plus new title announcements! Find out what's next for Marvel Avengers Alliance, Marvel Heroes, Marvel Pinball, and Marvel War of Heroes. This is definitely a panel that you don't want to miss.
Spotlight on J. Michael Straczynski (12:15-1:15PM, 1A14) Straczynski, Founder of Studio JMS, is an award-winning writer for movies such as Changeling and Thor, comics such as Superman Earth One and, via his Joe's Comics imprint, Ten Grand and Sidekick. He will discuss his work and give a sneak peek into what's coming in 2014.
Superman 75th Celebration (12:15-1:15PM, Main Stage 1-D, Watch Live) As the most recognizable superhero in the world, Superman has flown high in film, TV, radio, animation, video games and, of course, comics for 75 glorious years. Join a star-studded panel covering the gamut of Supes' incarnations as they discuss the beloved character's many personifications, impressive history and ongoing relevance within society and entertainment. You won't want to miss the World Premiere of a special 75th Anniversary animated short created by "Man of Steel" Director Zack Snyder and "Superman: The Animated Series" Producer Bruce Timm (who will be on-hand to present the short). DC Comics Co-Publisher Dan Didio and Mike Carlin, Creative Director/Animation, DC Entertainment will anchor the panel. As a perfect complement to the panel, make sure you tour the special "Superman 75" exhibit on display all weekend at NYCC.
The Mythbusters Present – A Punkin Chunkin Extravaganza (12:15-1:15PM, 1A22) Science Channel presents Punkin Chunkin which is hosted by everyone's favorite Mythbusters and the Masters of Ceremony for this year's Punkin Chunkin: Grant Imahara, Tory Bellecci and Kari Byron. For 25 years, the World Championship Punkin Chunkin competition has been launching pumpkins high into the skies above Delaware. Science Channel will be there again this year to catch every far-flingin, high-flyin moment. From Air Cannons, to Catapults, Torsion and Centrifugal and the ever mighty Trebuchet, join Tory, Grant and Kari as they demonstrate these maniacal mechanisms! They will share behind the scenes footage from past chunks and talk about what is on the horizon for those who seek Punkin Prowess.
ABC's "Once Upon a Time" (1:30-2:30PM, Empire Stage 1-E, Watch Live) Catch a special sneak peek of the upcoming season of ABC's "Once Upon a Time" and of the all-new series "Once Upon a Time in Wonderland", followed by a Q&A with show creators and executive producers Edward Kitsis ("Lost") and Adam Horowitz ("Lost"). The panel will be moderated by TVLine.com's Matt Mitovich.
Teen Wolf (1:30-2:30PM, Main Stage 1-D) MTV's hit series "Teen Wolf" returns to New York Comic-Con! Join cast members Dylan O'Brien and Linden Ashby, along with Executive Producer Jeff Davis, for a Q & A as they discuss the second half of season three.
Star Wars Rebels: The Might of the Empire (2:45-3:45PM, Empire Stage 1-E) What happens when the Galactic Empire takes over a planet? What if Imperials took interest in your world, and garrisoned stormtroopers and TIE fighters to maintain order?Star Wars Rebels, the thrilling, all-new animated television series from Lucasfilm for Disney XD will ask those questions – and so will this panel hosted by Lucasfilm's resident Star Wars expert, Pablo Hidalgo. Details on the show are closely guarded, but Fans at NYCC will get a first look at new art from the series, and learn new information about the formidable forces of the Galactic Empire. Star Wars Rebels is set between Episodes III and IV, and it is a dark time in the galaxy. In the spirit of the original trilogy, the Empire is once again the preeminent villain of the saga, and Star Wars Rebels puts the awesome might of Imperial forces in the spotlight. Luckily, there are those who are brave and daring enough to stand up against the oppressive Imperial might: the crew of the starship Ghost. Star Wars Rebels follows their adventures as they carry out thrilling missions against these dark forces. The series is still a year away, so don't miss this chance to get an early look at its development.
The Thrilling Adventure Hour World Domination Tour (2:45-3:45PM, 1A14) Created in 2005 by Ben Acker and Ben Blacker, THE THRILLING ADVENTURE HOUR (TAH) is a popular staged production in the style of old-time radio. It has since also become a much-downloaded podcast on Nerdist Industries, and now, a stunning graphic novel anthology! Each show consists of a selection of genre-bending stories, advertisements, from fictional sponsors, musical numbers, and more, performed by a core group of actors known as the WorkJuice Players, and featuring cameos by stars from FIREFLY, DOCTOR WHO, COMMUNITY and many more! Last fall, Acker and Blacker launched a Kickstarter campaign to reach its goal. Now, almost a year later and with award-winning publisher Archaia Entertainment on board to publish the book, the graphic novel is here! Join Acker, Blacker, Editor Joe LeFavi, and WorkJuice Players Craig Cackowski, Mark Gagliardi, Hal Lublin, Annie Savage, Paul F. Tompkins, and Jonathan Coulton as they share behind-the-scenes stories about THE THRILLING ADVENTURE HOUR show, podcast and graphic novel! Whether you're already a fan or just love great entertainment, this will be one of the funniest, most lively panels you'll attend! Moderated by comics great, Greg Rucka!
Mob City (3-4PM, 1A23) The epic battle between a determined police chief and a dangerous mobster inflames 1940s Los Angeles in TNT's eagerly anticipated television event Mob City, premiering Wednesday, Dec. 4. Based on the critically acclaimed book L.A. Noir: The Struggle for the Soul of America's Most Seductive City, by John Buntin, Mob City is set in post-war Los Angeles, home to glamorous movie stars, powerful studio heads and returning war heroes. But it's also a city caught between a powerful and corrupt police force and an even more dangerous criminal network determined to make L.A. its West Coast base. The series centers on Det. Joe Teague (Jon Bernthal), a former Marine assigned to the city's new mob task force. TNT's Mob City panel will include a sneak peek at the series and a Q&A session with executive producer Frank Darabont (The Walking Dead), who wrote and directed the pilot. Cast members tapped to join Darabont for the panel include Ed Burns, Milo Ventimiglia and Robert Knepper. Mob City also stars Bernthal, Jeffrey DeMunn, Jeremy Luke, Neal McDonough, Gregory Itzin and Alexa Davalos. Executive producers on the series with Darabont are Michael De Luca (The Social Network) and Elliot Webb (Alpha House).
BEAUTY AND THE BEAST Screening and Fan Q&A (3:45-4:45PM, Main Stage 1-D, Watch Live) CW's breakout, fan-favorite, "Beauty and the Beast," returns for its second season on Monday, October 7 at 9 PM. The show will make its first NY Comic-Con debut by hosting an exclusive sneak of the new season. The screening will be followed by a moderated discussion with Matt Mitovich from TVLine.com and the series stars Kristin Kreuk (Smallville) & Jay Ryan (Terra Nova). BEAUTY AND THE BEAST, winner of the 2012 People's Choice Award for Favorite New TV Drama, is a modern twist on a known story. In the second season, Detective Catherine Chandler (Kreuk), reunites with Vincent Keller (Ryan) after last season's abduction – but not in the way she planned. He's changed: his scar has disappeared, his memory has been wiped clean and he returns as a supercharged beast on a mysterious mission. Catherine needs to unravel the reasons behind Vincent's change if she has any hopes of recovering their epic love, while also trying to solve the secrets that swirl around her own life. Become a fan of the show by following #BATB on www.facebook.com/BeautyandtheBeast, http://batbnation.tumblr.com and @CWbatb @MsKristinKreuk, @JayRyan, @BATBWriters, on Twitter.
Marvel: Cup O' Joe (4-5PM, Empire Stage 1-E) Join us for this Convention favorite! Here is your chance to Q&A with Marvel's Chief Creative Officer Joe Quesada, for this no-holds-barred panel on everything Marvel. Got a question about a favorite hero? Want to hear the latest developments in Marvel's Infinite Comics? This panel has you covered! Plus, brace yourself for pop culture's king of the dead and very special guest, George Romero himself- joining Marvel to discuss his all-new limited series event Empire of the Dead! Featuring special guest Editor in Chief Axel Alonso and some other Mighty Marvel guests this is one panel you do NOT want to miss!
Robert Kirkman's Skybound Panel (4:15-5:15PM, 1A08) Join Robert Kirkman as well as Skybound Writers and Artists, including Joshua Williamson, Justin Jordan, Khary Randolph and Joe Keatinge, as they announce new Skybound titles and discuss what's coming up in The Walking Dead, Thief of Thieves, Dead Body Road and more!
Marvel's Agents of S.H.I.E.L.D. (5-6:15PM, Main Stage 1-D) Jeph Loeb (Marvel's Head of Television) reveals top-secret new information and new footage from Marvel's first live-action television series. This is the panel no New York Comic Con attendee can miss!
[adult swim] Presents: Eagleheart (5:30-6:15PM, 1A06) Join show executive producers Michael Komen, Andrew Weinberg, Jason Woliner and series star Chris Elliott (How I Met Your Mother) for an exclusive preview of season three of the Adult Swim's live-action comedy, Eagleheart: Paradise Rising.
[adult swim] Presents: Rick and Morty (6:30-7:15PM, 1A06) Premiering this December, Rick and Morty is a show about a sociopathic scientist who drags his unintelligent grandson on insanely dangerous adventures across the universe. Executive producers Dan Harmon (Community) and Justin Roiland (House of Cosbys) will preview the new animated series. Moderated by Ralph Cirella (Host, Geek Time on Sirius XM).
Advance Screening of NBC's Dracula (6:30-7:30PM, 1A14) Jonathan Rhys Meyers stars in this twisted and sophisticated retelling of Bram Stoker's classic novel, "Dracula," proving that some stories are truly eternal. The 10-episode series re-introduces Dracula as he arrives in London, posing as Alexander Grayson, an American entrepreneur who claims that he wants to bring modern science to Victorian society. In reality, he hopes to wreak revenge on the people who ruined his life centuries earlier. Only one circumstance can potentially thwart his plan: he's fallen hopelessly in love with Mina Murray (Jessica De Gouw, "Arrow"), a young woman who appears to be the reincarnation of his dead wife.
AMC's The Walking Dead (6:30-7:30PM, Main Stage 1-D, Watch Live) Join Andrew Lincoln, Chad Coleman, Lauren Cohan, Steven Yeun, Danai Gurira, Melissa McBride, Norman Reedus and producers of "The Walking Dead" for a panel moderated by Debra Birnbaum (TV Guide). The panelists will be on hand to discuss the upcoming fourth season of the series as well as introduce an official, never before seen, sneak preview. Content and language in this panel may not be suitable for children.
John Barrowman Q&A (6:30-7:30PM, Empire Stage 1-E) Check out Torchwood's John Barrowman for this can't miss Q&A with fans.
Bruce Boxleitner' s Lantern City – Rise (6:45-7:45PM, 1A08) Learn about the epic new series and meet the creators – Trevor Crafts, Bruce Boxleitner and writer Matthew Daley. Additionally, Limited Editions of the Lantern City Illustrated Novel RISE will be given away along with other NYCC exclusives.
Cosmos: A Spacetime Odyssey (6:45-7:45PM, 1A23) More than three decades after the debut of Carl Sagan's groundbreaking and iconic series "Cosmos: A Personal Voyage," FOX and National Geographic Channel will embark on a new journey with COSMOS: A SPACETIME ODYSSEY in Spring 2014. Executive producer/writer Ann Druyan and executive producer Seth MacFarlane ("Family Guy," "American Dad") have teamed to conceive a thrilling, 13-part adventure across the universe of space and time, exploring humanity's heroic quest for knowledge and the laws of science. Renowned astrophysicist and host Neil deGrasse Tyson joins executive producer/writer Ann Druyan and executive producer/director Brannon Braga ("Star Trek" franchise, "24") on the panel to debut never-before-seen footage of stylized animated sequences, which will be followed by a Q&A.
Batman: Arkham Origins (7:45-8:45PM, Empire Stage 1-E, Watch Live) Witness the next installment in the historic videogame franchise. Developed by WB Games Montréal, "Batman: Arkham Origins" features an expanded Gotham City and introduces an original prequel storyline set several years before the events of Batman: Arkham Asylum and Batman: Arkham City. Taking place before the rise of Gotham City's most dangerous criminals, the game showcases a young and unrefined Batman as he faces a defining moment in his early career as a crime fighter that sets his path to becoming the Dark Knight. As the story unfolds, players will meet many important characters for the first time and forge key relationships. Don't miss the lively panel discussion between renowned game producer Eric Holmes and actors Roger Craig Smith (Resident Evil) and Troy Baker (Bioshock Infinite), the voices of Batman and the Joker, respectively, and other surprise guests. "Batman: Arkham Origins" will be released worldwide on October 25, 2013.
Hercules: The Legend Begins (7:45-8:45PM, Main Stage 1-D, Watch Live) Hercules: The Legend Begins is an upcoming adventure film starring Kellan Lutz as the mythical Greek hero. Betrayed by his King and sold into slavery, Hercules must use his formidable strength to fight for his freedom and return to his true love, Hebe, the Princess of Crete. Director Renny Harlin will present the World Premiere teaser trailer and take fans behind the scenes into the making of the film with never before seen storyboards, concept art and props. Actual props from the film will be given as prizes to select audience members. In addition, the panel will also feature a Q&A session with stars Kellan Lutz, Gaia Weiss, Scott Adkins and more.
Exclusive Premiere: BERSERK: THE GOLDEN AGE ARC III – THE ADVENT (Dub) (7:45-9:45PM, 1A22) Watch the epic conclusion to the dark medieval fantasy movie trilogy BERSERK: THE GOLDEN AGE ARC! It's been a year since Griffith's imprisonment by the Kingdom of Midland. Once praised as the saviors of the Midland, The Band of the Hawk has been on the run and is on the brink of breaking apart. Much to everyone's surprise, Guts returns to the Hawks and the search for Griffith begins!
Sunday, October 13
DEFIANCE: A NEW EARTH – WITH NEW RULES (11AM-12PM, Main Stage 1-D, Watch Live) Supervising Producer/Director Michael Nankin will be joined by series stars Grant Bowler (Nolan), Julie Benz (Amanda Rosewater) and Jaime Murray (Stahma Tarr) and Stephanie Leonidas (Irisa) to discuss the show's unique backstory and creation of this groundbreaking multiplatform series. Fans will get an opportunity to hear exclusive behind-the-scenes details about Season One (available on October 15th on Blu-ray and DVD) and what is to come in Season Two (debuting in 2014 on Syfy) exclusively for Comic Con attendees.
TimesTalks: Adventure Time (11AM-12PM, Empire Stage 1-E,  Watch Live) It's Adventure Time: grab your friends and come to the Land of Ooo! Meet the creator and stars of "Adventure Time," the hit Emmy-winning animated series from Cartoon Network. Come to Comic Con New York and see this exclusive live conversation about the pop culture phenomenon conducted by New York Times culture writer Dave Itzkoff, with guests creator and head animator Pendleton Ward (Lumpy Space Princess), John DiMaggio (Jake the dog), Jeremy Shada (Finn), Rebecca Sugar (writer, storyboard artist, ukulele player) and Kent Osborne (head of story).
Chills & Goosebumps with R. L. Stine (12-1PM, 1A06) R.L. Stine, the author of the best-selling children's book series Goosebumps is coming to NYCC for a fun and bone-chilling Q&A with Fans. Come see the man who made you check your closet and under your bed twice before you went to sleep at night, but only if you dare!
ALL YOU NEED IS KILL: Adapting an Adaptation (12:15-1:15PM, 1A15) First came Hiroshi Sakurazaka's mind-bending novel, originally released in Japanese, which was acquired by Haikasoru in the U.S. and translated into English. Now ALL YOU NEED IS KILL brings the double-whammy of being adapted both into a major motion picture (Edge of Tomorrow starring Tom Cruise) and a full-length graphic novel edition. Join the editorial team behind the novel and comic to learn how it all came together and what's next for this science fiction juggernaut.
Person of Interest Special Video Presentation and Q&A (12:15-1:15PM, Empire Stage 1-E, Watch Live) The New York City-filmed hit drama Person of Interest returns to New York Comic Con with a special video presentation and cast/executive producer Q&A. Join the discussion, as the science "fiction" in Person of Interest becomes reality with recent real-world events. Person of Interest is a crime thriller about a presumed dead former CIA agent who teams up with a mysterious billionaire to prevent violent crimes. Aided by the Machine – and opposed by ruthless criminals, corrupt cops and shadowy elements within the government – the team works with two members of the NYPD to stop crimes before they happen. From Bonanza Productions Inc. in association with Bad Robot Productions and Warner Bros. Television, Person of Interest is currently airing its third season on CBS (Tuesdays, 10/9c). Person of Interest: The Complete Second Season is now available on Blu-ray™ and DVD. Become a fan of Person of Interest on Facebook at www.Facebook.com/PersonofInterestCBS and follow the show on Twitter at @PersonInterest.
The League (12:15-1:15PM, Main Stage 1-D, Watch Live) Discussion and Q+A: To be a fan of FXX's The League, you don't need to know much about fantasy football or sports at all. You just need to have friends that you hate. The ensemble comedy follows a group of old friends in a fantasy football league who care deeply about one another – so deeply that they use every opportunity to make each other's lives miserable. Join The League's co-creators Jeff and Jackie Schaffer, as well as the ensemble cast, including: Stephen Rannazzisi (Paul Blart: Mall Cop), Katie Aselton (Black Rock), Mark Duplass (Humpday), Jon Lajoie, Jason Mantzoukas (Rafi) and Paul Scheer (NTSF:SD:SUV) as they discuss making this successful series for five seasons.
The Following Special Video Presentation and Q&A (1:30-2:30PM, Empire Stage 1-E, Watch Live) Hit thriller The Following returns to New York Comic Con for a second year! Filmed on location in New York City, the cast and executive producers will participate in an on-stage Q&A and video presentation. Season one left a number of emotional casualties in its wake, and the explosive finale featured the highly anticipated face-off between Ryan and Carroll, ending in Carroll's ultimate demise. From Bonanza Productions Inc. in association with Outerbanks Entertainment and Warner Bros. Television, The Following's second season premieres midseason on FOX. Become a Fan on Facebook at www.facebook.com/TheFollowing and follow the show on Twitter at @TheFollowingFOX.
Warner Archive Presents: Almost Forgotten TV Heroes (1:30-2:30PM, 1A10) Did you know there were two TV Wonder Women BEFORE Linda Carter's turn beneath the tiara? Or that none other than Ed MacMahon roasted members of the Justice League – on prime time TV? With Smallville's triumphant 10-season run still fresh in our memories and a certain Man of Steel soaring high in the cinema, Warner Archive think it's worth a look at some lesser known super-shows. Join renowned writer/artist Jerry Ordway and Mike Carlin, Creative Director/Animation, DC Entertainment alongside the ever-informed, fan-centric Warner Archive Podcast hosts Matthew Patterson and DW Ferranti as they take a look at the syndicated "Adventures of Superboy" (from the producers of "Superman: The Motion Picture" and featured scripts from some of comicdom's most noted scribes), Cathy Lee Crosby's superspy version of Princess Diana, Hanna-Barbera's notorious live-action primetime "Superfriends: Legends of the Super Heroes" and clips from some choice "super" pilots."
Sleepy Hollow (2:45-3:45PM, Empire Stage 1-E) SLEEPY HOLLOW is FOX's thrilling new mystery-adventure drama series from Co-Creators/Executive Producers Alex Kurtzman and Roberto Orci (the "Star Trek" and "Transformers" franchises, "Fringe"). In this modern-day twist on Washington Irving's classic, Ichabod Crane (Tom Mison) is resurrected and pulled two and a half centuries through time, finding himself in modern-day Sleepy Hollow, where he quickly realizes that evil has awoken with him. Ichabod forms an unlikely bond with Lt. Abbie Mills (Nicole Beharie), and together, the two embark on a mission to stop evil and uncover mysteries dating back to the founding of our country. Join the cast and producers of SLEEPY HOLLOW for an exciting panel, which will be followed by a Q&A.
The Making of Star Wars: Return of the Jedi (2:45-3:45PM, 1A23) This year marks the thirtieth anniversary of Star Wars: Episode VI Return of the Jedi. Go behind-the-scenes of this fascinating film with author and Lucasfilm executive editor J.W. Rinzler and author Jason Fry. Hear some of the stories, anecdotes, recollections and revelations collected in Rinzler's new book The Making of Star Wars: Return of the Jedi and see amazing photos and video from the set. Details about the upcoming enhanced e-books for all 3 titles in Rinzler's The Making of Star Wars series will be revealed.
End Bullying! Responding to Cruelty in Our Culture (3:45-4:45PM, 1A14) Have you or someone you love been a target of bullying? Join this life-changing discussion on how to overcome bullying and learn strategies to create witnesses and allies out of bystanders. Pop Culture Anti-Bullying Coalition Founder Chase Masterson ("Star Trek," "Doctor Who Big Finish") hosts this panel, marking NOH8's 1st-ever New York Comic Con appearance, with Founders Adam Bouska and Jeff Parshley, along with Brad Bell ("Husbands"), Bonnie Burton ("Girls Against Girls: Why We are Mean to Each Other & How We Can Change"), Jenna Busch (Entertainment Editor, Fan TV), (Ashley Eckstein ("Star Wars: The Clone Wars," Her Universe), Cartoon Network VP Alice Cahn with the "Stop Bullying: Speak Up!" campaign and 1st-ever Comic Con appearances from the United Nations Association and the Anti-Defamation League. Special topics include geek bullying, LGBT bullying, cyber-bullying, and analyzing how media and entertainment affect our attitudes toward bullying and aggression. Moderated by award-winning author Carrie Goldman (Harper Collins' "Bullied: What Every Parent, Teacher, and Kid Needs to Know About Ending the Cycle of Fear"). More actors & advocates TBA!
Gillian Anderson & David Duchovny Talk X-Files (4-5PM, Main Stage 1-D) Join Gillian Anderson and David Duchovny as they reunite and take the stage and discuss their days as Agents Mulder & Scully and their time on the popular show, The X-Files.
Which panels are you most excited for? Let us know in the comments!