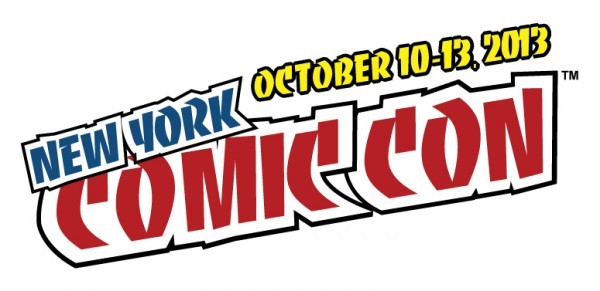 New York Comic-Con hits Manhattan this week, and as the second-largest comic convention in North America many of our readers from around the globe, as are we, are making the trip.
In combing through the programming schedule for our own planning, we wanted to share what we feel are the highlights with our readers who may be attending, as well as for those who weren't able to make the trip but wanted to get a feel for how the schedule compares with San Diego Comic-Con. You can search the entire schedule on the official New York Comic-Con website, and similar to SDCC's SCHED, you can save your favorites to your personal show planner.
A full comparison between SDCC and NYCC will be posted next week.
Saying that, here are the highlights for Thursday and Friday:
Thursday, October 10
Haven (5-6PM, Empire Stage 1-E, Watch Live) Join the cast of Haven as they take the stage to discuss all the exciting revelations still to come in Season 4. Panelists include stars Emily Rose, Lucas Bryant and Eric Balfour, along with Executive Producer Shawn Piller and Writers Brian Millikin and Nick Parker. Richard Donat and John Dunsworth (Haven's very own Vince and Dave) moderate the panel, which also features a sneak peek at this week's upcoming episode plus exclusive behind-the-scenes footage from the set.
Superheroes: A Never-Ending Battle – PBS Documentary (5-6PM, 1A01) Get a sneak peek at Superheroes: A Never Ending Battle, the new three-part PBS Documentary on the history of comic book superheroes, produced by the filmmakers behind the award-winning Make 'Em Laugh and Broadway: The American Musical. This insightful, entertaining documentary includes new interviews with the legends such as Stan Lee, Neal Adams, Jim Steranko, Michael Chabon, Jules Feiffer, Grant Morrison and the the late greats Jerry Robinson and Joe Simon among many more, along with rare footage. As the early footage was first shown at the 2011 NYCC, it's only fitting that preview segments from this landmark series will debut at NYCC '13. The companion volume Superheroes! will also be available at the Random House Booth. Bonfire Agency's Steve Rotterdam will introduce the preview and lead a discussion with filmmakers Michael Kantor and Laurence Maslon.
World Premiere of Necessary Evil: Super-Villains of DC Comics (5-6:30PM, 1A06) Behind every great super hero is an even greater rogues gallery and that's where the spotlight lands in the all-new documentary, "Necessary Evil: Super-Villains of DC Comics." From the Joker and Deathstroke to Lex Luthor and Darkseid, the film investigates the inner-workings of the most nefarious collection of baddies in comics history. Join Warner Bros. Home Entertainment and DC Entertainment for the World Premiere of this compelling film, which is narrated by everyone's favorite villain, Christopher Lee (The Lord of the Rings & Star Wars films). "Necessary Evil: Super-Villains of DC Comics" will be distributed by Warner Bros. Home Entertainment on October 25, 2013.
Special Sneak Peek Pilot Screenings (6:15-8:30PM, Empire Stage 1-E) Warner Bros. Television offers sneak peek screenings of the pilot episodes of two highly anticipated new TV series of the 2013–2014 television season — Almost Human (premieres Monday, November 4, 8/7c on FOX) and The 100 (premieres midseason on The CW) — plus an encore presentation of the pilot episode of The Tomorrow People (Wednesdays, 9/8c on The CW).
NYCC Thursday Night Kickoff with Comedy Mutant Featuring Janeane Garofalo, Brian Posehn, Myq Kaplan, Mike Drucker and More (8-10PM, Main Stage 1-D) New York Comic Con celebrates the full breadth of pop culture with a special opening night event in the Main Theater. The Comedy Mutant crew will start the show with their collective comedic genius setting the bar for the awesome weekend ahead. VIPs, 4-Day ticket holders, Thursday ticket holders, Press, Pros and Speakers, join us to enjoy a comedy event that can't be missed.
Friday, October 11
Comic Book Men (11AM-12PM, Main Stage 1-D, Watch Live) Kevin Smith, Walter Flanagan, Bryan Johnson, Michael Zapcic and Ming Chen return to New York Comic Con to discuss their hit AMC unscripted reality series, "Comic Book Men" which returns for its third season on Sunday, October 13 at midnight. The show will continue to entertain audiences by following the antics in and around master fanboy Kevin Smith's Red Bank, New Jersey comic shop, Jay and Silent Bob's Secret Stash.
Mattypalooza (11AM-12PM, 1A01) It's that time again! Join us for the toy panel to beat all toy panels – Mattypalooza in New York! Celebrating our 3rd year at NYCC, come get the inside scoop on your favorite collectables from Mattel: Masters of the Universe® Classics, DC Comics™ Signature Series, Watchmen™, Ghostbusters™ and more! Plus as a special bonus, attendees will have the opportunity to vote on an upcoming MOTUC monthly figure: Darius vs. Mara – you decide who gets made! The panel will also include an insightful Q & A with Mattel Toy Designers, Mattel Marketing Manager Scott "Toy Guru" Neitlich and special guests The Four Horsemen. It's the place to be for the world premiere of tons of new toys and collectibles! If you go to one Toy Panel at NYCC, make it Mattypalooza in New York!
DC Collectibles (11:15AM-12:15PM, 1A10) Action figures, statues, busts, PVC figures: DC Collectibles has them all – and more! Join the DC Collectibles crew, including VP – Creative Services Kevin Kiniry, Director – Creative Services Jim Fletcher to hear how they come up with so many great products and what's coming up from comics' top makers of awesome collectibles!
FUNimation Industry Panel (11:15AM-12:15PM, 1A15) From Akira to Dragon Ball Z, hear the latest news, info and announcements from North America's largest anime distributor FUNimation.
Falling Skies: The Magic Behind the Series (12:15-1:15PM, Empire Stage 1-E,  Watch Live) TNT's Falling Skies, one of basic cable's Top 5 summer dramas, will present a diverse panel highlighting the behind-the-scenes elements of the show. Come and learn about the artistry that goes into making this compelling drama. Attendees will also get some exclusive insight into what to expect when Falling Skies returns for its fourth season next summer.
Felicia Day and Geek & Sundry Presents! (12:15-1:15PM, 1A22) Felicia Day's internet television network, Geek & Sundry, is enjoying a big 2nd year! On Geek & Sundry, 2013 brought an "expansion pack" of vloggers alongside several brand new shows about all our favorite geeky things. These include the recently premiered "Spellslingers," which brings together celebrities playing Magic: the Gathering, and Adam De La Peña's ("Code Monkeys") 16-bit animated comedy "Outlands." Even more shows are on the horizon, including the supernatural comedy "Spooked" (produced with Bryan Singer's Bad Hat Harry Productions) and Amy Berg's ("Eureka") "Caper." Learn more about what's coming up for Geek & Sundry with Felicia Day!
He's Back! Celebrate Chucky's 25th Anniversary with the Creators & Cast (12:15-1:15PM, Main Stage 1-D, Watch Live) Wanna Play? Join Chucky Creator Don Mancini as well as franchise cast members Brad Dourif, Fiona Dourif Danielle Bisutti and Jennifer Tilly, among others, as they celebrate the 25th anniversary of the murderous doll that launched a generation's nightmares. Now, a quarter of a century since fans were first petrified by Toyland's most lethal serial killer, the cast reunites to share their thoughts on Chucky's deadly legacy and to introduce fans to Curse of Chucky, an all-new, unrated chapter of the chilling Child's Play series (available on Blu-ray & DVD October 8th). Join them as they reflect on Chucky's disturbing reign of terror and share some of the blood-splattered thrills and chills to come!
Marvel Television Presents (12:15-1:15PM, 1A06) Bring your family inside the ever-expanding MARVEL UNIVERSE with Head of Television, Jeph Loeb! Get a sneak peek at new episodes of your favorite hit series, Marvel's Hulk and the Agents of S.M.A.S.H. and Marvel's Avengers Assemble, and a look at what's next for Marvel's Ultimate Spider-Man.
SUNRISE Official Panel (12:30-1:30PM, 1A10) Sunrise Inc., the studio that brought you the Mobile Suit Gundam Series, the Code Geass Series, Cowboy Bebop, The Vision of Escaflowne and other groundbreaking anime series, will be holding an official panel at NYCC. Shin SASAKI, the Producer of the Gundam series will be appearing on-stage. He will be introducing footage from new and upcoming series and he will also hold a Q&A to answer questions from the Fans.
DC Entertainment – All Access (1:30-2:30PM, Empire Stage 1-E, Watch Live) At DC Entertainment, there's never been a better time to be a comics fan! Come to this All Access panel and find out what our top talent across DC Comics, Vertigo and DC Digital has been up to!
True Blood with Kristin Bauer and Lauren Bowles (1:30-2:30PM, 1A06) Come join Kristin Bauer and Lauren Bowles as they talk about their experiences on True Blood!
A Look at The Legend of Zelda: A Link Between Worlds with Eiji Aonuma (2:45-3:45PM, 1A06) Eiji Aonuma, producer of The Legend of Zelda: A Link Between Worlds, hosts a special speaking session about this upcoming game for the Nintendo 3DS family of systems. The Legend of Zelda: A Link Between Worlds game launches on Nov. 22.
First Look – Justice League: War (2:45-3:45PM, Main Stage 1-D, Watch Live) Be among the first to witness an extended look at "Justice League: War," the latest addition to the popular line of DCU animated films. As an exclusive NYCC presentation, fans will be treated to full clips and lively discussion – courtesy of producer James Tucker (Justice League: The Flashpoint Paradox), director Jay Oliva (Batman: The Dark Knight Returns, Man of Steel), 8-time Emmy Award winning dialogue director Andrea Romano and some surprise guests from the all-star cast. Moderator Gary Miereanu will be handing out some unique prizes for a few lucky fans and dropping a few intriguing tidbits about future DCU releases. Starring the voices of Jason O'Mara (Vegas, Terra Nova), Christopher Gorham (Covert Affairs), Alan Tudyk (Serenity, Firefly), Michelle Monaghan (Mission Impossible III, The Bourne Supremacy), Shemar Moore (Criminal Minds) and Sean Astin (LOTR films), "Justice League: War" will be released by Warner Bros. Home Entertainment in early 2014.
The Walking Dead 10th Anniversary Panel (2:45-3:45PM, Empire Stage 1-E, Watch Live) Robert Kirkman and Charlie Adlard discuss the evolution of The Walking Dead as they celebrate the book's 10th anniversary this month, in a lively Q&A forum.
[adult swim] Presents: The Venture Bros. (4:00-4:45PM, Main Stage 1-D) Show creators Jackson Publick and Doc Hammer, perennial Comic Con favorites, will discuss their Adult Swim original series and answer fan questions.
Max Brooks Zombie Survival & Extinction Parade Insights (4:15-5:15PM, A123) Screenwriter and author of best-selling books The Zombie Survival Guide, World War Z and The Zombie Survival Guide: Recorded Attacks, Max Brooks is the world's leading authority on the defense against a ghoulish uprising! His new all-original comic book series, Extinction Parade, introduces vampires into that mix and gives fans a new race of the undead to fear and prepare for. Renowned for his campus and convention lectures nationwide, Brooks comes to New York Comic Con to share his insight into the rotting minds of the undead, discuss Zombies vs. Vampires and field questions from zombie-phobic fans!
[adult swim] Presents: Robot Chicken (5:00-5:45PM, Main Stage 1-D) Co-Creators/Executive Producers Seth Green and Matthew Senreich are joined by Clare Grant (Team Unicorn) to discuss the Emmy-winning series. Come watch a sneak peek and get your questions answered about the upcoming new season and the next Robot Chicken DC Comics Special. Keith Crofford, Vice President of Production for Adult Swim, will moderate the panel.
Oldboy (6-7PM, Main Stage 1-D, Watch Live) OLDBOY is a provocative, visceral thriller that follows the story of Joe Doucette, a man who is abruptly kidnapped and held hostage for 20 years in solitary confinement, for no apparent reason. When he is suddenly released without explanation, he begins an obsessive mission to find out who imprisoned him, only to discover that the real mystery is why he was set free. Stop by the OldBoy panel with filmmakers and talent, featuring exclusive footage from the film.
Teenage Mutant Ninja Turtles (6:30-7:30PM, Empire Stage 1-E) Go Ninja, Go Ninja, Go! Nickelodeon's Teenage Mutant Ninja Turtles! Check out Nick's latest ooze-filled news and get exclusive peeks into a mutation situation that has gone out of control as Executive Producer Ciro Nieli and story Editor Brandon Auman discuss the season 2 premiere. Guests will include members of the incredible Turtles voice cast. Moderated by Rich Magallanes, Senior Vice President, Current Series, Nickelodeon Animation.
Starz Networks Presents: "Black Sails," "Da Vinci's Demons" and "Outlander" (6:45-8:15PM, 1A23) Meet the cast and creators of "Black Sails" and "Outlander," two new hit series premiering on Starz in 2014. Then catch up with the cast of "Da Vinci's Demons," along with series Creator David S. Goyer, to unlock some of the mysteries behind season two, also coming to Starz in 2014!
Bob's Burgers (7:45-8:45PM, Empire Stage 1-E) Nominated for an Emmy Award for Outstanding Animated Program in 2013, as well as in 2012, the cult-hit series about a man, his family and their burger joint follows the ups and downs of BOB (H. Jon Benjamin), who runs Bob's Burgers with the help of his wife and their three kids. Bob has big ideas about burgers, but his family falls short on service. Despite the greasy counters and lousy location, Bob and his family are determined to make every "Grand Re-Re-Re-opening" a success. Join cast members and executive producer for an exciting panel, sneak peek clips which will be followed by a Q&A.
NAMCO BANDAI Presents The TALES OF Series (7:45-8:45PM, 1A17) Tales of series producer Hideo Baba returns to New York Comic Con to speak with Fans about the popular RPG series' anticipated upcoming releases, Tales of Xillia 2 and Tales of Symphonia Chronicles and the direction and future of the beloved series. We'll have great Guests and exclusive giveaways for the Attendees and Fans. Guests who dress up as their favorite Tales of characters will receive a special group picture with Hideo Baba!
ToughPigs.com Presents Jim Henson: The Biography (7:45-8:45PM, 1A01) Learn all about the man behind (and below) the Muppets and the brand new Jim Henson: The Biography, the first comprehensive biography of the creative genius who brought us Kermit the Frog, Big Bird, Bert and Ernie, Fraggle Rock, The Dark Crystal, Labyrinth, and a lifetime of entertainment and memories. Muppet fan site ToughPigs.com hosts this panel featuring author Brian Jay Jones and members of the Jim Henson Company and Jim Henson Legacy.
Evangelion 3.33: You Can (Not) Redo (8-10PM, Main Stage 1-D) FUNimation Entertainment presents the next installment in the Rebuild of Evangelion series! Don't miss the English dub WORLD PREMIERE of Evangelion 3.33: You Can (Not) Redo. Join the voice of Shinji, Spike Spencer and director, Mike McFarland, for this exciting event, and be sure to stick around for the Q&A panel afterwards.
Which panels are you most excited for? Let us know in the comments!