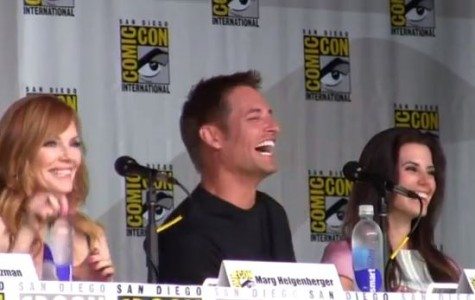 CBS's Intelligence, the new action series starring Lost hunk Josh Holloway, has moved up its premiere date from February 24 to January 7. That's tomorrow, for those like us who are ticked off at Father Time for blazing through the holidays in less than 12 parsecs.
Here's the plot description from the show's Wikipedia page:
In Intelligence, Josh Holloway stars as Gabriel Vaughn, a high-tech intelligence operative enhanced with a super-computer microchip in his brain. With this implant, Gabriel is the first human ever to be connected directly into the global information grid. He can hack into any data center and access key intel in the fight to protect the United States from its enemies. Marg Helgenberger stars as Lillian Strand, the director of the elite government cyber-security agency who supports Gabriel and oversees the unit's missions. She assigns Riley Neal (Meghan Ory), a Secret Service agent, to protect Gabriel from outside threats, as well as from his appetite for reckless, unpredictable behavior and disregard for protocol.
We caught the premiere of the pilot during SDCC 2013 and were impressed with it's blend of Jason Bourne-action, Josh bad-assery and sci-fi tech. And it ended on quite a cliffhanger (of course), so we've been since dying to see what happens next. Judging from our time with it in Ballroom 20, we say it's one of our favorite new shows on television. But don't worry, Ichabod, Sleepy Hollow will always be safe in our hearts…
We also had a ton of fun watching the great chemistry between Holloway, Marg Helgenberger and Meghan Ory during the post-screening Q&A. Oh, did you miss it? We'll that's what we're here for, because we captured the Q&A on video:
Intelligence will have its non-SDCC premiere on Tuesday, January 7 at 9PM. Don't miss it.
Did you catch the pilot screening at SDCC 2013? Excited to watch the premiere tomorrow night? Let us know in the comments.