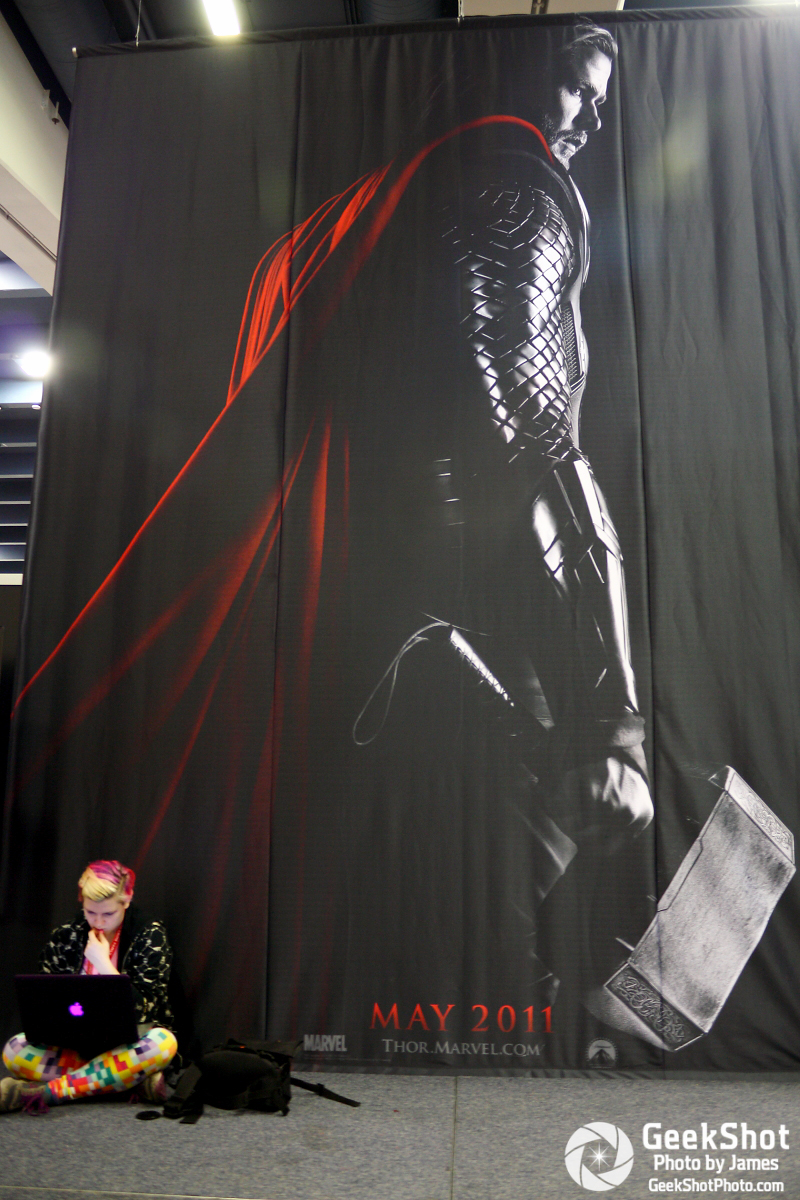 Believe me when I say, when you're at the top, everyone is aiming for you.
That's how Comic-Con International must feel over the past couple of years. San Diego Comic-Con, the Grand Daddy of Comic-Cons, has operated at capacity attendance since 2007, and the difficulty in getting a badge for just a single day has caused fans to look elsewhere to satiate their thirst for pop culture gatherings. Attendance numbers, which were once unheard of outside of San Diego, are now being reached by Fan Expo in Canada and New York Comic-Con. In fact, it's debatable whether NYCC's 2013 numbers were actually more than SDCC, with both claiming 130,000 or more.
Click below to read our infographic, comparing the largest comic and pop culture conventions in North America:

In fact, skimming Wikipedia, which lists the main conventions in North America, and Shawn Marshall's The Con Fluence Covers, which includes many smaller West Coast conventions, I counted over 73 conventions, many of which started from the aughts to the current decade. And that doesn't even include many other smaller, regional conventions west of the Mississippi, nor does it include the global explosion of conventions hitting the U.K. and Asia.
But World War Z's got nothing on World War Geek. Convention madness is spreading like a global pandemic, with organizers new and old capitalizing on the situation where San Diego can't quite (yet, until the expansion) satisfy the incredible demand.
When we were all kids, we asked, "Why can't Christmas be every day?"
The response?
"Because then it wouldn't be as special," replied our parents.
The same applies to comic conventions. With a show happening every weekend, is this really a good thing? Is what the convention scene has become really what we all wanted?
Bleeding Cool published a great account from Jesse James, of Jesse James Comics of Arizona, which inspired this post and highlighted exactly why too many conventions can quickly turn against everyone involved. Here's an excerpt:
In this business, there is a group you see at every con. That group has dropped by almost 50% over the last three years. We see creators spread out with creative teams on a book on opposite sides of the states. Some fans are not very happy that they are not getting the full package. Only 3 years ago, fans would expect to see a writer and artist sitting together. On top of this, publishers trying to have a presence at multiple conventions are stretched thin with burnt out or lackluster team members on their front lines.

I find it very hard to find anybody in the circle that is happy about the XYZ con that someone put together because "they wanted to do a convention".  Their main guests are now lined with cos-play headliners and not top line creators or publishers.  In fact, last year, we had conventions that the owners never showed up to or split hours before the con was suppose to happen.  There were two cons that ended up with less than 100 fans showing up.
But it isn't just the talent who is affected by the increase in conventions. Ultimately, it's the attendees.
CCI, the organization which runs SDCC every year, is a non-profit. The same can't be said for some of the other companies which organize the bigger conventions, such as Reed Exhibitions (PAX, C2E2 and NYCC), and Wizard World (headed to a city near you). The difference is these are businesses, in it for a profit. That sounds nefarious, and by and large these companies want to put on a good show and create great buzz among attendees. But while CCI earns money for the sole purpose of operating the organization, Reed and Wizard World also want (and need) to make investors and shareholders happy.
Take for example Wizard World, which expanded its convention schedule from 8 to 15 cities in 2014, running from January to November. That's 15 conventions in 11 months, while steering clear of SDCC for the entire month of July, WonderCon Anaheim weekend in April, and Baltimore Comic-Con in September. But Wizard World will attempt to capitalize on the Chicago crowd ahead of C2E2, scheduling its show to end the day prior. And it has no fear for the East Coast's big convention, NYCC, booking its Austin, TX, stop during the same weekend.
This is a perfect example of how the comic convention audience is being, shall I say, exploited. Each one of those stops is expected to bring in a profit for Wizard World. A 2012 article from Bleeding Cool highlights the fact that any of these stops can and will be cancelled if not profitable, and gave some insight to the revenue streams at the 2012 Wizard World Chicago show:
I'm not sure when it happened (last year, I paid for the Bruce Campbell Experience), but this year, I'm pretty sure the cost of the four day pass went up by $20. VIP experiences went up $30-$50 bucks depending on what you wanted last year.

Artist Alley tables are now $400, which means you aren't seeing half what you normally see. WWC used to be the last bastion of the small presser, those people who drew their comic, xeroxed it, and stapled it themselves (Matt Feazell is an awesome guy). At that price, though, you'll never make table (Wizard doesn't allow splitting tables anymore, either). In fact, unless you were a big name who could get away with charging lots for convention sketches, you were pretty much screwed, so a lot of denizens of the trenches stayed away like politicians at a saints' convention.
Essentially, all those extra-pricey VIP tickets and autograph price gouging we've been seeing at Wizard World and Reed shows aren't just to serve the fan "experience", but quite literally to put more money in investors' pockets. Another 2012 article from Bleeding Cool implies that this practice of nickel and diming attendees is essential for Wizard Word shows to remain open (and profitable). And judging from its recent schedule expansion, this practice is working, for better or for worse.
Let's be clear: Wizard World is but one company out of many more filling our weekends with comic and collectible vendors, celebrity autograph appearances and costumed attendees.
I'm not against capitalism, but when it makes attendees open their wallets for an arguably lesser experience, and when it negatively impacts the convention scene as a whole, that's when I have a problem with it. These conventions are being propped up as substitutes for SDCC, for those who are not able to experience it for themselves; or as supplements to the San Diego experience.
CCI doesn't sell VIP tickets at a premium price. CCI doesn't book guests and put exorbitant price tags on their autographs ops. And SDCC fortunately has the benefit of being the one show talent clears their calendars for. Yet SDCC – the one convention all others are striving to achieve to – may itself suffer in the future from such convention stigma if these practices continue and increase in occurrence.
And when that happens – essentially, when Christmas comes every day for us – what was once so special would be spoiled for ourselves and future generations.
What do you think about the increase in the number of conventions throughout the year? Let us know in the comments.