Comic-Con is still six months away, but it seems like everyone is already working on their plans for the convention. Already we've got a possible first look at a Capcom SDCC exclusive, information on how to secure an autograph table in the Sails Pavilion, more vendor and exhibit floor confirmations, news about Comic-Con's Art Show, a book launch that will take place during the convention, news on a popular voice actor, speculation on the dates for SDCC in 2015, and con news on one of the summer's most anticipates movies — assuming you're a fan of The Rock.
Here's a look at what you might have missed:
We've possibly got the first look at a Capcom Comic-Con exclusive for this year. Brett Elston, community manager of Capcom, posted photos of prototypes for new Mega Man and Proto Man statues. When asked on Twitter whether we'd be seeing them at this year's con, the answer was that it "stands to reason". Sounds like a good bet to us!
@pedobearclaw Not sure, but it stands to reason!

— Brett Elston (@Brelston) January 15, 2014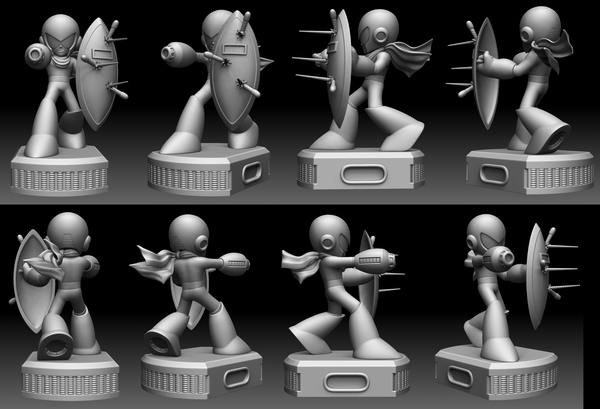 Comic-Con International has recently updated the Autograph Area section of their website with contact information for Professionals looking to set up a table in the Autograph Area.  The Autograph Area of the Sails Pavilion hosts many of the signings for writers, celebrities and more every year.  If you're a professional interested in having a table in the Autograph Area you should consider securing your spot now.
Young adult literature author Georgia McBride confirmed on Twitter that she will be attending SDCC this year.
#yalitchat I'll be at #SDCC @DragonCon, #YAFest and maybe 2 others this year. #yalitchat

— Georgia N. McBride (@Georgia_McBride) January 16, 2014
The New Starship Restoration Project, a nonprofit group of Star Trek fans who set out a few years ago to restore one of the Star Trek: The Next Generation sets, also confirmed through Twitter that they'll be returning to Comic-Con for the second year, bringing back their restored, interactive Starship Enterprise bridge. They'll also be at CCI's other pop culture convention, WonderCon.
We're going to Wondercon, SD Comic Con and ST Vegas, where ELSE would you like us to bring our Enterprise Bridge??

— STARTREK Restoration (@thenewstarship) January 16, 2014
A few days ago Comic-Con International announced the introduction to their new Comic-Con International Graphic Novel Book Club. Today, CCI has added an interest form for the club via its Toucan Blog.  If you live in the San Diego area and are interested in participating, be sure to act fast as space is extremely limited.  Interest Forms must be submitted before Friday, January 24, 2014 for consideration.
The Comic-Con Art Show is now accepting reservations for this year's show. What is the Art Show, you ask? Say no more, here is the description from the official page at the Comic-Con International web site:
Located in the Sails Pavilion upstairs at the Convention Center, the Art Show contains original works by both amateurs and professionals. It also displays the nominated books and comics for this year's Will Eisner Comic Industry Awards and houses a special exhibit devoted to members of the Will Eisner Hall of Fame.
Reservations will be accepted until June 30, 2014, or until the Art Show is sold out. Check out the official page for complete rules and the entry form.
Voice actor Erin Fitzgerald, who provides the voices for such shows as Monster High, Ever After High and countless other anime and video games, will be appearing at SDCC this July, according to a recent tweet and a post on her official website:


Just Booked my Hotel for SDCC so Yah, i'll be going to that again this year. <3 http://t.co/md5VYy2vht

— Erin Fitzgerald (@ErinFitzgerald) January 17, 2014

Another artist has confirmed, with Denis Caron announcing via his Twitter that he will be attending several conventions, including SDCC. His website lists that he will be at Booth #1133, where he'll likely be selling some of the pins below.
Made ~1000 buttons in the last few days for this years conventions! 2014 LET'S DO THIS! #ECCC #PHXCC #SDCC pic.twitter.com/AjTCtJteWd

— Denis Caron (@CorvinkCo) January 17, 2014
Illustrator Fred Gambino announced on his site that the official launch of his book Dark Sheperd: The Art of Fred Gambino will take place at Comic-Con.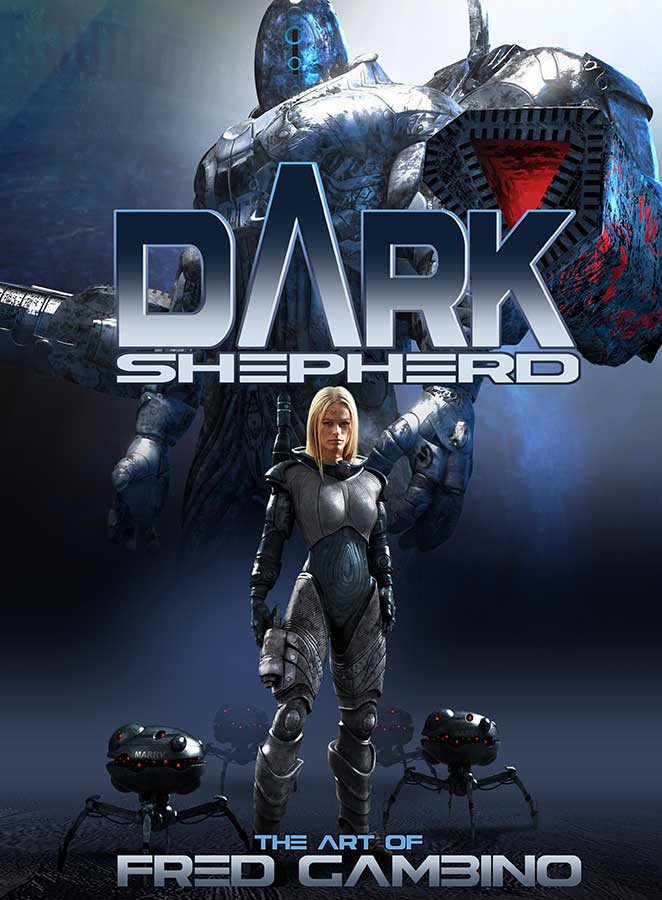 Even though we're still a long way off from Comic-Con this year, it's never too early to start thinking ahead. When Nerds Attack has provided some insightful speculation on just when SDCC might be taking place in 2015, by narrowing down the dates for the San Diego Convention Center that are already reserved. While nothing has been confirmed, they're speculating the convention will take place July 9th – 12th, 2015:
Sniffing around the San Diego Convention Center's website we found that the 2015 SDCC was not listed on it's post of upcoming events but there was a glaring two week hole in its schedule where SDCC should fit in…Based off of this evidence I would have to assume that it is safe to say that the 2015 San Diego Comic-Con will be July 9th through the 12th (my birthday FYI) with Preview Night on the 8th.
Radical Studios, who used to have a comic book presence in years past on the sales floor of SDCC, have posted on their Facebook fan page that they will have some sort of Comic-Con presence this year with their Hercules movie starring Dwayne Johnson set to release in July 2014.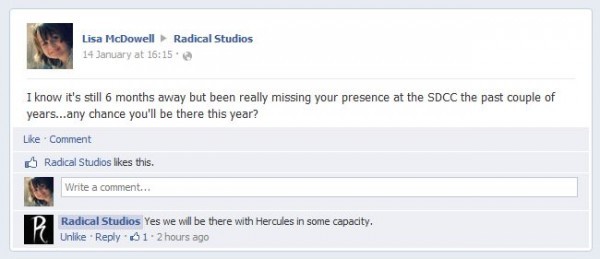 Anything we missed? Let us know in the comments, drop us a line or tweet us at @SD_Comic_Con.