Just a few weeks ago we learned of an awesome Doctor Who Comic-Con exclusive we won't be getting, but today we have better, albeit vague, news on something we will be getting. SDCC toy-maker all-stars of 2013, Funko and Super7, have chimed in with an awesome tease of what awaits attendees at this year's convention.
In a recent article with leading collecting site Action Figure Insider (AFI), Funko CEO Brian Mariotti discussed a variety of details related to the successes of the Alien ReAction line, which was the toast of last year's con.
Since Comic-Con, Super7 and Funko have announced they are teaming up to bring many more classic licenses to the toy world in the near future. Upcoming lines include Back to the Future, Aliens, Predator, Firefly, Universal Monsters, Terminator 1 & 2, Goonies, Escape from New York, The Rocketeer, Nightmare Before Christmas, Pulp Fiction, Buffy the Vampire Slayer (TV), Star Trek Classic, and a promise of even more.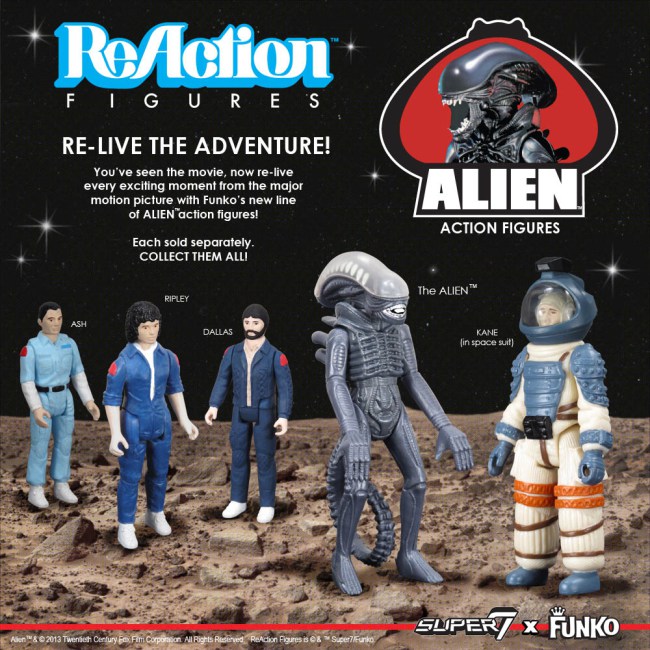 In the interview, AFI asked a very specific question on the potential for playsets and vehicles in the ReAction line, and Mariotti supplied an optimistic answer for SDCC attendees:
If ReAction is the hit we all hope it will be, any plans for vehicles or playlets? A Kenner-styled DeLorean for Back to the Future, or an Enterprise bridge would be amazing.

Yes Super 7 and Funko have a nice surprise up our sleeves for Comic Con on a play-set!
So, what will be getting? Vehicles are frequently referred to as playsets in today's toy market, so the potential is limitless. Marty's DeLorean? An Alien space attack set? A Serenity ship? Another interpretation of the bridge of the Enterprise? No matter what it is, Mariotti has confirmed that we'll be able to get our hands on it at this year's Comic-Con.
Let us know what you think we'll get and what you'd like to see at SDCC in the comments below.