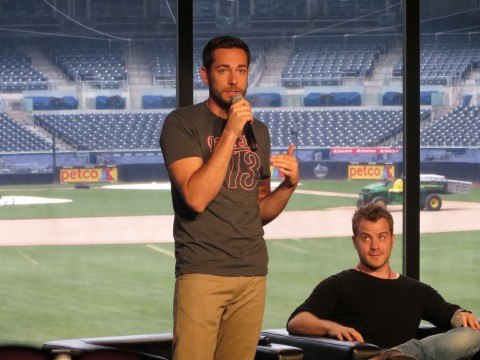 After Zachary Levi and The Nerd Machine launched their Indiegogo #IWantMyNerdHQ crowdfunding campaign earlier this month to help finance this year's Nerd HQ, many fans still had questions. To help clear up some confusion circulating around the campaign, Levi took to Twitter and Ustream for a fan Q&A.
The main question surrounding the #IWantMyNerdHQ campaign has been about the amount of the campaign's goal: $1,000,000. Does it really cost that much to put on the event? According to Levi, the answer is a resounding yes, and a large part of that is because of Petco Park — though maybe not for the reasons many might have thought.
"I guarantee you, that's essentially what it costs," Levi said. "It's $950,000. And venue rental is a major part of it, and some people might think, well, you're only doing it in these particular areas. But we have to rent more area than you might think we need to rent in order to there to not be conflict for what we do."
However, even after the venue, there's still the cost to put together stages, to hire lighting crews and production people to film the event for live Youtube streaming, and many other aspects of the event — with parties, both for fans and celebrities, being only a tiny amount of the overall budget.
While that may seem like a hefty dollar amount on an event that only lasts four days and is a fraction the size of San Diego Comic-Con's total audience, it's a price tag that Levi says is required in order to keep the event as great as it's become over the years.
"This is an incredibly expensive thing to do. We could do it super bare bones and make it a little cheaper, but I guarantee you that you would not enjoy it. It would not be done in the way that it needs to be done for A) for you guys to get the most out of it; and B) for us to hopefully woo sponsors on board so that I never have to crowdfund this thing ever again," Levi said.
Levi also reiterated that all revenue generated from the crowdfunding campaign will be going toward the cost of putting on Nerd HQ, and that if through fan donations and sponsors they do raise more than the base amount needed for the event, they'll use any leftover revenue to go all out for this year's Nerd HQ, rather than keeping that money for themselves.
"The main priority is to give you guys an event that you love. That's my main priority.  If I was in this for the money, I would have stopped doing it after the first year, when I didn't make any money. But that's not why I do it. I do it because I really believe that it means something to the world."
And while Nerd HQ generates revenue for the charity Operation Smile through its Conversations for a Smile, as well as photo ops and autographs, the main goal of the event is s still the same as it has always been: to create an awesome experience for both fans and celebrities.
"Our event is not a charity event. It's not a non-profit event," Levi said. "Putting a non-profit as a part of it was just icing on the cake. I wanted the celebrities and the fans, to feel that much better about what the interactions [between them] would be. So we added that the interactions would benefit a charity. I never wanted to make it a charity event. I wanted an event that was awesome. The charity was just one part of it."
Levi also shared a lot of other information about both the campaign and this summer's event, including:
Nerd HQ is definitely happening this year, regardless of the outcome of the campaign
Questions during Conversations for a Cause panels will also be taken from Twitter this year for those watching from home
The fan party may include a white board for fans to write messages to celebrities, who can then tweet out photos with the messages during the celebrity party
Levi is still looking for sponsors to finance the cost of this year's Nerd HQ
Even though the campaign's donor rewards are the same for each level, the reason Indiegogo shows multiple donation amounts is because it was easier to set it up that way for those who wanted to contribute more than the minimum
Levi and The Nerd Machine have lost money on Nerd HQ since the event began in 2011
Levi thinks crowdfunding for a Chuck movie won't be possible if Nerd HQ can't be crowdfunded
You can view the entire Q&A here:

Were you questions answered? Do you still have more questions? Let us know in the comments.