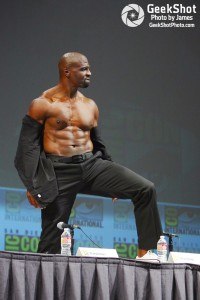 [UPDATE] While the stars themselves have announced their presence at SDCC in support of their upcoming films, there's no word on whether they will be panels, booth appearances or even at an offsite. So we've corrected our original post below to reflect this.
Now on to the original post…
As we creep closer to July, we're seeing teases of the big panels movies you'll be lining up for at this year's San Diego Comic-Con.
First, Terry Crews made an appearance on Fox 5 San Diego news and revealed he would be returning to SDCC in a likely Hall H appearance for the upcoming Expendables 3:
I always come to Comic-Con.  Comic-Con in San Diego is amazing, and I'll be back for Expendables 3 this year too.  Comic-Con in San Diego is one of the best things of all time.
The Expendables franchise made a name for itself back in 2010 with one of the surprise panels of the year. It returned for the sequel in 2012, but the film did not match the success of its predecessor. Expendables 3 is upping the ante with franchise newcomers Antonio Banderas, Wesley Snipes, Mel Gibson, and Harrison Ford.
Crews returns with Sylvester Stallone, Jason Statham, Jet Li, Arnold Schwarzenegger, and many others. While there's no word yet on the cast members in attendance beyond Crews, if even a fraction of those actors return, it would make one hell of a panel. The film opens in the US August 15, 2014.
You can watch the full interview with Crews here:

Also confirmed for SDCC is 20th Century Fox film The Maze Runner, the upcoming film based on the James Dashner young adult series. The film was originally slated for last month (and it even appeared at Nerd HQ during last summer's SDCC), but was pushed back to September19, 2014.
Lead actor Dylan O'Brien, best known for appearing in Teen Wolf, told Hypable last fall that the move will allow them to appear at San Diego Comic-Con in a much bigger way for 2014:
We get to do Comic-Con San Diego next year, which we wouldn't have gotten to do otherwise, so that'll be good too.
We've also been hearing that it's very possible we'll be seeing the film and O'Brien at WonderCon next month.
Are you excited about these likely possible Hall H additions? Let us know in the comments.