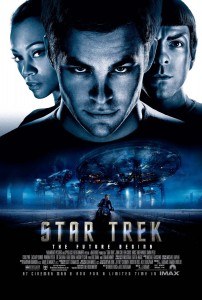 It's only March, and our offsite events calendar is already getting a little crowded.
Last month we posted several events scheduled during San Diego Comic-Con 2014 as part of The San Diego Symphony's Summer Pops series, and we were surprised to find tickets for those events are now on sale, a couple weeks earlier than expected.
On Thursday, July 24, the annual "Video Games Live" will be returning SDCC weekend to perform music from attendees' favorite video games. The following night, Friday July 25, "Danny Elfman's Music from the Films of Tim Burton" will showcase the composer's scores from such films as Beetlejuice, Edward Scissorhands, Batman, Big Fish, Corpse Bride and more (note that neither Elfman nor Burton will be on hand at the event, which will be conducted by conducted by John Mauceri, founding director of the Hollywood Bowl Orchestra).
Closing out the Symphony's Comic-Con schedule on Saturday, July 26 will be one we expect big crowds for: A live screening of J.J. Abrams' Star Trek accompanied by a live orchestra soundtrack. The soundtrack will be conducted by David Newman, (Serenity), with a special appearance by the film's original composer Michael Giacchino. And after the screening, fans of Giacchino's work can meet the composer in person during a limited-attendance meet and greet – an extra $75 ticket is required, of course.
Each event starts at 8pm in Embarcadero Marina Park South. Ticket prices range from $25 to $90.
You can find more information for these events in our offsite calendar, along with links to purchase tickets.
Are you booking your offsite schedule already? Let us know in the comments.