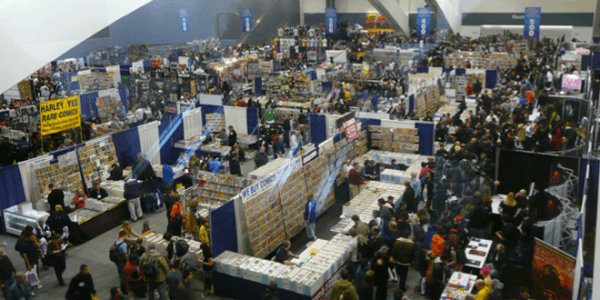 With WonderCon Anaheim less than four weeks away, CCI has released the official list of Exhibitors that will be attending this year's convention, along with information on  fan tables, autograph, artist alley and small press areas.
There are over 360 exhibitors listed for WonderCon Anaheim 2014, covering comics, merchandise, video games, television and film. All of the big comic publishers are in (DC, Dark Horse, IDW and Boom!), but one glaring omission is Marvel, who is not on the list. Even though CCI announced a few weeks ago that they would be "at" WonderCon, we've since seen some conflicting information coming even from Marvel social media spokesman Ryan Penagos (@Agent_M) himself, confirming our suspicions that Marvel Comics itself wouldn't have a booth but rather be represented in some other fashion, perhaps by one of its television properties or artist appearances. We'll let you know as soon as we hear anything, but suspect we'll all be finding out rather soon given the start of the convention is fast approaching.
Fans of Halo, Ghostbusters, Battlestar Galactica, Agents of S.H.I.E.L.D. and more will find something to like among the fan tables, with various fan clubs and cosplay groups among the list. Among the notable appearances in the Autograph area are Lou Ferrigno (The Incredible Hulk), Larry Thomas (Seinfeld's The Soup Nazi) and Richard Hatch (Battlestar Galactica); while stars of Arrow, Spartacus, Once Upon A Time, Sons of Anarchy and Adventure Time can be found at the 258 West Authentic and Ares Entertainment booth, #692.
In addition, there are over 250 tables listed in Artists' Alley and 130 attending in the Small Press area. There's much to see at WonderCon Anaheim, and we haven't even seen the panel schedule yet.
Check out the front page of the WonderCon Anaheim site for links to all the areas above, as well as a map of the Exhibit Floor for you to start charting your course for April 18-20.
What are you looking forward to most? Let us know in the comments.