WonderCon is only a few short weeks away, and we've got even more updates about the Anaheim convention this week, covering everything from panels to exclusives to artists to the newly-unveiled artwork for the WonderCon program.
Here's some news you may have missed:
The Kickstarter-funded film Black Tiger: Hunter Hunted announced on its Kickstarter page that is slated to have its worldwide premier at WonderCon on April 19 at the GardenWalk Theatre at 7:30PM, followed by an encore at 8:30PM.
Matt Lohr announced on Twitter that Thundercats writer Brandon Easton will be hosting The Writer's Journey panel on April 18 at 5:30PM.
https://twitter.com/TheMovieZombie/status/442750082769637376
Berkeley lecturer and author Terry D. Johnson announced via Twitter that he will be on the Science in Science Fiction panel, scheduled for Saturday evening.
https://twitter.com/terrydjohnson/status/443033188147806208
CCI has announced on the Toucan Blog that the Robert A. Heinlein Blood Drive will be returning to WonderCon. You can give blood on Friday, April 18 between 12:00PM to 6:15PM, or on Saturday from 10:00AM to 4:15PM.
For the first time, WonderCon will host an Art Directors Guild Illustrators panel.  The panel, The Hand That Draws: Art Directors Guild Illustrators Who Work in Two Worlds, is scheduled for Saturday, April 19th at 11:30AM in room 208. Guests include storyboard artists:  Trevor Goring (Thor: The Dark World), Gabriel Hardman (Inception), Benton Jew (Dawn of the Planet of the Apes), and Aaron Sowd (After Earth), and will be moderated by Tim Burgard of Jurassic Park.  In addition, panelists will also be doing a portfolio review on Saturday, April 19th and Sunday, April 20th.
The panel The Psychology of Star Trek Vs Star Wars will be returning to WonderCon, Ali Mattu announced on Twitter. Panelists include Chase Masterson, Brian Ward, James Arnold Taylor, and more.
The psychology of Star Trek VS Star Wars is back! W/ @ChaseMasterson @BWard028 @JATactor @ArkhamAsylumDoc #WonderCon pic.twitter.com/zD504SN9bj

— Ali Mattu, Ph.D. (@AliMattu) March 11, 2014
Artist Nilah Magruder announced on Twitter that she will have Booth AA-222 in WonderCon's Artist Alley.
https://twitter.com/nilaffle/status/443129323914928128
Neo Edmund, author of Red Riding, The Werewolf Huntress, and many other titles, announced via Twitter that he will be at WonderCon on "a couple of panels" as well as doing a signing.
@AJPBattalion I will most def be at @WonderCon! Got a couple of panels and a signing! See you there!?

— NEO EDMUND (@NeoEdmund1) March 13, 2014
Sublevel Studios announced on Facebook that they will have a limited edition Star Wars print available at WonderCon.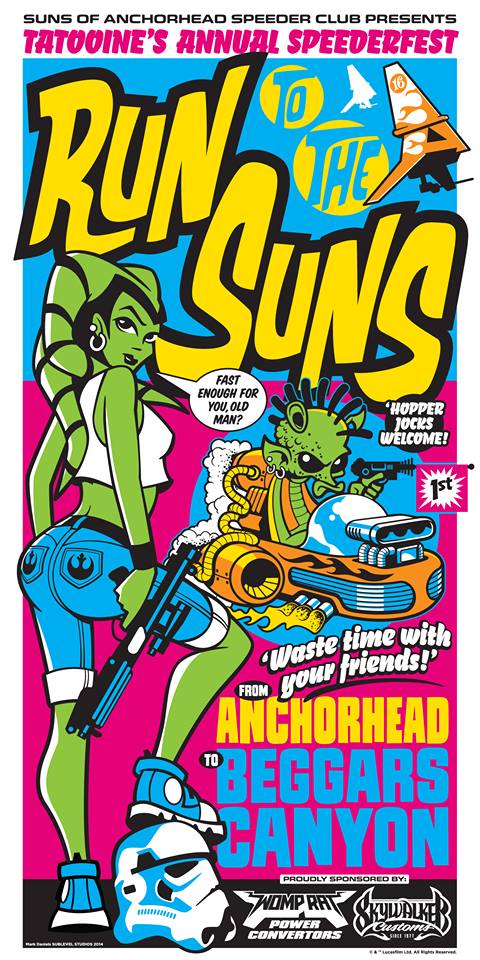 Author of The Witches of East End, Melissa de la Cruz, announced via Twitter that she will be at WonderCon talking about what's hot in young adult literature. Also on the panel are authors Mike Johnston, Margaret Stohl, Alyson Noel, Lady Hawkins, and Kiersten White.
I'll be at WonderCon on April 18, talking about what's hot in YA! With @mrmikejohnston @mstohl @AlysonNoel @LadyHawkins @kierstenwhite

— Melissa de la Cruz (@MelissadelaCruz) March 14, 2014
Model Tanya Tate announced on Twitter that she will be at WonderCon in the Small Press area at Booth SP-105, and she'll also be on a panel.
https://twitter.com/TanyaTate/status/444887030187581440
A new Penguins vs Possums figurine will be released at WonderCon, comic artist Sarah revealed on Twitter.
https://twitter.com/zombieswtattoos/status/445619095933681664
I.E. Comics & Games confirmed on Facebook that artist Jamie Sullivan will be at WonderCon. Sullivan will be in Artist Alley booth AA-16.
Roddenberry confirms on their website that they will have a panel at WonderCon on April 18, in Room 208.
Comic book creator Josh Trujillo announced on Twitter that he will unveil the first issue of his newest work, Love Machine, at WonderCon.
Finally got the first issue of Love Machines squared away for printing. I'll be debuting it at WonderCon in April, so you should be there!

— Josh Trujillo! 🏳️‍🌈💙🪲 (@losthiskeysman) March 18, 2014
2014 is a big year for DC Comics with the 75th anniversary of Batman, and we've learned there will be a "Batman 75" panel on Saturday April 19th as well. Guests include Jim Lee, colorist Alex Sinclair and others.
Looks like Jon Armstrong, IDW comic book co-creator of the Smoke and Mirrors comic will be attending WonderCon.  He announced his convention stops via his Twitter account.  We will keep you posted of any news we hear of possible signings for his comic.
Looks like I'll be at #wondercon, #C2E2, #SDCC2014 and #NYCC this year.

— Jon Armstrong (@cardjon) March 19, 2014
CCI's Toucan Blog has unveiled this year's WonderCon program guide artwork. Artist Cliff Chiang designed the cover of the 112-page guide, which features Wonder Woman, and will be given free to all attendees.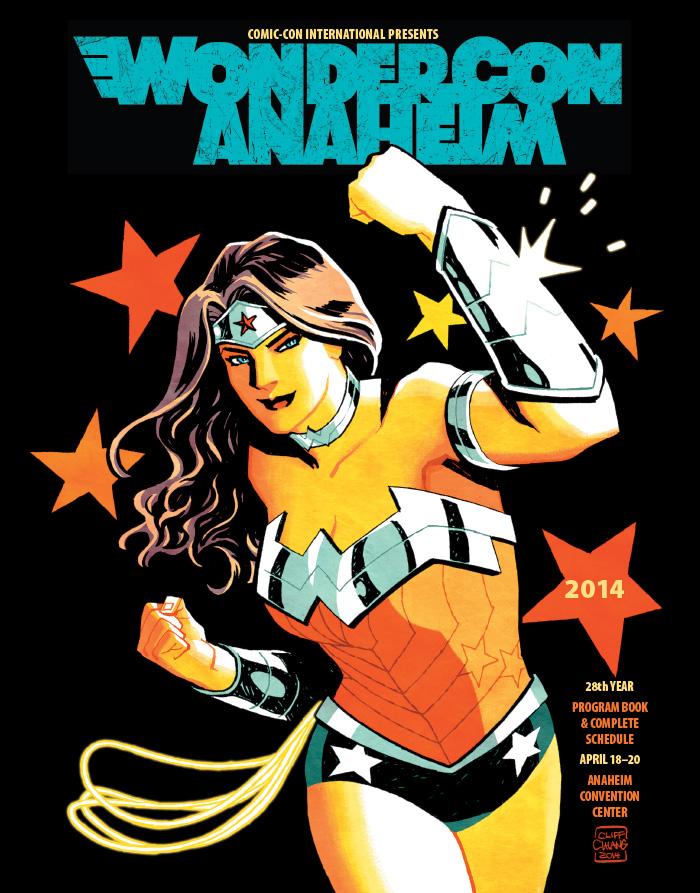 Anything we missed? Let us know in the comments.