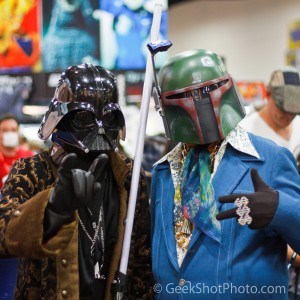 "Will Star Wars 'Episode VII' be in Hall H?"
It's the question on everyone's mind, as we approach San Diego Comic-Con 2014. The first of the planned third-trilogy, which was announced nearly two years ago, has been shrouded in secrecy ever since. The search for a director, which finally landed on Star Trek's J.J. Abrams, seems to have been the easy part in retrospect. Replacing the original screenwriter and cranking out a new script in just two months, shuffling production locations and a cast that has only been rumored up to this point, all just weeks before cameras are due to roll on principal photography (second-unit filming has already begun, however). The expression, "trying to catch a moving train", applies here, except the train is a 300 mph bullet train and the production is probably one of the most important for any Hollywood studio at the moment.
Although casting is expected to be unveiled over the next week or two – a "May the Fourth" announcement is highly expected – the film's title might actually be rolled out to SDCC attendees, per a report from Star Wars fansite Jedi News and a tweet from Kyle Buchanan, Senior Editor at pop-culture website Vulture.com.
https://twitter.com/kylebuchanan/status/459176211646664704
The tweet indicates that Star Wars 'Episode VII' will have some presence at SDCC this year, but let's look a little deeper into this possibility.
It's obvious to us that any announcement related to 'Episode VII 'would be in Hall H. That also implies that, unless Lucasfilm is ready to give us an hour and a half of Star Wars content and Q&A – although that would be completely awesome – it would most likely be a part of a bigger Disney panel. And as D23, the biennial Disney conference and fan convention, isn't scheduled until 2015, the likelihood that the company would return to SDCC to promote its upcoming films becomes that much greater.
The other point in favor of Star Wars coming to SDCC 2014 is there is no Star Wars Celebration convention until April 2015. That's a long time for a major tentpole film like 'Episode VII' to wait to have any presence at a pop-culture or fan convention, so it makes sense for Lucasfilm to take advantage of the major media coverage and reaction from 130,000 fans it would get only at SDCC.
And what better way to announce than to unveil with some sort of teaser trailer? It's not unprecedented, given the original trilogy used as little as concept art to get Star Wars fans excited for the sequels. And as we already know, there has been some second-unit filming,  as mentioned by Walt Disney Studios Chairman Alan Horn in a Bloomberg TV interview earlier this week. What if that second-unit filming was actually for a SDCC teaser, showing the worlds and locations to be showcased in 'Episode VII'? It's certainly a feasible proposition, given the cast hasn't even been solidified as of yet.
And lastly, it's not like D23 or Star Wars Celebration won't have anything else to talk about next year, given that 'Episode VII' is the first film in a new trilogy. And don't forget all the standalone movies that will come in between each episode.
Now let's play devil's advocate for a second – why wouldn't 'Episode VII' be at SDCC this year? It could be that Disney might again pass on a Hall H presence in July, deciding to rather give all the spotlight to its upcoming Marvel films like Guardians of the Galaxy, The Avengers: Age of Ultron and Ant Man. It could also be that it's simply too soon, and that any half-baked announcement might be seen as a risk to a highly sensitive and vocal audience – and any negativity coming from SDCC could backfire on Disney. And finally, it might simply be that Disney wants to hold back its biggest franchise to help benefit its own convention (D23) or save for the core fanbase (Celebrations).
Either way, just like Senator Palpatine, we'll be watching this develop over the next couple of months with "great interest".
What do you think? Will Star Wars Episode VII be at SDCC this year? Let us know what you think in the comments.