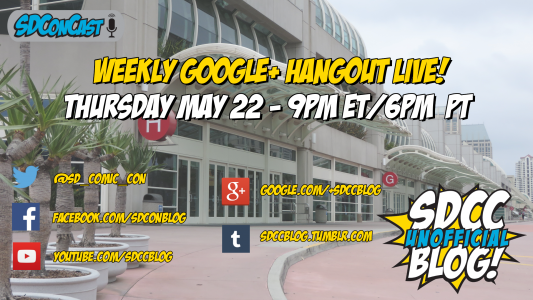 Today starts the unofficial start of summer, with Memorial Day (in the U.S., for our international readers) finishing off our upcoming three-day weekend. What are our plans? James is hanging out in Minnesota (and watching X-Men: Days of Future Past), Jeremy's finally going to see Godzilla, Kerry will be re-living The Truman Show, and Sarah's going to be staying right where she is. Literally. She won't be moving from her seat until next week's podcast. Or so she claims.
This week with James chillin' in the North, Kim has returned to the podcast to talk with us about the parking pass sales and offsite events, and on a more serious note we discuss the impacts from the recent San Diego brush fires. We also take a closer look at the new exclusive announcements from NECA and Hasbro.
If you didn't turnout for the live feed on Google+, you can watch it below. If you were, thanks for your questions! Make sure you listen to the audio version below, because we gave everyone some bonus content that wasn't available on the live video feed.
Site Links:
[SDCCBlog.com] [Facebook] [Twitter] [YouTube]
Show Notes:
Hasbro SDCC Exclusives 2014 [UPDATE MAY 22]
NECA's San Diego Comic-Con 2014 Exclusives [UPDATE MAY 16]
The San Diego Comic-Con Unofficial Blog Offsite Event Calendar for 2014
Ace Parking Sale for SDCC 2014 Failure Due to DDoS Attack
Music:
Intro: "Omg I <3 Livejournal (And My Livejournal <3s Me)", Talkshow Boy
Outro: "Joss Whedon", lo-fi is sci-fi
Podcast Links:
Download: 47MB, 1 hour 9 minutes [Direct Link]
Subscribe: [RSS] [iTunes]

The Hosts:
Jeremy Rutz
Twitter:@spotanime
Website: About Me
Kerry Dixon
Twitter: @kerrydixon
Sarah Mertan
Twitter: @consharknews
Website: ConShark.com
Kim Twombly
Twitter:@OutsideComicCon
Website: OutsideComicCon.com