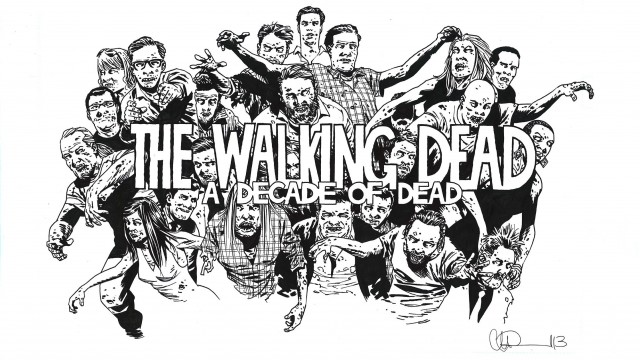 If you think the only place to find films at San Diego Comic-Con is in Hall H, then think again. The annual Comic-Con International Independent Film Festival schedule has been announced for 2014, and this year's line-up includes documentaries and short films and features that range from superhero and action, animation, sci-fi and fantasy, horror and suspense, and much more. In short, there's something for everyone.
The Independent Film Festival is held in Marriott Hall 2, and features not only movies, but industry panels as well. Attendees can stop by Thursday – Sunday of Comic-Con to hear industry professionals speak about location scouts, film school, directing, casting directors, and more. On Sunday, the final day of the convention and festival, the winners of the Independent Film Festival will be determined by a panelist of three judges – which this year includes Dave Gallegos, a founding member of The Vault LA Production company and last year's Judge's Choice award winner, actor Doug Jones (Buffy the Vampire Slayer, Pan's Labyrinth), and Valerie Perez, a cosplay model and actress.
The film schedule is helpfully broken out into genres, starting with Action/Adventure and Horror/Suspense on Thursday, including Secondary Education, a 90's throwback short film that follows "three high school students who are forced to make up a chemistry test during after-school detention, and discover that their teacher is leading a secret double life as a crime-fighting Power Ranger.
Attendees who don't feel like lining up for The Walking Dead for hours can head over to the Marriott on Friday for a screening of The Walking Dead: A Decade of Dead, a documentary which celebrates the rich history of the Walking Dead comics and the impact they've had. Friday will also showcase several animation projects and comedies, as well as other documentaries, including Stripped, a feature documentary on the world's best cartoonists, including the creators of Calvin & Hobbes, Garfield, Cathy, and 70 others.
Saturday will be the final day of film screenings, and includes both Comics-Oriented projects as well as Science Fiction/Fantasy movies. The longest feature in the festival, The Posthuman Project, is a feature length movie that follows five close friends who head out on a rock-climbing trip, only to receive a genetic boost "beyond anything they'd ever imagined".
Also screening on Friday will be short film Chaisson: Quest for Oriud, a short film which tells the story of Irana, a runaway princess and a magic practitioner known as Balrien as they head out on a magical quest.
The complete schedule can be found on Comic-Con International's site.
Will you be checking out any of these films? Let us know in the comments.