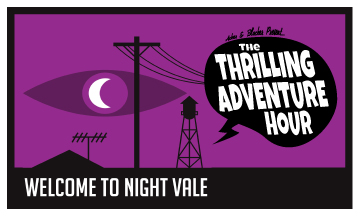 As we reported earlier in the year, Thrilling Adventure Hour and Welcome to Night Vale will be performing a cross-over show during Comic-Con, but we now know of additional details for the show, including ticket sales and a couple of confirmed performers.
First, the show will be at the Spreckles Theater on Saturday July 26 at 8PM. Tickets go on sale this Tuesday, June 24 at 10AM PT via Ticketmaster.
Next, two confirmed performers have been announced: Molly Quinn of Castle, and Janet Varney of The Legend of Korra, two shows we would also love to see at Comic-Con.
Here's the description from the Ticketmaster page:
Thrilling Adventure Hour & Welcome to Night Vale: the San Diego Comic-Con Cross-Over Show 

We are proud to announce the cross-over to end all cross-overs! After wild success in Seattle, The Thrilling Adventure Hour & Welcome to Night Vale team up again to bring you an evening of live entertainment during San Diego Comic-Con 2014, on Saturday July 26th at the Spreckels Theater. 

Join the WorkJuice Players from your favorite new-time podcast in the style of old time radio, Thrilling Adventure Hour, including Marc Evan Jackson, Craig Cackowski, Hal Lublin, Autumn Reeser, and Mark Gagliardi and show creators Ben Blacker & Ben Acker, as well as the crew of the eerie podcast phenomenon, Welcome to Night Vale, including Jeffrey Cranor, Joseph Fink and the voice of Night Vale radio, Cecil Baldwin. The evening will feature TAH composer/musicians Andy Paley and Jonathan Dinerstein, and special guests including Molly Quinn (Castle), Janet Varney (The Legend of Korra), and more!
Prices range from US $23.90 to $122.00, including fees.
Are you going to the TAH/Welcome to Night Vale performance? Let us know in the comments.