Today's edition of Under The Tents is full of exclusives news on everything from Scooby Doo to DC, and Cartoon Network to Star Wars. We also have word of a likely Syfy panel (and one Syfy show that won't be coming), more artists appearances, and much more. And don't forget to check our Offsite Event calendar, presented by Eventbrite. We added three cosplay photoshoots on Saturday July 26 for fans of Halo, Game of Thrones and Superheroes…playing poker?
Here's what you might have missed:
Luke Chueh unveiled a piece of his upcoming Munky King Toys piece, The Golden Fleece, on Facebook.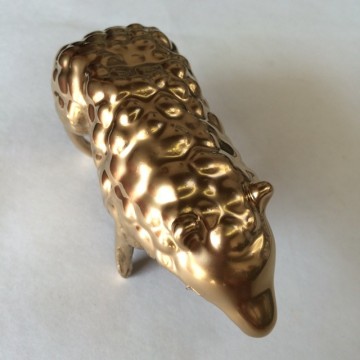 Scott Neely revealed a SDCC variant cover to Scooby-Doo, Where Are You? #47, which features Scooby dressed as Batman. The comic is a Diamond Previews Exclusive, and will be available at the convention.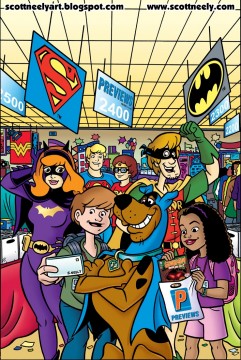 According to StatueReviews.com, Yamato USA will be bringing DC's Catwoman to SDCC in the form of a 13″ figure. The con exclusive has a different paint job than the normal version, appearing more purple than black. No word yet on pricing or availability (the normal version will be limited to $1,000 pieces).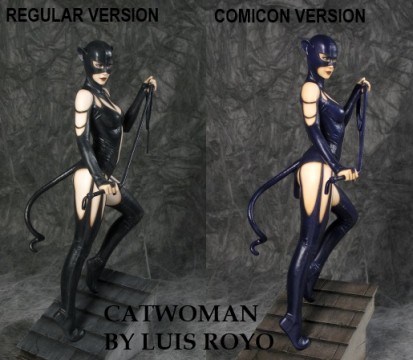 According to Bleeding Cool, Looney Labs will be debuting two new sets of the card game Fluxx at San Diego Comic-Con. The new sets will be a "Cartoon Network Fluxx", featuring all your favorite CN characters, and a special Regular Show Fluxx version as well.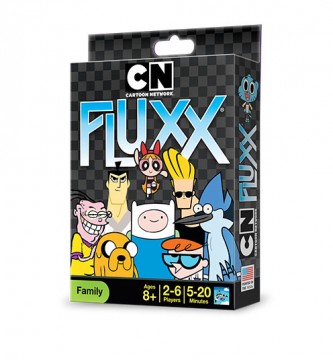 My Cool Car Stuff will be bringing Star Wars floormats to SDCC, available in 5 different colors. Each color will have a run of only 48, and each day a different color will be unveiled. Two mats come in a set and will be $49.95, with a limit of two sets per customer. The preview that was posted on the company's Facebook page showed Preview Night's color – black.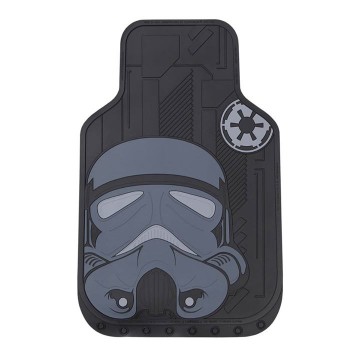 Expendables 3 fans will be treated to some props from the upcoming film this SDCC, according to a tweet from auction company Profiles in History. The auction for the items will be held in September, but fans will get a "sneak peak" at SDCC first.
Come visit us at @Comic_Con July 24 – 27 in San Diego! #Expendables #SDCC #PiHComicCon http://t.co/hiPy8Eg8nh

— Profiles In History (@pihauctions) June 6, 2014
@kerrydixon You'll get a sneak peak of the items before they hit the #auction block! #pihcomiccon

— Profiles In History (@pihauctions) June 10, 2014
We've got a few clues about the teaser image that The Walking Dead posted yesterday – two of the blacked out images have been revealed to be the logos for Vannen Watches and October Toys. Could these be companies that will be manufacturing exclusive The Walking Dead merchandise for this year's SDCC?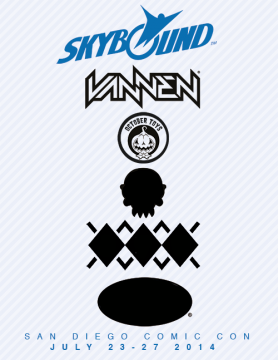 Grant Bowler, who portrays Joshua Nolan on the Syfy television series Defiance, tweeted a fan that he will be at Comic-Con this summer. The odds of another Defiance panel? Very high.
"@HollyGarcia87: @GrantBowler Can't wait to see s2! I hope you will be at @Comic_Con this year. Btw, loved the movie Remains :)" Sure will

— Grant Bowler (@GrantBowler) June 8, 2014
Another Syfy show, however, looks like it won't be making it to San Diego Comic-Con. Craig Engler, the co-executive producer of the upcoming zombie series Z Nation, announced on Twitter that although he wil be on a panel at Comic-Con, it has to do with Kickstarter, and that it is "to soon for a Z Nation panel". There's always 2015!
Got a SDCC hotel yesterday and panel conversation today. It's on.

— Craig Engler (@craigengler) June 10, 2014
@kerrydixon Alas, no, this one is for Kickstarter. Too soon for a Z Nation panel.

— Craig Engler (@craigengler) June 10, 2014
Anything we missed? Let us know in the comments, drop us a line or tweet us at @SD_Comic_Con.