There are 46 days until San Diego Comic-Con, and things only get more exciting from here on out. We've got news of George R.R. Martin's appearance at the convention, possibly news on a Marvel Unlimited Plus panel, the chance to be a part of BBC America's booth display, cryptic messages from the Aquabats and Skybound, exclusives, and so much more.
Here's what you might have missed:
Game of Thrones creator George R.R. Martin announced on his Livejournal that he is participating in a Prizeo charity auction for for Wild Spirit and Food Depot, two charities that are near and dear to Martin's heart. Fans can donate and receive prizes at various price levels, like an exclusive campaign T-shirt for $50. Also available, for $15,000, is the "rare opportunity to have breakfast with George at either San Diego Comicon, the World SD Convention in London, or during his visit to NYC in October". One lucky fan has already snatched up that reward, but Martin will still be at SDCC, likely signing autographs.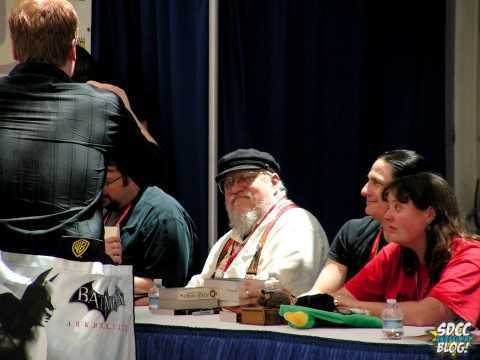 Actress Marilyn Ghigliotti (Clerks, #RIP) took to Facebook to confirm that she will be signing autographs in the "autograph area" of SDCC, presumably in Sails Pavilion.
C.B. Cebulski, a talent scout for Marvel, announced on Twitter that Marvel editors will be reviewing portfolios for artists during this year's SDCC.
For all you artists asking, @Marvel editors we will be reviewing portfolios at NYC Special Edition, SDCC and Boston Comic Con this summer.

— C.B. Cebulski (@CBCebulski) June 5, 2014
Forever Evil DC Comics artist David Finch revealed on Twitter that he will be at the DC booth during SDCC, as well as serving on panels.
https://twitter.com/dfinchartist/status/474584209613668353
For the record, any April 1st @TheAquabats announcements from us were NOT April fools day pranks. Carry on.. #only25 #theyexist #SDCC

— toddland #stayrad® (@toddlandstore) June 6, 2014
In addition to the Star Wars keychains set already unveiled, My Cool Car Stuff announced on Facebook that it will have additional exclusives to be revealed next week, with limited amounts available each day of the convention. The company also offered a clue on Twitter that each day's SDCC exclusives will be Star Wars themed.

Want some free cosplay wigs of Dolluxe lashes? The company Cosplay Wigs is offering volunteers, who must already have a SDCC badge, free cosplay gear in exchange for their time. You can find more information on the company's Facebook.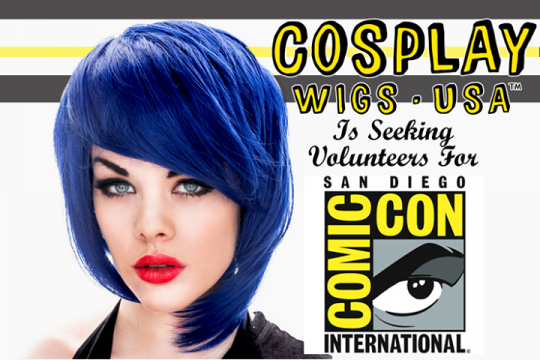 Although Orphan Black hasn't yet been renewed for a third season, BBC America is asking for fans of the series to create fan art and videos to be displayed at its San Diego Comic-Con booth — similar to the Doctor Who opportunity we told you about. While this doesn't mean the series will be at the convention, it does increase the chances, at least a little. Fans who want to have their work displayed can find more information on the tumblr post about the opportunity.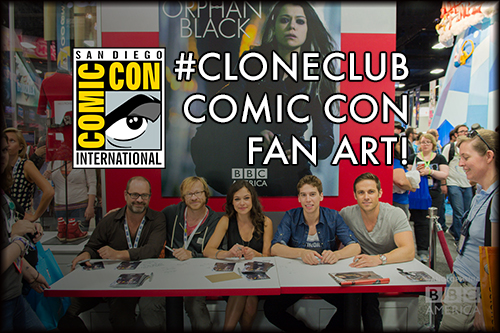 Herotaku announced that Aspen Comics will be releasing its second original series, Damsels in Excess, in conjunction with SDCC – with a special variant cover by Siya Oum to be available at the convention.
Kung fu artist Taimak, best known from his work in the cult classic film The Last Dragon, announced on his Facebook page that he'll be at Comic-Con.
Greg Weisman, the creator of Gargoyles, told a fan on his site in a Q&A that not only will he be attending Comic-Con, but if he knows there's an interest in his scripts, he'll bring some along for fans to purchase.
Ryan Penagos, the Executive Editorial Director for Marvel's Digital Media, told a fan on Twitter that he's "99% sure" there will still be a Marvel Unlimited Plus Members Only panel at Comic-Con this year, likely to take place on Sunday.
@diadori Many ideas! 99% sure it'll happen, and be great. Probably on Sunday of SDCC. No official info yet.

— Ryan Penagos (@AgentM) June 7, 2014
Collectible miniatures game HeroClix will be returning to San Diego Comic-Con, with all new exclusives. There will be several Marvel and DC "Convention Prizes" for those who are competing in the gaming tournaments held during the convention, but at least four exclusives will be available for purchase. Fans can grab the Marvel Heroclix figures Impossible Man ($15) and Zombie Galactus Colassal Figure ($50), or DC Heroclix figures Black Lantern Corps Anti-Monitor Colassal Figure ($50) or Resurrection Man ($15).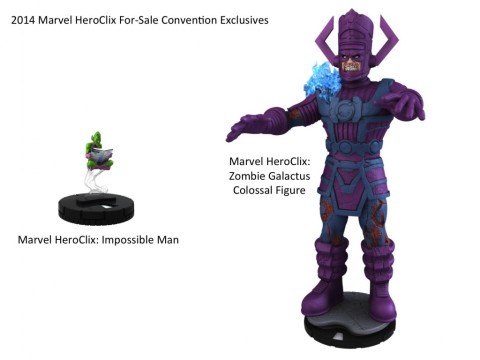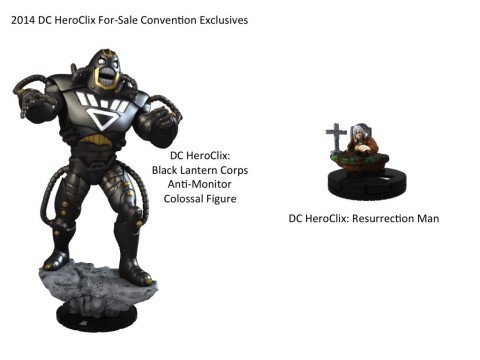 Terry Moore is debuting another Strangers in Paradise comic, a one-shot titled S.I.P. Kids, will hit newsstands in August, according to ComicBook.com. However, the book will first be available at SDCC in July.
Daniel Presedo, Imagineer for Adobe Photoshop, asked fans on Twitter to send him their Photoshop art, to possibly be displayed on the backdrop for the company's Comic-Con booth.
https://twitter.com/dramenon/status/475321866362433537
Assistant Director at the Chuck Jones Gallery, Kate Bowerman, announced on Twitter that the gallery's Comic-Con events are finalized, and that they'll be sharing more details soon. The tweet was also tagged with #BugsBunny and #IronMan, so we expect to see something relating to those two characters.
Our @Comic_Con events are finalized! Stay tuned for more details…! #ComicCon @ChuckJonesArt #ChuckJones #BugsBunny #SDCC2014 #IronMan

— Kate Bowerman (@WileE_Kate) June 7, 2014
Daniel Wilson, author of the best-selling Robopocalypse, announced on Twitter that he'll be at SDCC.
https://twitter.com/danielwilsonpdx/status/475681781287763968
Artist Louie del Carmen revealed on Twitter that he will have his book, MUSE Vol. 2, available for sale at SDCC. The book is limited to 250 copies, and features 70 pages of female illustrations and sketches.
Introducing MUSE Vol.2 available at @Comic_Con 70 pgs of female illustrations & sketches. Limited ed 250 copies pic.twitter.com/uR8RkXuwoO

— Louie del Carmen (@LouiedelCarmen) June 9, 2014
Robert Kirkman's company, Skybound, posted a teaser image for this year's San Diego Comic-Con. What does it mean? We'll find out soon enough.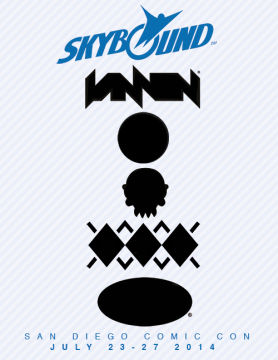 Flophouse will be launching "Pancake Pillows" at this year's Comic-Con, and shared a preview of several of the pillows they'll have available on their Instagram account.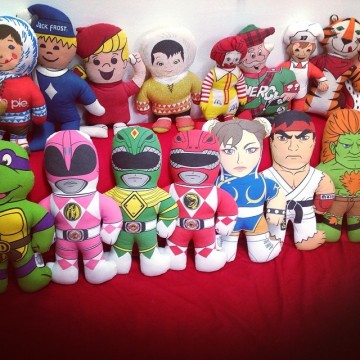 IDW Publishing announced on Facebook that they will have an Angry Birds Comics #1 Convention Exclusive, by artist Jon Sommariva, available this year. The first place fans will be able to get their hands on the comic? San Diego Comic-Con.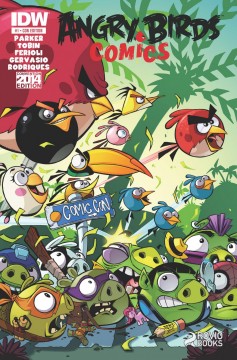 Pop Culture Shock announced on StatueForum.com that they will have a booth at this year's SDCC – so visit Booth 4437 to see some of their new items.
Anything we missed? Let us know in the comments, drop us a line or tweet us at @SD_Comic_Con.