It's that time of year when there's so much SDCC information being mentioned on the internet. Look away, and you might miss something that would make your trip good instead of great. That's why we're constantly digging up the bits of news that might otherwise get looked over in favor of the big announcements, so that you have all the information to make your Comic-Con the best ever. Like Xbox, Naruto, Power Rangers, Star Wars Rebels, Star Trek, Superman and more? Then you have to read today's "Under The Tents".
And don't forget to check our Offsite Event calendar, presented by Eventbrite. New events added daily!
Here's what you might have missed:
News is slowly trickling in about most of the Syfy's shows and the odds of them being at San Diego Comic-Con this summer, and now, thanks to a message on Twitter from executive producer Simon Barry, we now know that there's "a good chance" we'll be seeing Continuum this year.
"@takeshikitano3: Hello creator of my beloved #Continuum ! Will the show have any presence at San Diego Comic-Con?" – there's a good chance

— Simon Barry (@SimonDavisBarry) June 12, 2014
In a recent article on The Fandom Post, it was announced that Bandai Namco Games of America will have presales for the upcoming game Naruto Shippuden Ultimate Ninja Storm Revolution for the Xbox 360 available at its booth at San Diego Comic-Con, Booth #129.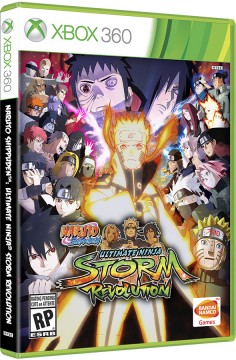 Bandai will also be selling an articulated Naruto Uzumaki S.H. Figurarts figure, which will debut at Comic-Con, according to the Anime News Network.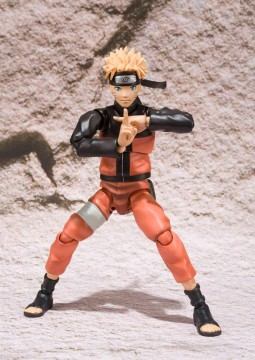 Power Morphicon will have a booth at SDCC, featuring several Power Rangers actors who will rotate throughout the weekend for autograph signings. More information can be found on the RangerCrew forum.
The Hollywood Sci-Fi Museum's Star Trek Enterprise D Bridge Restoration will be returning to San Diego Comic-Con at Booth #3631. They encouraged fans on Facebook to come show support for the project and to sit in the Captain's Chair for a free photo.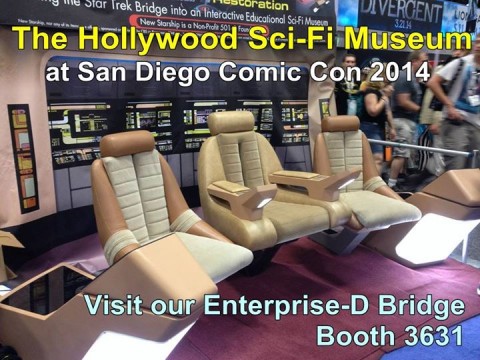 The Geeky Hooker will once more be doing 'drops' of her DC crocheted creations at San Diego Comic-Con, she announced on her blog. This year's line-up include Harley Quinn, The Joker, and Batman – and fans can follow her on Twitter on Facebook to track the drops and try to score some free swag. [UPDATE: And Deadpool, thanks for the heads-up @GeekyHooker!]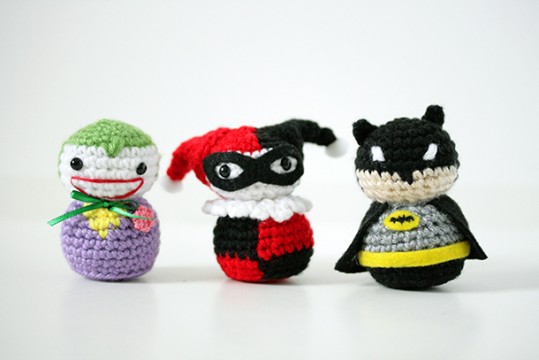 Alex Ross –#batman Green hornet original for #SDCC2014 @headgeek666 @morrowchris @MYGEEKTIME pic.twitter.com/STPBhB1mZb

— Sal Abbinanti (@SalAbbinanti) June 13, 2014
Alex Ross- son of Krypton original for #SDCC2014 @headgeek666 @morrowchris @MYGEEKTIME #superman pic.twitter.com/7dgW62jRDX

— Sal Abbinanti (@SalAbbinanti) June 13, 2014
The Walking Dead website unveiled the final version of their teaser image for San Diego Comic-Con, which includes the logos of companies Skybound, Vannen Watches, October Toys, Jinx, Scott Tolleson,, and McFarlane Toys. No official word on what the companies will be doing at San Diego Comic-Con, but we think it's a safe bet you can expect The Walking Dead exclusives from all of them.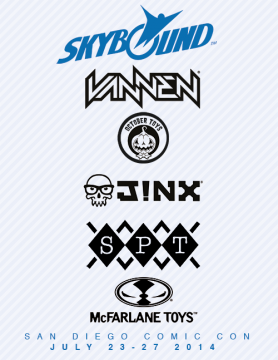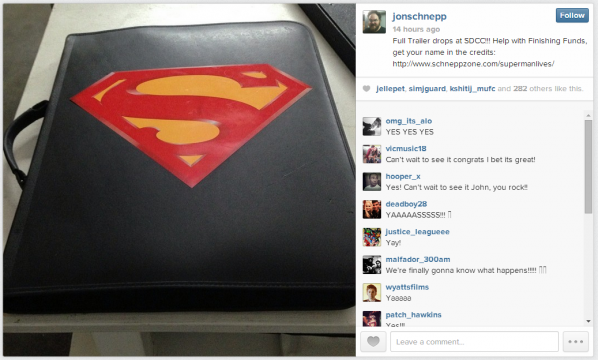 Star Wars Rebels Executive Producer Dave Filoni wrote in a Facebook post that he wouldn't be able to make the trip to Orlando for Walt Disney World's Star Wars Weekends due to the show's production demands, but hints that he'll be at SDCC. Could he be fast-tracking production for a big Comic-Con preview of the upcoming series? [thanks @EricIGN for the tip!]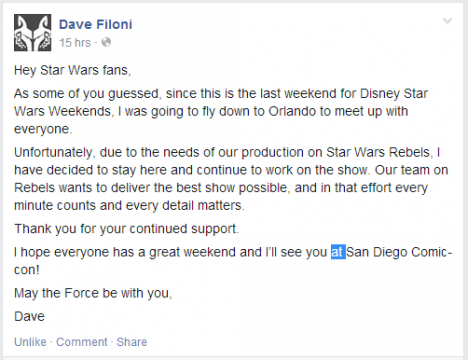 The full hardcover of the comic I Was The Cat will be debut at SDCC, according to a tweet from writer Paul Tobin.
@debaoki More soon! And the full HC debuts at SDCC, where I'll be running around, semi-sane-ish.

— Paul Tobin (@PaulTobin) June 13, 2014
If you were hoping for more announcements of Star Wars Hot Wheels SDCC exclusives, you can go about your business. The Darth Vader car will be the only exclusive from the line, according to a tweet from the official Hot Wheels account. It's been expected that more from the line will debut at Comic-Con, but not for sale.
@NascarnCarsFan @yak_face the Darth car is our only Star Wars SDCC exclusive.

— Hot Wheels (@Hot_Wheels) June 14, 2014
Hunger Games actor Eric Henning announced on Twitter he would be appearing at SDCC along side Pitch Perfect actress Brittany Alger.
http://twitter.com/EricHennig/status/477862305212801024
RoboChuck writer/artist Chris Callahan is working on a variant SDCC edition of the first issue with bonus content, he tweeted to us earlier.
.@SD_Comic_Con I'm putting together a special con edition of @robochuckcomic. Includes the first issue and a bunch of bonus content.

— Chris Callahan (@rgb_alpha) June 14, 2014
Anything we missed? Let us know in the comments, drop us a line or tweet us at @SD_Comic_Con.