Crazy day for SDCC news? You ain't seen nothing yet. Get pumped for SDCC – just a little over a month away! – with today's "Under The Tents" full of news from some big names: Rick Remender, My Little Pony, Her Universe, Tula Lotay, Orlando Jones and more. Plus details on the annual CCI Blood Drive.
And don't forget to check our Offsite Event calendar, presented by Eventbrite. New events added daily.
Here's the news you might have missed:
Eisner award-winning cartoonist Don Rosa, renowned for his comics of Donald, Uncle Scrooge and other Disney ducks, will see his first first "Ducks" volume, The Son of the Sun, debut at San Diego Comic-Con, per an interview with Comic Book Resources.
The Posthuman Project, the feature film debut of Oklahoma City moviemaker and NewsOK videographer Kyle Roberts, will make its debut at SDCC. Presumably this will be part of the CCI International Film Festival line-up. [via NewsOK.com]
Rick Remender, famous for his work on Captain America, Fear Agent and countless other comics, showed off via Twitter the cover art for his Deadly Class hardcover collection, which will be available at SDCC.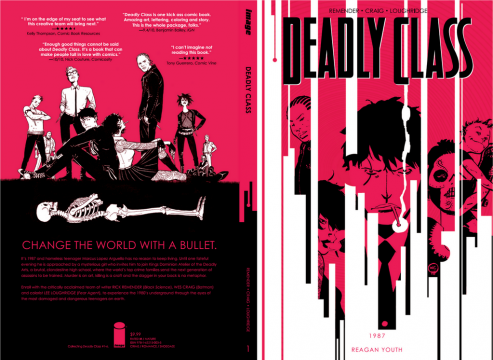 This month's Global License Magazine, in a profile on Hasbro brands, stated "Hasbro Publishing is planning a special edition [IDW My Little Pony comic] for San Diego's Comic-Con International in July."
Her Universe, the apparel company created by Star Wars: The Clone Wars' Ashley Eckstein, announced its new Marvel license today. And a story on The Daily Dot mentions "a Black Widow hoodie will also be available at San Diego Comic-Con" from the Her Universe Marvel collection.
Artist Tula Lotay tweeted a picture of her limited art book which will be available at SDCC, "signed & numbered".
My art book! All ltd, signed & numbered. I'll have them at SDCC. Then online late July with some sketch editions too! pic.twitter.com/t3WzbShmUH

— Tula Lotay (@tulalotay) June 19, 2014
Artist Rina Piccolo, creator of the comic Tina's Groove, will be a special guest at SDCC and announced her panel and autograph schedule. Among the panels is the gem, "Digital Comics" on Thursday July 24, with guests Colleen Coover, Batton Lash, Jeff Smith, Paul Tobin, and moderated by Mark Waid.
Vinyl toy blog TOYSREVIL showed off Rotobox Vinyl Anatomica's Kuso Vinyl SDCC releases for 2014. The blog breaks down the teaser below and shows off the designs for the "Catch-a-Man" Minicels, a Miku Vocaloid-styled "PROJECT DIVA 6ix" Revolver Girl and "an unknown metallic Kuso-Pon".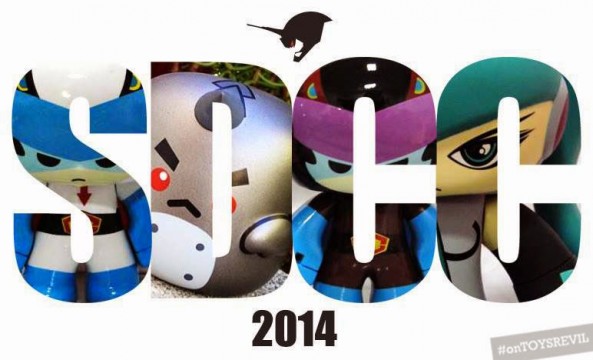 Artist N. C. Winters showed off via Facebook a sneak peek at his "Man of Bats" artwork to be available at SDCC. We'd post the pictures, but we'll spare you the nightmare we'll be having tonight.
Sleepy Hollow's Orlando Jones tweeted he will be on a panel titled, "Fandom, Transmedia & Transformative Works" on Friday July 25.
https://twitter.com/TheOrlandoJones/status/479675232857251841
Another film screening at CCI-IFF will be the action/sci-fi film Valiant, on Saturday July 26 at 6:15PM, with a Q&A session following, per a post on the film's Facebook page. Here's a description of the film from the official Facebook page:
Set in an new fantasy/sci-fi future where nuclear war has torn through Europe, 'Valiant' is the story of a group of three mercenaries, The Valiant Three, as they set out on an unexpected mission to return a lost princess to her father.
YouTube personality Jeremy Jahns announced via Twitter he will be participating in the Masters of the Web panel, along side AMC Movie News' John Campea, TThe Death of Superman Lives: What Happened? Director John Schnepp, movie reviewers The Schmoes and DC Nation's Tiffany Smith, with special guest Manu Bennett (The Hobbit, Arrow).
https://twitter.com/JeremyJahns/status/479732339967541250
Lastly, Comic-Con International announced details of its annual Robert A. Heinlein Blood Drive. HBO's True Blood will once again be sponsoring the drive and providing gifts to donors. You can sign up today for an appointment Thursday July 24 – Sunday July 27.
Anything we missed? Let us know in the comments, drop us a line or tweet us at @SD_Comic_Con.