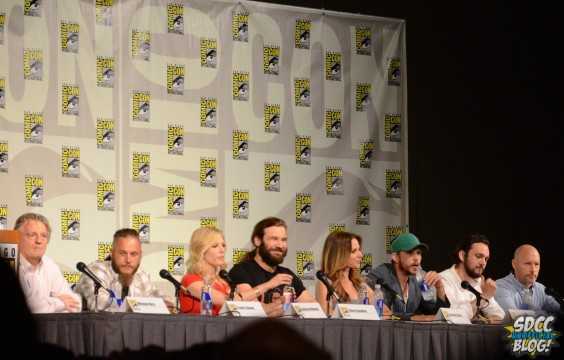 Vikings set course for San Diego Comic-Con in 2013, bringing both a star-studded panel and a very cool offsite experience for the History Channel series. With the show having just wrapped its second season last month and a third season already ordered, many attendees have been hoping they'll be seeing Vikings again at Comic-Con – and we've got good news.
A representative at the History Channel has confirmed to us that Vikings will be returning to Comic-Con this summer, although whether that return means another panel, offsite experience, or both, is still up in the air.
Actor Clive Standen, who plays Rollo, the brother of Ragnar, asked fans on Twitter how many fans "will be raiding with us in San Diego" at Comic-Con, implying that he will be in attendance for whatever The History Channel has planned.
.@Comic_Con is but a month away #Vikings. How many of you will be raiding with us in San Diego this year?!#SDCC #ComicCon

— Clive Standen (@CliveStanden) June 25, 2014
Last year, the series brought out most of its stars to Comic-Con, including Standen and co-stars Travis Fimmel, Gustaf Skarsgard, Katheryn Winnick, George Blagden, Jessalyn Gilsig, and Michael Hearst. Attendees packed into the too-small Room 6A to hear more about the upcoming season, but the real excitement was outside the convention center, at the Interactive Waterway offsite experience, where attendees could race miniature Vikings ships on water, take photos, and be greeted by Legertha-inspired shield maidens. The cast even did an autograph signing at the offsite event.
As the History Channel's likely only offering to Comic-Con, we expect the network to go all out again for Vikings – we just hope they get a bigger panel room this year. Once we have more information, we'll let attendees know.
Are you excited about Vikings return to Comic-Con? Let us know in the comments.