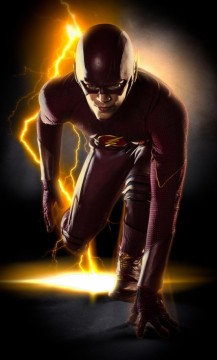 [UPDATE] DC Comics has confirmed exactly where the panel block will be taking place – and it's in Hall H:
Are you going to Comic-Con? Then you're going to see the World Premiere of Gotham. At least, if you're in Hall H on Saturday night.
[PREVIOUS] Although the movie studios at San Diego Comic-Con are known for having blocks of time in which they trot out all of their upcoming programming, the television studios have typically had their programing more spread out — two panels for the same network might premiere back-to-back, but with the exception of Preview Night, TV networks don't typically take over hours of the same panel block.
That's all changing this year, with the first ever Warner Bros/DC "Saturday Night" event at Comic-Con.
WB announced in a press release today that on Saturday, July 26, the studio will be bringing four of its upcoming DC programs to Comic-Con for screenings and cast appearances, from series Gotham, The Flash, Constantine, and Arrow.
Attendees will be treated to the world premiere of Gotham, which stars Ben McKenzie (The O.C., Southland) as Detective Jim Gordon, and follows Gordon and other popular Batman characters (including Bruce Wayne, The Penguin, Catwoman, and The Riddler) through their journey to becoming the DC characters we know today.
The Flash pilot will also be screened in its entirety, and Constantine fans will be treated to "exclusive footage". WB and DC haven't forgotten about their current hit series, Arrow, as the CW series will also be present with "never before seen teaser footage from the upcoming third season".  For each of the panels, it also mentions that cast and crew will be making an appearance on stage as well.
There's no word yet on panel times yet.
Notably absent from the festivities is iZombie, the fourth Warner Bros./DC freshman collaboration to hit television screens in the upcoming season. It's slated to premiere in the spring on The CW, and it was the biggest question mark of the DC series for a Comic-Con appearance, as The CW and Warner Bros. have been very quiet on the promotional front, having not yet released a trailer online or the pilot for review from critics. Although there is still a possibility that the series may appear elsewhere on WB's panel schedule throughout the weekend, things aren't looking good for the Rob Thomas produced zombie medical dramedy.
The Warner Bros. and DC block likely won't impact Preview Night, as in years past, series that make their Comic-Con debut during Preview Night are screened again later in the week with a proper panel with cast and crew. It sounds, however, with the mention of Saturday being the "world premiere" of Gotham, that the series may not be be part of the Wednesday night line-up.
Here's the full press release:
WARNER BROS. TELEVISION AND DC ENTERTAINMENT

JOIN FORCES TO PRESENT THE

FIRST EVER WBTV/DC ENTERTAINMENT

SATURDAY NIGHT, FEATURING THE WORLD

PREMIERE OF GOTHAM AND MUCH MORE

ON SATURDAY, JULY 26, AT COMIC-CON 2014

DC Comics Fans Get Ready for the Only Comic-Con Screening of Gotham, a

Complete Pilot Screening of The Flash, Plus Exclusive Footage

From Constantine and Season Three of Arrow

Twitter Pitch: Get ready, @DCComics fans! @Gotham, @CW_TheFlash, @NBCConstantine, @CW_Arrow = an epic @Comic_Con Sat nite: http://bit.ly/TKdosS #WBSDCC

Get ready for a spectacular Saturday night at Comic-Con 2014, courtesy of Warner Bros. Television (WBTV) and DC Entertainment (DCE). For the first time ever at SDCC, WBTV and DCE will present a three-hour special event on Saturday night, July 26, designed specifically for DC Comics fans and featuring some of DC Comics' greatest characters. Kicking off the exclusive evening is the world premiere public screening of the highly anticipated new drama series Gotham (the only screening of Gotham at this year's Comic-Con), followed by a screening of the complete pilot of new action-drama The Flash, and exclusive video presentations from returning hit Arrow and new thriller Constantine. Cast members and producers from all four shows will make special appearances throughout the night.

Gotham World Premiere: For the first time ever, DC Comics fans will enter the dangerous and compelling world of Gotham with a screening of the pilot episode, followed by an appearance by the cast and producers.

The Flash Pilot Screening: Following a full-length screening of The Flash pilot, cast and producers will stop running long enough to take the stage.

Constantine Exclusive Footage: The enigmatic John Constantine makes his television debut at Comic-Con with footage from the upcoming series, and fans will be treated to a visit from the cast and creative team.

Arrow Season Three: Arrow returns to Comic-Con with never-before-seen teaser footage from the upcoming third season followed by cast and producers taking on fans' most pointed questions.

Additional WBTV Comic-Con 2014 panels will be announced in the near future. For additional information about WBTV activities at Comic-Con, please follow us on Twitter at @warnerbrostv and join in the conversation by using hashtag #WBSDCC, or visit http://comiccon.thewb.com.

About Gotham

Before there was Batman, there was Gotham. The origin story of some of DC Comics greatest Super-Villains and vigilantes, this one hour drama follows Detective Jim Gordon's rise to power in a dangerously corrupt city that would spawn iconic characters such as The Penguin, Catwoman, The Riddler and a young Bruce Wayne. Airing Mondays at 8/7c this fall on FOX, Gotham stars Ben McKenzie (Southland), Donal Logue (Vikings), Sean Pertwee (Elementary), Robin Lord Taylor (The Walking Dead), Erin Richards (Being Human), David Mazouz (Touch), Camren Bicondova, Zabryna Guevara (Burn Notice), Cory Michael Smith (Camp X-Ray), Victoria Cartagena (The Good Wife), Andrew Stewart-Jones (Person Of Interest) and Jada Pinkett Smith (The Matrix films). Bruno Heller (The Mentalist, Rome) wrote the Gotham pilot, which was directed by Danny Cannon (Nikita). Heller, Cannon and John Stephens (Gossip Girl) are executive producers of the series, which is based on the characters from DC Comics and is a production of Warner Bros. Television. Become a fan on Facebook at www.facebook.com/GOTHAMonFOX, and follow the show on Twitter at @Gotham.

About The Flash

This lightning-paced super hero drama follows the high-speed adventures of the Fastest Man Alive. After an unexpected accident with a Particle Accelerator, police scientist and everyday guy Barry Allen finds himself suddenly charged with the ability to move at incredible speeds, which he uses to help the people of Central City. Premiering October 7 and airing Tuesdays at 8/7c on The CW, The Flash stars Grant Gustin (Arrow, Glee), Candice Patton (The Game), Rick Cosnett (The Vampire Diaries), Danielle Panabaker (Friday the 13th), Carlos Valdes, with Tom Cavanagh (Ed, Scrubs) and Jesse L. Martin (Law & Order). John Wesley Shipp (The Flash [1990]) guest stars. Greg Berlanti (Arrow, Green Lantern), Andrew Kreisberg (Arrow, Fringe) and DC Entertainment's Chief Creative Officer Geoff Johns wrote The Flash pilot, which was directed by David Nutter (Arrow, Game of Thrones, Smallville). Berlanti, Kreisberg, Nutter and Sarah Schechter (upcoming Peter Pan feature film) are executive producers of The Flash, which is based upon the characters from DC Comics and is produced by Bonanza Productions, Inc. in association with Berlanti Productions and Warner Bros. Television. Become a fan of The Flash on Facebook at www.facebook.com/CWTheFlash, and follow the show on Twitter at @CW_TheFlash.

About Constantine

John Constantine is a man waging war against the forces of darkness — from both within himself and the outside world. An irreverent con-man and occult expert, he doesn't come down on the side of either good or evil…but ultimately might be the only thing defending us against the dark forces from beyond. Premiering October 24, Constantine will air Fridays at 10/9c on NBC and stars Matt Ryan (The Tudors) as John Constantine, Charles Halford (True Detective) as Chas and Harold Perrineau (Lost) as Manny. Based on the characters from DC Comics and produced by Bonanza Productions Inc. in association with Warner Bros. Television, Constantine is executive produced by Daniel Cerone (Dexter, The Mentalist) and David S. Goyer (The Dark Knight trilogy). Neil Marshall (The Descent) directed the pilot from a teleplay by Cerone and story by Cerone & Goyer. Become a fan of Constantine at www.facebook.com/Constantine and follow the show on Twitter at @NBCConstantine.

About Arrow

After being gone for five years, during which time he suffered unimaginable ordeals, billionaire Oliver Queen returned home to Starling City with a mysterious agenda and a new set of skills that he uses in a war on crime in this hard-hitting action series. Returning for its third season October 8, Arrow airs Wednesdays at 8/7c on The CW. Starring Stephen Amell, Katie Cassidy, David Ramsey, Willa Holland, Emily Bett Rickards, Colton Haynes, with John Barrowman and Paul Blackthorne, Arrow was developed and is executive produced by Greg Berlanti, Marc Guggenheim and Andrew Kreisberg. Based upon the characters from DC Comics, Arrow is produced by Bonanza Productions Inc. in association with Berlanti Productions and Warner Bros. Television. Become a fan on Facebook at www.facebook.com/CWArrow, and follow the show on Twitter at @CW_Arrow.
Are you excited about the Warner Bros./DC block? Let us know in the comments