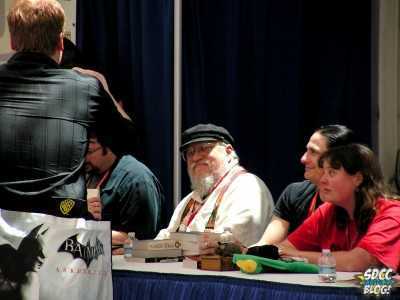 With only one week left before the official start of the convention, Comic-Con International has revealed the full autograph schedule for Groups, Individuals, and Limited Signings.
Appearing for limited signings, which require tickets (details on ticketing are available below), are Aisha Tyler, Guillermo del Toro, Outlander author Diana Gabaldon, Mythbusters Adam Savage and Jamie Hyneman, Weird al Yankovic, Adventure Time, Jason Mewes, and more. And Game of Thrones fans will have two chances to get George R.R. Martin's autograph: once on Thursday and again on Saturday.
Group signings will feature daily sessions with the Welcome to Night Vale cast and crew; a Thursday signing with WWE stars Scott "Big Poppa Pump" Steiner, Ken Anderson, and Al Snow; and talent from Gravity Falls on Friday and Phineas and Ferb on Saturday. Sesame Street writers and Muppeteers will also be signing on Sunday, though there's sadly no mention of the Muppets themselves being available for autographs.
Guests holding individual signings include Richard Hatch (Battlestar Galactica), author Bryan Lee O'Malley, Nicholas Brendon (Buffy), author and actress Evangeline Lilly, and comic writers Brian K. Vaughan and J. Michael Straczynski.
As usual, drawings for all ticketed signings, including autograph sessions at the Warner Bros. and Fox booths, will take place in the Sails Pavilion each morning. You can read our guide on how these ticket drawings work, and how to best maximize your chances, over here.
Tickets for access to shop at the Hasbro, Bandai, and Graphitti Design booths will also be distributed each morning in the Sails Pavilion.
From CCI, here are the official rules for line drawings:
Because of the popularity of many signings, some of which are limited by time or by the number of people the guest has agreed to sign for, those signings may be ticketed. Tickets for limited signings are distributed by drawings. To participate in the drawing, please go to the indicated line and pick a ticket out of a container. The winning tickets will have a distinct stamp on the back. Once a winning ticket has been drawn, either:

The ticket will be kept by the winner to be exchanged for access into the designated autograph line at the specified location and time.
OR
The ticket will be exchanged for a wristband that will admit the wearer into the designated autograph line at the specified location and time.
If you do not draw a winning ticket, you may return to the end of the line to try again until all winning tickets have been drawn. One winning ticket per person, per signing.

Prior to the start of the ticket drawings, an area will be designated for those who wish to wait for the drawings to begin. You may line up for that day's drawings each morning as soon as you enter the building. No other lines will be recognized other than those in this officially designated area. When space becomes available, each line will be escorted to the proper queue for the drawings to be done that morning. Winning the drawing for a line ticket grants you, with your winning ticket or wristband, the opportunity to stand in line to get an autograph at the location and time designated when you drew the winning ticket.

The duration of the autograph session is taken into account when determining the number of winning tickets.

The Fire Marshal may shut down any line believed to be a hazard at any time. Your badge does not guarantee autographs at any event.
Which autograph session are you most looking forward to? Let us know in the comments.