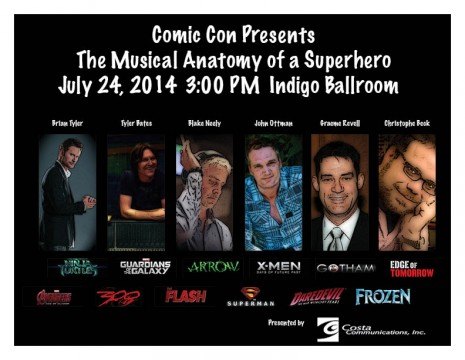 The annual Musical Anatomy of a Superhero Comic-Con panel is getting a big upgrade for 2014, and to celebrate the panel organizers are throwing together a cool prize pack to give away to one of our readers. The panel's been a favorite of ours – it even made our 'dark horse' list for Thursday's schedule  – so we're excited to help get the word out and fill the room.
What is Musical Anatomy of a Superhero, you ask? It's a panel where composers from Hollywood's biggest movies and television shows talk about "the process of creating the musical voice behind the superhero, explain the challenges when bringing a comic book character or story to life and writing music to reflect the story line". Audience members will be able to hear the composers' work over film and television clips, some from projects which have never been shown to audiences.
Appearing on this year's panel will be:
Brian Tyler (Avengers: Age of Ultron, Teenage Mutant Ninja Turtles, Iron Man 3)
Tyler Bates (Guardians of The Galaxy, 300, Watchmen)
Graeme Revell (Gotham, Daredevil, Lara Croft: Tomb Raider)
John Ottman (X-Men: Days of Future Past, X2, Fantastic 4: Rise of the Silver Surfer)
Blake Neely (CW's The Flash, Arrow, No Ordinary Family)
Christophe Beck (Frozen, Edge of 

Tomorrow

, Buffy the Vampire Slayer)
Last year the panel was in 6A, but it's now moved to the Indigo Ballroom at the Hilton Bayfront on Thursday July 24 from 3-4pm. There will be some cool giveaways during the panel such as posters and soundtracks, but you can enter now to win the ultimate giveaway from the – the Superhero Super Pack – which includes:
Three Autographed Movie Posters from the following films:

X-Men: Days of Future Past (Editor/Composer John Ottman)
Guardians of the Galaxy (Composer Tyler Bates)
Iron Man 3 (Composer Brian Tyler)

Six (minimum) Soundtrack CD's from the following movies and TV shows:

X-Men: Days of Future Past
Guardians of the Galaxy
Iron Man 3
Thor The Dark World
Arrow
Edge of 

Tomorrow

And more!

Two Funko Pop! Superheroes
One AMC Movie Theater Gift Card
Sound good? All you have to do is enter the Rafflecopter below by following and liking us, and add the panel to your MySched. Entries will close Sunday July 20 at 11:59pm PT. Good luck!
Here are the details of the panel:
The 2nd Annual

Musical Anatomy of a Superhero

At Comic-Con

Thursday, July 24th, 2014

Projects include Guardians of the Galaxy, Teenage Mutant Ninja Turtles, Avengers: Age of Ultron, X-Men: Days of Future Past, Fox's Gotham, CW's The Flash, Edge of Tomorrow & more!

Leading Hollywood composers discuss the process of creating the musical voice behind the superhero, explain the challenges when bringing a comic book character or story to life and writing music to reflect the story line.  Panelists will show film clips of their work, some from never-before-seen projects. Giveaways to include posters, soundtracks, and more. Event produced by Costa Communications.

WHO:

Brian Tyler (Avengers: Age of Ultron, Teenage Mutant Ninja Turtles, Ironman 3)

Tyler Bates (Guardians of The Galaxy, 300, Watchmen)

Graeme Revell (Fox's Gotham, Daredevil, Lara Croft: Tomb Raider)

John Ottman (X-Men: Days of Future Past, X2, Fantastic 4: Rise of the Silver Surfer)

Blake Neely (CW's The Flash, Arrow, No Ordinary Family)

Christophe Beck (Frozen, Edge of Tomorrow, Buffy the Vampire Slayer)

Moderated by Anthony D'Alessandro of Deadline

WHEN:  

Thursday, July 24th, 2014

Panel: 3:00 PM – 4:00 PM

WHERE:

San Diego Convention Center – Indigo Ballroom

111 W. Harbor Dr., San Diego, CA 92101

WHY: 

To provide insight on the process of creating a theme, transforming the theme throughout the story line while following the often uphill battle that our heroes travel