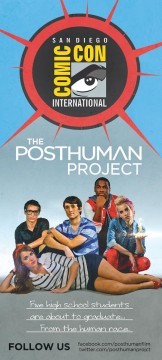 When people think "movies at Comic-Con", most attendees picture summer blockbuster hits with mega movie stars parading through Hall H. But there is an even wider variety of films and shorts, with more diversity and more options, at the Comic-Con International Independent Film Festival.
Now in its 15th year, this year's CCI-IFF will feature over 55 shorts and full-length films Thursday-Saturday of Comic-Con, in Marriott Hall 2. After all of the films have screened, a panel of judges which includes last year's winner Dave Gallegos, actor Doug Jones, and cosplayer Valerie Perez, will select the winners in a Sunday awards ceremony.
The San Diego Comic-Con Unofficial Blog caught up with the director of one of this year's most buzzed about entries, Kyle Roberts and his film The Posthuman Project.
"As a huge superhero and pop culture geek it has been a life goal of mine to at some point experience Comic-Con, so the fact that there is a film I directed in it is unreal," Roberts said. "Truly a dream come true."
The Posthuman Project follows Denny Burke, a high school senior who is struggling with both family issues and a physical injury that's significantly limited what he can do. When a long-lost uncle shows up and offers him the graduation present of a lifetime, Denny and his friends soon find themselves wielding powers they've only dreamed about.
"We quickly tell everyone to think Breakfast Club meets X-Men done on a micro budget," Roberts said. "Our story takes us through the lives of five teenagers, as many of them are graduating high school and moving on to the next phase of their lives. They go on a rock climbing trip and end up developing superpowers. So really the superpowers element is to intensify the emotions most of us have already experienced in that pivotal time if life. All of their powers have to deal with what they are most struggling with and need out of life."
The full-length feature film recently made its world premiere at the deadCENTER Film Festival in Oklahoma City, where it sold out both of its shows and won several awards.
"[We] won top honors of Best Oklahoma Film, and were the only film in the festival to receive a standing ovation. So not too bad of a world premiere weekend," Roberts said. "To sit in a sold out theatre for my feature film debut was truly a surreal experience. The whole weekend felt like a dream."
Comic-Con will be the third stop on Posthuman's film festival circuit, but it may be the one that Roberts is most excited about. It's one of only a handful of full-length films that will play during the convention, and attendees can stop by the Marriott on Saturday at 11:35AM to see the full movie.
"Several cons only accept short films, which would make our film ineligible," Roberts said. "San Diego Comic-Con accepted a few features into the lineup and we are thrilled and honored our film is one of them."
Roberts and several actors from the film will be heading to Comic-Con for the first time, where they will be busy trying to promote the film, as well as soak up as much atmosphere as they can.
"We understand we are going to be a small fish in a ocean there and are going to see what kind if dent we can make at the conference," Roberts said.
Here's a look at the trailer for The Posthuman Project:
Will you be stopping by to see The Posthuman Project? Let us know in the comments.