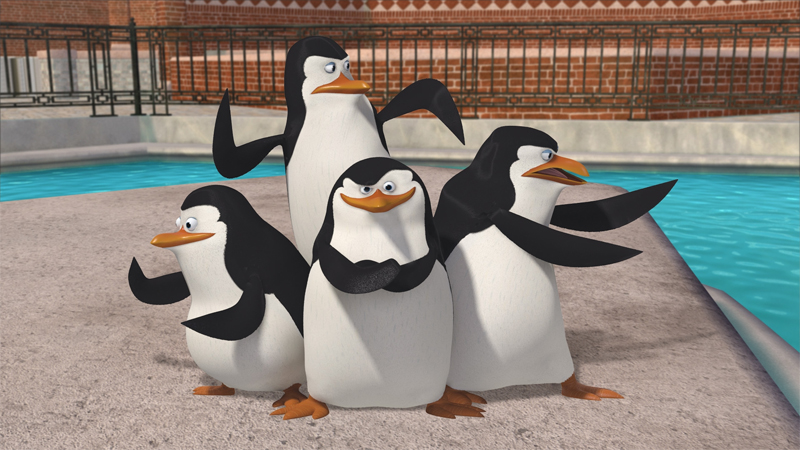 When it was announced this morning that DreamWorks Animation is heading to San Diego Comic-Con via the release of the official Thursday programming schedule from Comic-Con International, fans might have noticed that the panel description was a little… bare. But now, DreamWorks Animation has unveiled its line-up for Thursday morning at 11:30AM in Hall H, and it may just send both fans of animation and fangirls into a tizzy.
DreamWorks is bringing both Penguins of Madagascar and Home to the convention center, with Penguins getting most of the promotional push. Cast members Benedict Cumberbatch, John Malkovich, and Tom McGrath, as well as Directors Simon J. Smith and Eric Darnell will be on hand to discuss the upcoming film and sequel to Madagascar.
Home, which tells the story of an invading race of aliens and the humans who are promptly relocated, will have Director Tim Johnson in attendance to discuss the film.
The biggest news here may be that Cumberbatch will finally be attending San Diego Comic-Con, though. Sherlock made its Comic-Con debut in 2013, but without stars Cumberbatch or Martin Freeman in attendance. Of course, this isn't the only blockbuster movie coming out in the next year or so that Cumberbatch is featured in. The actor is also pulling double-duty in Warner Bros.' The Hobbit: The Battle of the Five Armies as both the Necromancer and the voice of Smaug, and that film will be featured in part of WB's already-announced Hall H panel-lineup for Saturday afternoon. Could Cumberbatch be headed to that panel as well, which so far, has only announced Director Peter Jackson as a panelists? We should know soon enough.
Here's the information, from the press release:
PENGUINS OF MADAGASCAR

Benedict Cumberbatch, John Malkovich, Tom McGrath, Directors Simon J. Smith and Eric Darnell

HOME

11:30AM-1:00PM             DreamWorks Animation Comic-Con Presentation

Location: Hall H

PENGUINS OF MADAGASCAR

Release: November 26, 2014, in 3D

Discover the secrets of the most entertaining and mysterious birds in the global espionage game: Skipper, Kowalski, Rico and Private now must join forces with the chic spy organization, the North Wind, led by Agent Classified (we could tell you his name, but then … you know), voiced by Benedict Cumberbatch to stop the villainous Dr. Octavius Brine, voiced by John Malkovich, from taking over the world.

HOME

Release: March 27, 2015, in 3D

When Earth is taken over by the overly-confident Boov, an alien race in search of a new place to call home, all humans are promptly relocated, while all Boov get busy reorganizing the planet. But when one resourceful girl, Tip, (Rihanna) manages to avoid capture, she finds herself the accidental accomplice of a banished Boov named Oh (Jim Parsons). The two fugitives realize there's a lot more at stake than intergalactic relations as they embark on the road trip of a lifetime.
Are you excited about DreamWorks Animation's offerings? Let us know in the comments.