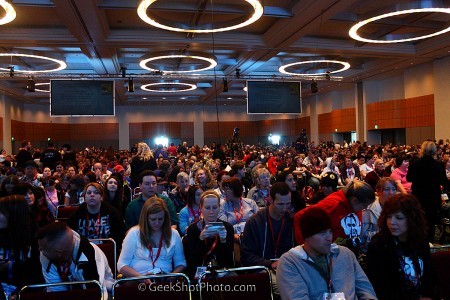 This is the moment we've all been waiting for. Today marks the start of the official Comic-Con programming schedule, but also the realization that Comic-Con is just a mere two weeks away.
We've been tirelessly combing the internet over the past few weeks for all the panel announcements we could find, to bring you the best information on Comic-Con outside of Comic-Con International. But now CCI is giving us everything, day by day, so we can start planning our schedules in anticipation for those big SDCC moments we all know and love.
The official programming schedule for Wednesday (Preview Night) and Thursday is now live on MySchedule, which we highly recommend you use to mark the panels you want to attend and see which ones your friends are going to.
We'll be combing it over to give you our thoughts later today, so look for that.
And as we do every year, we'll also be doing an in-depth analysis on live for our next episode of the SDConCast. You can join us live via Google+ on Friday July 11 at 9pm ET/6pm PT, watch later via YouTube, or subscribe to our podcast via RSS or iTunes so you don't miss any crucial information which might make or break your Comic-Con week.
Most importantly, we're interested to hear what you think. Leave a comment and let us know your thoughts on Thursday's programming schedule, any questions you have on making that big panel, and any of the tough choices you'll have planning out your own schedule.