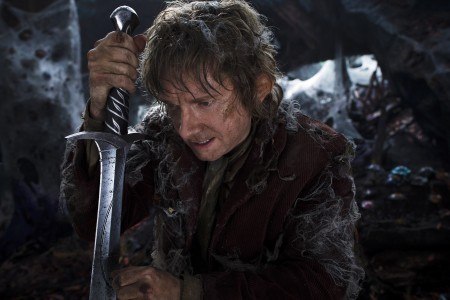 Warner Bros. Studios has announced its slate of films it will be showing as part of its annual SDCC Hall H presentation, scheduled for Saturday July 26 at 10am.
The Hobbit: The Battle of Five Armies will be among the films showcased, with Peter Jackson announced to be attending. In addition, Director George Miller will be on hand to present a first look at Mad Max Fury Road, which we reported on earlier. No other panel guests, such as Charlize Theron or Tom Hardy were mentioned to be in attendance.
Also mentioned among the films will be the Wachowskis Jupiter Ascending, recently delayed from its original release date to 2015. Panel guests for the upcoming action sci-fi film are to be announced at a later date.
Lastly, a screening of the upcoming film Into The Storm starring Richard Armitage will be screened for attendees on Wednesday July 23 10pm at the Reading Gaslamp Theater. No other details were mentioned, such as how attendees will be able to obtain tickets to the event. We'll update as soon as we hear.
Warner Bros. Studios has been known to pack its presentation with a ton of upcoming films, so we thing by no means this is the complete list. Expect lots of surprises for folks in attendance on Saturday July 26.
Relieved The Hobbit will be making its curtain call at Comic-Con this year? What is on your wish list of Warner Bros. films to be included in the presentation? Let us know in the comments.