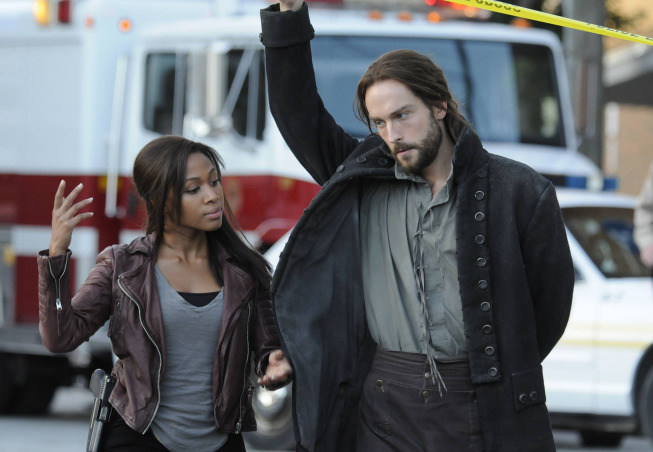 Every year, offsite events surrounding San Diego Comic-Con get just a little bigger, a little better — and FOX has stepped up its game in a huge way for 2014. Variety is reporting several offsite experiences around the convention center, promoting Sleepy Hollow and Gotham.
Sleppy Hollow fans can head to the Petco Interactive Zone (the parking lot beside Petco Park) for the "Sleepy Hollow Virtual Reality Experience, which will be open Thursday-Sunday from 9AM-6PM daily. There, attendees will be "transported" via an Oculus Rift headset (that we got a peek at the other day) into a virtual reality Sleepy Hollow experience, where they will be chased by a headless horseman. Variety is also reporting that cast and creative will make an appearance, which perhaps mean an offsite autograph signing.
FOX will also be pushing Gotham hard this year, with the San Diego Trolleys already receiving a makeover to promote the show. The network will also be holding a "Gotham Zip Line", where particpants will zip-line in the area between the convention center and the Hilton Bayfront Hotel, and then receive a sharable photo of the experience, along with a commemorative Comic-Con Gotham badge. That won't be the only place to find Gotham throughout the Gaslamp, thuogh, as FOX has outfitted some cars to look like the iconic police cars in the series to drive convention-goers around throughout the weekend, for free. The cars are equipped with iPads offering sneak previews of Gotham.
From Variety, here's the list of offsites:
"Sleepy Hollow" Virtual Reality Experience (July 24-27, 9 a.m.- 6 p.m. daily, Petco Interactive Zone) Inside the "Sleepy Hollow" bridge fans will be transported via an Oculus Rift headset into a virtual reality "Sleepy Hollow" experience and chased by a headless horseman.  Cast and creatives will make an appearance at the experience.

"Gotham" Zip Line (July 24-27, between the SDCC convention center and Hilton Bayfront Hotel) Participants will zip-line through the Gotham city landscape and receive a sharable photo of the experience and a commemorative SDCC Gotham badge.

"Gotham" Police Cars (July 24 -27) Fox will recreate the pilot's iconic police cars to pick up passengers throughout the convention weekend for free rides.  Cars will be outfitted with iPads offering sneak previews of "Gotham" content.
Will you be checking these out? Let us know in the comments.