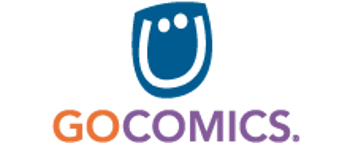 GoComics, the web's largest catalog of syndicated newspaper strips and web comics, has announced its booth signings and event schedule for this month's San Diego Comic-Con.
The company will be stationed at the Andrews McMeel Publishing booth, #1503 and #1505, with daily signings, and giveaways of its GoComics PRO memberships, comic collections and more. GoComics will also have prints for sale at the booth from Calvin and Hobbes and the recent Stephan Pastis/Bill Watterson collaboration, Pearls Before Swine, with pre-orders of these available now for those who are not attending, or if you just don't want to risk bending and creasing your awesome new print navigating the crowded aisles of the Exhibit Hall.
In addition, GoComics will be on foot in the Gaslamp with special giveaways for those who weren't able to make it inside the Convention Center. Be sure to watch their Twitter account for announcements on when and where they'll be.
Check out the entire schedule of events in the release below, which was also posted to their blog.
Can you feel the excitement in the air? San Diego Comicon 2014 is just around the corner, and the GoComics office is bursting with anticipation as we gear up for the fun-filled convention

We're teaming up once again with our sister company Andrews McMeel Publishing to exhibit at SDCC 2014 from July 23-27, and we want to give you a sneak preview of what to expect!

In the sea of comics, cosplay and celebration, you'll find us in the Andrews McMeel Publishing/GoComics booth, #1503 & 1505, with:

Scheduled one-hour free signings by GoComics/AMP cartoonists and creators.
Daily giveaways including free GoComics PRO memberships, major comic book collections and other comic-related promotional items.
Archive-quality prints of the iconic first and last Calvin and Hobbes comic strips, as well as the recent Stephan Pastis/Bill Watterson Pearls Before Swine collaboration, available for purchase. (Not attending? Purchase them here!)
Plus, our GoComics street team will be in downtown San Diego throughout the convention with special giveaways that you don't want to miss! We'll announce the location on Twitterapproximately 15 minutes before each giveaway.

And now, the moment you've all been waiting for…the signing and event schedule!

Andrews McMeel Publishing/GoComics Signing and Event Schedule:
All creator signings will occur at the Andrews McMeel Publishing/GoComics Booth (#1503 and 1505). Exclusive SDCC 2014 prints will be provided for free at all creator signings.**

Thursday, July 24

11:00 a.m. – 12:00 p.m.: Josh Shalek (Tomb of the Zombies)

12:30 – 1:30 p.m.: Jim Benton (Jim Benton's Cartoons)

1:45 – 2:15 p.m.: Street Team Giveaway (While supplies last)

2:00 – 3:00 p.m.: Steve McGarry (Badlands; Biographic; KidTown; Trivquiz)

3:30 – 4:30 p.m.: John Lustig (Last Kiss)

5:30 – 6:30 p.m.: Lex Fajardo (Kid Beowulf)

Friday, July 25

9:30 – 10:30 a.m.: Paul Friedrich ("Man v. Liver")

11:00 a.m. – 12:00 p.m.: Justin Thompson (MythTickle)

12:30 – 1:30 p.m.: Ted Rall (editorial cartoonist; The Worst Thing I've Ever Done)

2:00 – 3:00 p.m.: Greg Evans (Luann)

3:30 – 4:30 p.m.: Gavin Aung Than (Zen Pencils)

3:30 – 4:30 p.m.: Street Team Giveaway (While supplies last)

5:30 – 6:30 p.m.: Scott Adams (Dilbert)**

Saturday, July 26

11:00 a.m. – 12:00 p.m.: Bob Scott (Molly and the Bear)

12:30 – 1:30 p.m.: Lela Lee (Angry Little Girls)

2:00 – 3:00 p.m.: Todd Clark (Lola)

3:30 – 4:15 p.m.: Street Team Giveaway (While supplies last)

3:30 – 4:30 p.m.: Lalo Alcaraz (editorial cartoonist; La Cucaracha)

5:00 – 6:00 p.m.: Berkeley Breathed (Bloom County; The Academia Waltz)

Sunday, July 27

11:00 a.m. – 12:00 p.m.: Keith Knight (The K Chronicles; The Knight Life; (th)ink)

12:30 – 1:30 p.m.: Gavin Aung Than (Zen Pencils)

2:00 – 3:00 p.m.: Shannon Wheeler (Too Much Coffee Man)

4:00 – 5:00 p.m.: Graham Nolan (Sunshine State)

** No autographs will be given during Dilbert creator Scott Adams' meet-and-greet. Fans will have the opportunity to meet the creator personally and have GoComics/AMP staff take a photograph with the individual's camera or smartphone.

We want all of our GoComics fans to experience SDCC! Even if you're not attending, you can be a part of the action by following along on social media!

Twitter: @GoComics (#GoComics)
Facebook: facebook.com/gocomics
Instagram: GoComics

Pinterest: pinterest.com/gocomics

Tumblr: gocomics.tumblr.com