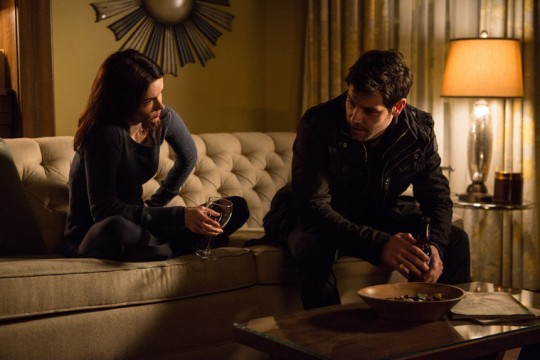 [UPDATE July 2] The Grimm writers have announced that the series will indeed have a panel at San Diego Comic-Con, on Saturday from 3PM-3:45PM in Ballroom 20.
COMIC-CON ALERT:
The #Grimm panel has a date, time, and location.

Saturday, July 26th, 3 to 3:45pm in Ballroom 20.

— The Grimm Writers (@GrimmWriters) July 2, 2014
[PREVIOUS] Grimm has been a staple at Comic-Con for the last three years – which makes sense, considering for awhile, it was the network's only successful genre show (though Hannibal is critically acclaimed, and NBC brass seem hopeful about Constantine's chances). And now, it looks like the series will be returning to San Diego Comic-Con for a fourth year, along with some special footage.
Actress Bitsie Tulloch, who portrays Juliette Silverton on the series, told fans on Twitter that they had filmed "something fun" just for this year's Comic-Con.
Yo #Grimmsters! Who's coming to see us for our 4th visit to #ComicCon in July?! We filmed something fun just for this year's @NBCGrimm #sdcc

— Elizabeth Tulloch (@BitsieTulloch) June 17, 2014
At last year's panel for Grimm, attendees were treated to the first three minutes of season three, as well as a special extended trailer. Tulloch's announcement sounds more like the show has filmed a scene specifically meant for the Comic-Con crowd rather than something that will air on the show, but fans could still be treated to some upcoming footage as well.
While the tweet doesn't necessarily guarantee a panel for Grimm, it highly raises the chances, and we'd be shocked if NBC chose not to represent the series at San Diego Comic-Con.
Are you excited about this announcement? Let us know in the comments.