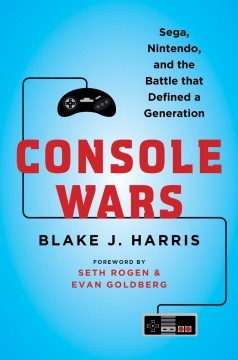 Earlier this week, we had the opportunity to talk with Blake J. Harris about his book, Console Wars: Sega, Nintendo, and the Battle that Defined a Generation. The book, which we personally consumed in just a few days after its release this past May, tells the tale of how underdog SEGA took on the video game juggernaut Nintendo during the 16-bit generation of the mid '90s. It documents how Sonic was born and sped past Mario, how SEGA positioned itself as the 'hip' alternative to Nintendo's 'toy' console, and all the behind-the-scenes chess moves and politics involved in the first great console war.
We can imagine the scores of SDCC attendees who who grew up with the SEGA Genesis or the Super Nintendo, or with Sonic and Mario; anyone who read the Nintendo Fun Club, Nintendo Power or SEGA Visions; or anyone who remembers the SEGA scream advertisements – these things shaped our lives personally, and some even professionally.
That's why we were so excited to talk with Harris about his panel in support of the book -scheduled for Sunday July 27 at 2:30pm in Room 23ABC (add to your calendar on MySched) – because we are one of those attendees so influenced by that era. And those who read the book or are familiar with the backstories of the two companies won't want to miss the panel, which features a historic line-up of guests: Tom Kalinske, former President, Sega of America; Al Nilsen, Director of Marketing, Sega of America; Bill White, Director of Marketing, Nintendo of America; and Perrin Kaplan, former Vice President of Marketing and Corporate Affairs, Nintendo of America. All of these individuals played an integral part in that 16-bit era, and according to Harris some haven't seen or spoken to each other since those times. So expect some great anecdotes during the panel exclusive to those in attendance.
Also among panel guests will be Julian Rosenberg, producer of the upcoming Console Wars documentary. There's also an upcoming feature film in the works by Seth Rogen, Evan Goldberg and The Social Network producer Scott Rudin. Those in attendance at the panel will hear updates on both projects, but Harris – who is also moderating – expects to keep the focus on the great panel guests and their personal stories.
Following the panel at 4pm, Harris will be doing a signing at table AA09 in the Sails Pavilion.
Check out the videos which follow to hear more about Console Wars, and you can order the book now on Amazon – great reading for those long SDCC lines…
Will you be checking out the Console Wars panel? Let us know in the comments.