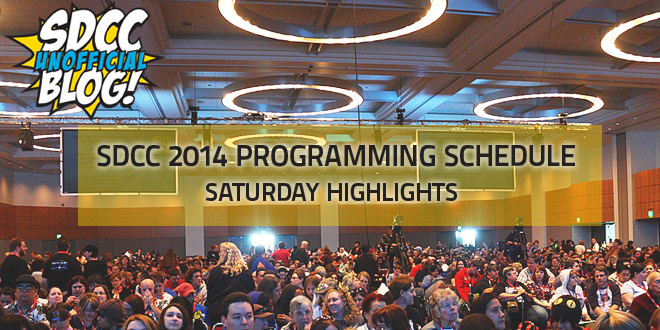 It's two weeks away from Comic-Con, and CCI is releasing the programming schedule for Comic-Con 2013 in its annual fashion. We'll be bringing you the highlights of each day as they're announced.
We'll also be discussing our thoughts on this year's lineup, including our top picks, in a special series of live podcasts this weekend. You can listen or watch the first, which will covered Preview Night, Thursday's and Friday's lineup. The second, covering Saturday and Sunday programming schedules, will be broadcast live on Sunday July 13 at 9pm PT/6pm PT, and will be posted online shortly afterwards.
But first, let's look at the highlights for Saturday.
The Saturday schedules of Comic-Con have typically been the most daunting of the entire week. It's the weekend, so most attendees have the day off to attend; and it's also the day the big Hollywood studios want to show off their upcoming slate of blockbuster movies and create the biggest buzz among the audience and the media. Saying that, we're jumping right to the room that generally is front and center of that buzz, Hall H. Kicking things off at 10am is Warner Bros., which we already know will be bringing The Hobbit, Jupiter Ascending and Mad Max Fury Road. For The Hobbit, Peter Jackson is slated to attend, but we also know Benedict Cumberbatch (#CumberbatchIsTheNewTwilight) will be appearing earlier in the week for DreamWorks Animation's Penguins of Madagascar, so we would expect to see Smaug send off the Middle-earth trilogy during Saturday's presentation. We also know Warner Bros. likes to surprise the audience with big reveals and teases of upcoming films, so expect more films to be included than what was announced (ahem, Batman v Superman, ahem).
Legendary, with new distribution partner Universal, is back in Hall H this year – and, ironically, following previous partner Warner Bros. on the schedule — at 12:25pm for a 45 minute presentation. No films were listed in the description (a trend we'd love to see go away), but we can expect Warcraft, which was hinted at earlier in the year; and Seventh Son with Jeff Bridges and Kit Harrington, who will both be at SDCC for other panels earlier in the week. And one more Legendary film we might see this year? Jurassic World, which frankly if it isn't, we might hear a few boos from the audience.
At 1:30pm is Focus' Features The Boxtrolls, the upcoming animated feature from Paranorman's Laika studios. The film has an hour block all by itself, but has a pretty great cast who will be in attendance at the panel — stars Ben Kingsley, Isaac Hempstead Wright, Elle Fanning, along with the filmmakers.
Sin City: A Dame To Kill For should fill the room at 2:50pm. Although the description was vague about which cast members would be in attendance for the panel, even a fraction of the star power in the upcoming sequel should make for some serious star power on stage. That, and Robert Rodriguez and Frank Miller, too. The annual "Entertainment Weekly: Women Who Kick Ass" returns to Hall H at 4:10pm, with panel guests Maisie Williams, Katey Sagal, Tatiana Maslany, Natalie Dormer and others.
But really, all this is a warm-up act for the most anticipated panel of the day, Marvel Studios, which will have the Avengers: Age of Ultron cast with sneak-peak footage of the sequel in tow, and some news of Ant-Man with Michael Douglas making an appearance.
Closing out the day in Hall H will be the big Warner Bros. Television/DC Entertainment preview event at 8pm, with screenings of The Flash, Constantine, Arrow, and the only screening of the Gotham pilot during Comic-Con, with various cast and crew making appearances throughout. And the whole thing will be emceed by Arrow's Stephen Amell.
Over on the TV side of things, in Ballroom 20, the annual FOX animation block is finally being broken up a little, after holding a strong-arm on the room for years. The Simpsons is kicking things off at 10AM, followed by Once Upon a Time. Then, it's time for TV Guide Magazine's annual "Fan Favorites" panel, which brings together stars Misha Collins, Sam Heughan, Colin O'Donoghue and Aisha Tyler for a chat about what it's like to be so adored. FOX returns to the Ballroom at 1PM for back-to-back panels for Family Guy and American Dad, followed by a round of horror-genre shows like Grimm, The Vampire Diaries, and the final farewell panel for True Blood. The day will end with the Masquerade at 8:30PM.
There was too much Cartoon Network to be contained within just Friday, so the network is back in the Indigo Ballroom on Saturday for Steven Universe and Regular Show, followed by panels for Syfy's Helix and Defiance, and Hulu's The Awesomes. For even more TV, head to Room 6A for Phineas and Ferb, Nickelodeon's Teenage Mutant Ninja Turtles, and The Blacklist; in 6BCF, find Constantine with a pilot screening and cast Q&A, as well as Person of Interest. And what may wind up being one of the hardest panels to get into of the week happens at 3PM in 6A, when Robert Kirkman and The Walking Dead star Norman Reedus talk all things Skybound Entertainment. You can also catch actress Kimmy Robertson and some of the creative minds behind the Blu-ray release of Twin Peaks in 5AB.
The comics line-up continues to be strong and plentiful today. DC Comics invades Saturday with four panels. No new Batman "decade" panel but there is one with the top artists working on the trinity of heroes, "New Places for Familiar Faces". Marvel only has one comics panel but it's the annual Cup O' Joe with CCO Joe Quesada and others, which should be a good time. The other publishers are picking up the slack though. IDW has three panels, while Boom, Oni Press, Lions Forge, Kodansha, Titan (Doctor Who), Fantagraphics, Image, and Action Lab all have one panel. Specific series or universes such as Saga, Big Trouble in Little China, Elfquest and the Whedonverse get their own panels as well. Teenage Mutant Ninja Turtles creator Kevin Eastman will also be celebrating the series' 30th anniversary over in 23ABC.
We can't come up with new ways to say the Spotlight panels are cool and a good way to see one creator at a time. Instead, we'll just list these luminaries: Don Rosa, Raymond Feist, Bryan Lee O'Malley, Drew Friedman, Jim Steranko, Lucy Knisley, Jeff Smith, and J. Michael Straczynski. We're sure you're going to get some quality entertainment if you pick any of these panels. And while not Spotlights, creators such as Berkeley Breathed and Ray Billinglsey get their own panels as well. Suffice to say you'll have plenty of choices, probably too many, if you want to check out comic panels all day long.
The video gaming schedule for Saturday is very light, after a heavy day on Friday. But fans can still find information about Capcom's Monster Hunter in Room24ABC at 3:30PM, as well as Gaia Online in 5AB at 7PM, and a handful of others.
Which of Saturday's panels are you looking forward to most? Let us know in the comments.