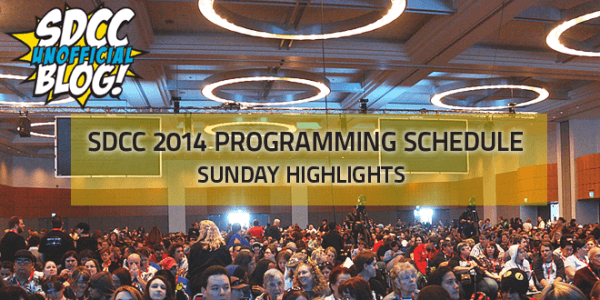 Baring any last minute schedule changes, we now have the full San Diego Comic-Con 2014 programming schedule.
We'll also be discussing our thoughts on this year's lineup, including our top picks, in a special series of live podcasts this weekend. You can listen or watch the first, which will covered Preview Night, Thursday's and Friday's lineup. The second, covering Saturday and Sunday programming schedules, will be broadcast live on Sunday July 13 at 9pm PT/6pm PT, and will be posted online shortly afterwards.
Let's round things out by taking a look at Sunday.
Since CCI closed Ballroom 20 for programming a few years ago, we can skip right into Hall H's lineup. And unfortunately, there's only four panels which were already announced. 10am kicks things off with Supernatural, The Following at 11:15am, Sons of Anarchy at 12:30pm and Guillermo del Toro's The Strain at 1:45pm. Last year's Hall H schedule ran until 5pm, but with no panel scheduled to follow The Strain, which includes a screening of the third episode; it looks like attendees in the big room will have an early bed time this year.
And like previous years, there's no schedule for Indigo Ballroom this year either, so we'll move right to 6BCF. And since it's Kids Day, it's dominated by family programming, although kids of all ages should find something to like here. At 10am is the premiere of Scooby-Doo! Frankencreepy, with a Q&A following the screening that includes featuring the voices of Velma and Daphne, Mindy Cohn and Grey Griffin. 11:45am is Teen Titans Go! and 1PM is a panel on the upcoming LEGO Batman 3: Beyond Gotham video game. Following these is a panel which may not be so appropriate for kids – "Dynamite Comic's 10th Anniversary", with featuring the upcoming creative team of the Django/Zorro crossover comic along with special guest Quentin Tarantino. Yes parents, cover your kids' ears for that one.
Room 6A kicks things off at 10am with "Sesame Street & Pop Culture: 45 Years of Spoofs on the 'Street' ", moderated by Chris Hardwick. "Cartoon Voices #2" follows at 11:30am with panel guests Gregg Berger, Vanessa Marshal, Fred Tatasciore, Debra Wilson, Robin Atkins Downes, and "maybe someone else" – yes it literally says that. Nickelodeon's Sanjay and Craig is 1pm, the world pemiere of Tom and Jerry: The Lost Dragon at 2:15pm, and The Original Starship Smackdown returns for episode XIII: Battle of the Intergalactic Stars Edition at 3:30pm.
Comic fans should have no trouble finding an interesting panel or two on Sunday. Aside from the aforementioned Dynamite panel, we have  "The Fifth Beatle: The Beatles, The Big Screen, and Beyond" at 10am in Room 24ABC; "DC Entertainment: All Access 101" also at 10am in Room 6DE; Spotlight on Chuck Dixon at 11am in Room 28DE; Spotlight on Kelly Jones at 3pm in Room 28DE; a day of Spotlight panels featuring Jim Rugg, Michael T. Gilbert, Michelle Nolan, and Brian Haberlin in Room 4; the "Annual Jack Kirby Tribute Panel" at 10am in Room 5AB moderated by Mark Evanier; a Spotlight panel on Greg Capullo at 1PM in Room 7AB; and two chances to catch Jim Lee- in a Spotlight panel at 11:15am in Room 6DE and "Comic-Con How-To: Drawing" with Jim Lee at 3pm in Room 2.
Other notables for the day include "Warner Archive Collection: A Batman for All Seasons" at noon in Room 7AB; "Console Wars: Sega, Nintendo, and The Battle That Defined a Generation" with former SEGA and Nintendo executives; and " LEGO/Warner Bros.: The LEGO Movie" at 3:45 in Room 5AB, which has behind-the-scenes stories on the making of the film.
What are your notable panels? Which ones are missing from the line-up? Let us know in the comments.