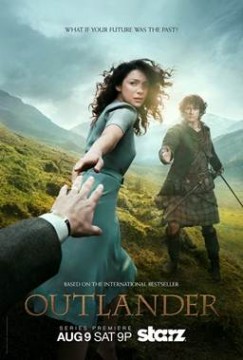 Although The Hollywood Reporter already announced the date of the Starz panel for upcoming time-traveling series Outlander, the network has now announced some additional details about the particulars of the panel.
On Friday, July 25 at 2:15PM in Room 6A, attendees will be able to join the author of the book on which the series is based on, Diana Gabaldon, as well as executive producer Ronald D. Moore and cast members, including Caitriona Balfe, Sam Heughan, Tobias Menzies, Graham McTavish, and Lotte Verbeek. The cast and creative team will be on hand to answer questions about the series, and likely to give fans a sneak peek of the show.
Attendees also had a chance to attend a special offsite screening of the entire pilot, and those lucky winners will be headed to a red carpet premiere on Friday night.
From the press release, here's the full text:
Starz Original Series "Outlander" To Present at

San Diego Comic-Con 2014 on Friday, July 25th

Starz will present the highly anticipated new series "Outlander," based on The New York Times bestselling novels penned by Diana Gabaldon with executive producer Ronald D. Moore at a panel on Friday, July 25th at 2:15pm in room 6A at San Diego Comic Con.

"Outlander" spans the genres of romance, science fiction, history, and adventure in one epic tale. It follows the story of Claire Randall (Caitriona Balfe), a married combat nurse from 1945, who is mysteriously swept back in time to 1743. Upon her arrival, she is immediately thrown into an unknown world where her life is threatened. When she is forced to marry Jamie Fraser (Sam Heughan), a chivalrous and romantic young Scottish warrior, a passionate relationship is ignited and Claire's heart is torn between two vastly different men in two irreconcilable lives.

"Outlander" premieres Saturday, August 9 at 9:00 pm ET/PT exclusively on STARZ and is produced by Tall Ship Productions, Story Mining & Supply Company and Left Bank Pictures in association with Sony Pictures Television

"Outlander" Online:

For more information, go to the official Outlander Facebook Page and follow @Outlander_Starz on Twitter and Instagram. Join the conversation with #Outlander and #STARZ.

Website: http://www.starz.com/originals/Outlander

For additional high-resolution images and other press materials please visit the Starz Media Room at http://starz.mediaroom.com

Event Details:

WHAT: Starz' Official San Diego Comic Con 2014 panel:

From "Outlander:" Executive Producer Ronald D. Moore, Author Diana Gabaldon, and cast including Caitriona Balfe, Sam Heughan, Tobias Menzies, Graham McTavish and Lotte Verbeek  

WHEN: Panel on Friday, July 25th from 2:15 – 3:15 in room 6A
Are you excited about these details about Outlander? Let us know in the comments.