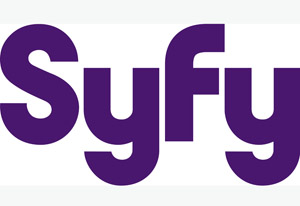 Syfy is returning to San Diego Comic-Con, but with a slightly scaled down presence this year. The network is leaving Haven and Continuum out of its Comic-Con presentations, and instead focusing on new series Dominion and Ascension, as well as returning shows Helix and Defiance (the only two Syfy shows to host panels in the Indigo Ballroom). Also coming to Comic-Con? Sharknado 2: The Second One.
Yes, Sharknado 2 will be coming all the way to San Diego Comic-Con's Room 6BCF, with stars Ian Ziering, Tara Reid, Vivica A. Fox, Kari Wuhrer, Judah Friedlander, and director Anthony C. Ferrante guiding fans "into the eye of the social media and pop culture storm of the century".
Helix, which debuted at Comic-Con in 2013, will be returning for another panel about what's in store for the series' second season, and it's bringing along stars Kyra Zagorsky, Mark Ghanime, Jordan Hayes, and Neil Napier, as well as Executive Producers Ronald D. Moore and Steven Maeda on Saturday.
Joining Helix on Saturday will be Defiance, with the usual players – Grant Bowler, Julie Benz, Stephanie Leonidas, Tony Curran, Jaime Murray, Jesse Rath, and Executive Producer Kevin Murphy – offering a glimpse at the "big changes" in store for the show.
Rounding out Syfy's Comic-Con programming are two new series, Dominion and event series Ascension. Dominision premiered back on June 19, and follows a group of angels as they wage war against humanity, and Syfy will be bringing out Chris Egan, Tom Wisdom, Roxanne McKee, Alan Dale, Anthony Stewhart Head, and Executive Producer Vaun Wilmott for a look at the series. Ascension, an event series about a covert space mission in 1963, only began filming yesterday, so it's unclear just how much the event series will have to show or discuss with fans. However, stars Tricia Helfer, Brian Van Holt, and Andrea Roth will be at the panel with Executive Producer Philip Levens to talk about the series.
There's no word yet on whether Syfy will again be taking over the Hard Rock Hotel's on-site cafe, which over the years has been branded as everything from CafeDiem from Eureka to the Defiance Cafe.
From the press release, here's the full schedule and details:
THURSDAY, JULY 24th:

SHARKNADO 2: THE SECOND ONE

Panel: 7:15PM-8:15PM   Room 6BCF

Get your chainsaws ready! A #Sharknado is about to hit the Big Apple. Join Sharknado 2: The Second One stars Ian Ziering (Fin Shepard), Tara Reid (April Wexler), Vivica A. Fox (Skye), Kari Wuhrer (Ellen Shepard Brody), Judah Friedlander (Bryan) and Director Anthony C. Ferrante as they take you into the eye of the social media and pop culture storm of the century. Get exclusive details on Syfy's global blockbuster which will ravage nearly 90 countries this July.

FRIDAY, JULY 25th

DOMINION

Panel: 5:30PM-6:30PM   Room 6DE

When angels wage war on humans, you can bet it'll make for one hell of a Comic-Con panel. Join series' stars Chris Egan (Alex Lannon), Tom Wisdom (Archangel Michael), Roxanne McKee (Claire Riesen), Alan Dale (General Riesen), Anthony Stewart Head (Senator David Whele) and Executive Producer Vaun Wilmott as they initiate you into the world of Dominion, Syfy's all-new hit series. They'll also share details about what goes on behind the scenes in post-apocalyptic Vega.

SATURDAY, JULY 26th

HELIX

Panel: 12:00PM-1:00PM  Hilton Bayfront Hotel, Indigo Ballroom

Get top line security clearance for behind-the scenes secrets from Syfy's hit show Helix.  Kyra Zagorsky (Dr. Julia Walker), Mark Ghanime (Major Sergio Balleseros), Jordan Hayes (Dr. Sarah Jordan), Neil Napier (Dr. Peter Farragut) and Executive Producers Ronald D. Moore and Steven Maeda give you exclusive access to Arctic Biosystems, and divulge details about what's in store for season two when the series returns.

DEFIANCE

Panel: 1:00PM-2:00PM   Hilton Bayfront Hotel, Indigo Ballroom

The explosive second season of Syfy's groundbreaking multi-platform series Defiance has kicked into gear, and nothing is as it seems. Join Grant Bowler (Nolan), Julie Benz (Amanda Rosewater), Stephanie Leonidas (Irisa), Tony Curran (Datak Tarr), Jaime Murray (Stahma Tarr), Jesse Rath (Alak Tarr) and Executive Producer Kevin Murphy as they discuss the big changes—and huge chances—their characters have taken in this dark and daring chapter of the show.

ASCENSION

Panel: 3:15PM-4:15PM   Room 6DE

In 1963, the U.S. government launched a covert space mission sending hundreds of people on a century-long voyage to find a new home for humanity. Lucky for us, three of those people were Tricia Helfer (Viondra Denninger), Brian Van Holt (Captain William Denninger) and Andrea Roth (Juliet Bryce).  Join them, the rest of the cast and Executive Producer Philip Levens as they give you an exclusive look deep into space—and the mysteries that unfold there—in Syfy's hotly anticipated event series, Ascension.
Are you excited about Syfy's 2014 offerings? Let us know in the comments.